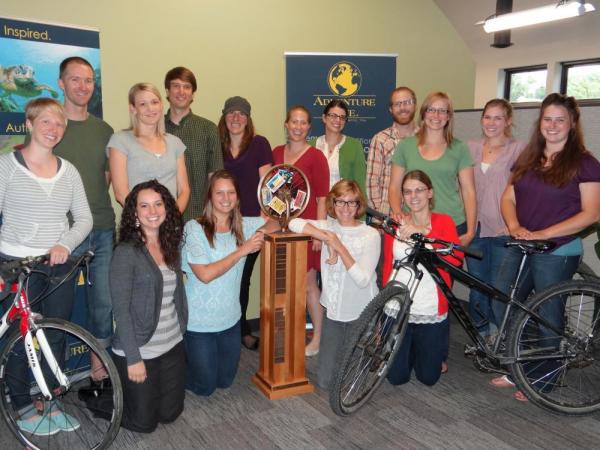 We've come to expect the rain, hail, sleet and snow during our community's annual
Missoula in Motion Commuter Challenge
. Bring it on! We'll still demolish you! During the month of May our staff competed with 77 local businesses for the highest percent employee participation commuting sustainably to work. For 2013 they chose to extended the challenge from one week to two weeks. Even so, we managed to win for the third year in a row with our overall staff participation at ninety percent!  If the weather wasn't enough, an even greater challenge was our new extended office hours from 7:30 am to 6:00 pm. Try coordinating 20 different employees with our flexible work schedule policy and it seems like an impossible game of tetris.  Not to worry, however, we'll strap on our rain gear and head into the storm on foot, by bus, or on our bikes!
This year we were thrilled to also receive the Transportation Best Practices Award!  This award recognizes businesses in the local community who strive to reduce traffic and improve air quality in Missoula by promoting sustainable transportation options, which include walking, biking, car/vanpooling, riding the bus and telecommuting. This is the second year we have offered our Sustainable Commuting benefits at Adventure Life.  Employees are reimbursed for bike gear and bus passes when they use sustainable methods to get to work.  We ran into one problem -  the program is surpassing our expectations and we've maxed out our bike racks and bike storage at the new office. It is fortunate for us that along with the Best Practices Award, Adventure Life received funding towards another office bike and additional bike racks.  Just in time!
Take a look at the
crowning ceremony
last week for the Commuter Challenge and Best Practices Awards in downtown Missoula. Once again we were greeted with rain clouds that afternoon but no one seemed to mind.  This week, our crew celebrated a job well done with an Empañada lunch at the Adventure Life office. Nice work team!