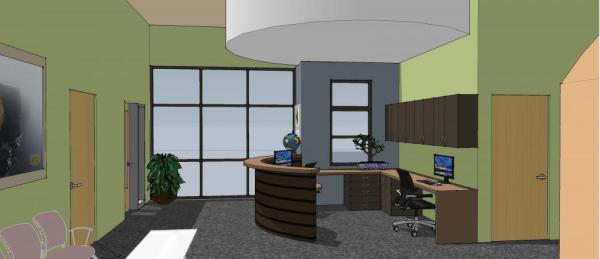 This summer we've watched as our new office building has taken shape on the Missoula skyline. Each week we see new additions to the construction on the outside and inside of the building. This week, check out my new reception area in this sketch! I can't tell you how excited I am to have a lobby area. While we are predominantly an internet based company, we do have a share of guests come to our current building. Visitors always seem a little caught off guard when they walk in the backdoor - its kind of like a "Choose Your Own Adventure" book. Your options for finding someone are to
A) Walk up the stairs to another hallway where there are three hallways to choose from - none of which look promising to find who you are looking for
B) Walk downstairs to a dark, uninviting basement with more doors
C) Walk back outside and ask the gentlemen in the garage-converted-to-office-annex for help. They look nice enough. . .
My first year at Adventure Life, our layout was even more challenging to greet guests in the office. They essentially walked in the front door and were standing in my cubicle. If I wasn't there to direct them, they wandered through a maze of other cubicles before finding the right person. My back was also to the front door and every time the postal carrier came it would not fail to surprise me! I started asking my colleague in a cubical facing out the front window to give me a little heads up so that I wouldn't choke on my coffee every morning. We've slowly evolved over the years and my desk now points towards the front door to avoid those awkward encounters - me with a dazed look and coffee dripping down the front of my shirt.
Needless to say, I'm ecstatic for the beautiful reception area with my wide granite counter and sun shining through the ceiling-tall windows. I've been practicing my greeting, sans coffee stains. "Welcome to Adventure Life! How can I help you?"