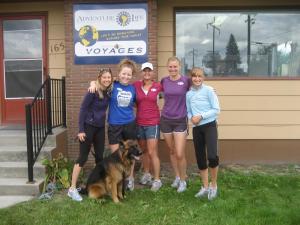 Just back from a refreshing 3-mile loop, Adventure Lifers have been stretching our legs and showing a little appreciation for today's national
Run@Work
day. Brainchild of the
Road Runners Club of America
(RRCA), Run@Work day is designed to encourage adults to get at least 30-minutes running, walking or exercise incorporated into their daily routine.
Locally, Missoula's fantastic running organization --
Run Wild Missoula
-- encouraged companies throughout Missoula to put together an office-run this afternoon. Missoula had eight local businesses put together an office run; whether employed by these companies or not, people from all over the community were invited to participate and join organized runs.
Our running group from Adventure Life included Office Manager, Lynessa Nelson; Financial Controller, Julia Kocubinski; Trip Planner, Sullivan Peraino; Office Assistant, Aimee Colyer (and Aimee's hairy running-mate, Winsor); and yours-truly, Marketing Director, Beth Conway. The running history of this motley crew includes everything from marathons and
100-mile relays
to former-life cross-country runners and casual joggers. The overall consensus? An all and all great way to spend 30-minutes. Plans are already brewing to make this a bi-weekly event.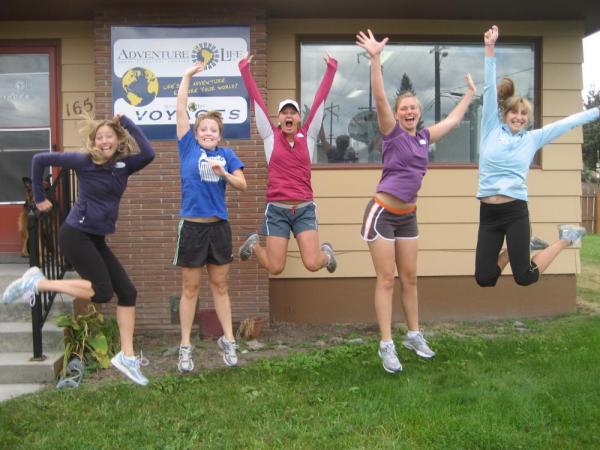 As part of our office-culture, Adventure Life encourages a healthy lifestyle and does its best to help our staff find a healthy balance between work and play. From subsidized gym memberships and weekly yoga sessions, to company white-water
rafting trips on the Lochsa
and monthly rewards for
sustainable forms of commuting
-- not to mention some amazing adventure
trips to Latin America
and through the world -- I'm proud to boast Adventure Life has a lengthy check-list of policies designed to keep an extra stride in our step.