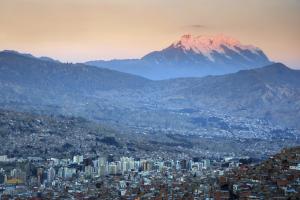 Reminding us of just how delicate our environment is, last week the Miami Herald reported that Bolivia's Chacaltaya glacier has virtually completely melted -- a good 6 years earlier than originally predicted. At nearly 17,400 feet in the Andes, the glacier gained its greatest notoriety as the world's highest ski run. But this isn't about tourism; there is a much bigger worry than its claim-to-fame. Water supply. John Enders from the Miami Herald reports:
On the western, mostly arid side of the Andes, millions of people depend on rain, snow run-off and melting glaciers like Chacaltaya, Illimani and Huayna Potosifor their water.
What is left of the glacier is 35 miles away from La Paz, Bolivia's largest city. Read the whole article at the
Miami Herald.
There are also a few before and after
pictures of the glacier
posted on the BBC News that I think really capture the dramatic difference in the landscape, including a picture of its rapid retreat since the 1940s.