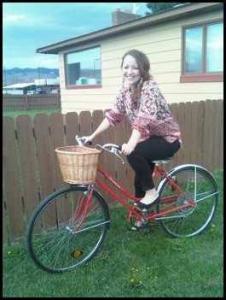 Well, we made it to our office goal of 100% perfect participation for
Bike Walk Bus Week
! In case you missed it, we are kicking off a Spring with a citywide celebration of healthy transportation. Businesses across town compete to see who can have the most employees commute sustainably during the week. Along with that there are several discounts and giveaways from local stores if you show up on foot, on bike, or by bus. It is amazing how much we can be motivated by a free cookie or cup of coffee. While biking around this week, I've noticed so many new faces on the streets and enjoyed moments of small talk with fellow bikers. We're all on the same team - the one trying not to get hit by traffic.
So come wind or snow, rain or sunshine, our Adventure Lifers found a way to commute sustainably. As a reward for our diligence, the gods blessed us with more sun than rain this week. We have a ways to go before we can stop guessing if it will snow or sleet today, but now at least we are prepared because we've braved it all in the last few weeks.
The greatest reward for everyone has been realizing the impact that we can make as a community if we chose to make small changes to our daily routines. Since the beginning of the year, we have saved 28.71 tons of CO2 begin emitted into the air in Missoula by biking to work, and 14.10 tons by walking. That's a total of 47,069 miles biked and 23,124 miles walked. Not only healthy for the environment, but our bodies as well. I also appreciate that it gives me a chance to wake up before walking in the door at work. Try falling asleep on your bike in traffic - not as easy as it is behind the wheel.
So here's to a great week of sustainable commutes and many more to come!