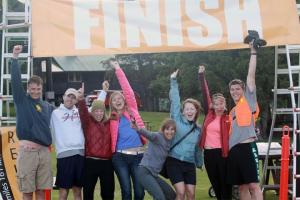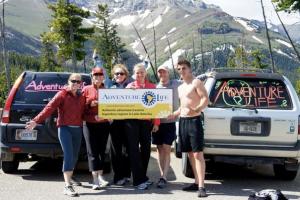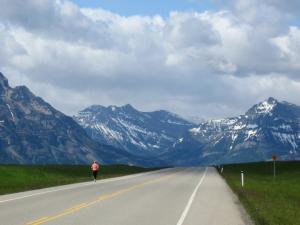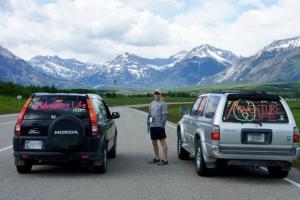 100 Miles, 2 Countries, 8 Awesome People, and 3rd Place! A huge thank you to, of course, Adventure Life and also the locally-owned Runners' Edge for supporting our motley crew. Adventure Life's own Sullivan Peraino gives a run-down (pun intended) of the days' events.
This sums up Adventure Lifers' Beth, Aaron, Julia, Kassandra, and Sullivan's weekend. They completed the inaugural Waterton Glacier Relay, putting their endurance to the test, enjoying the remarkable vistas of the Waterton Glacier International Peace Park, and raising money for breast cancer research. The course began in Cardston, Canada and wound its way 100 miles south to East Glacier, Montana. While given 24 hours to complete the race, the Adventure Life team finished in under 15 hours, claiming third place and some serious bragging rights.
Each runner completed three legs of 3.5-5 miles each, going up (REALLY up!) and down through one of the most pristine ecosystems in North America. The runners became fairly spaced out early on in the race, which gave each athlete the privilege of running unaccompanied for most of the course. Despite the space between each runner for the majority of the course, the final four-mile leg had everyone jumping up and down and shouting at the top of their lungs. The team was waiting patiently for their last runner, Chris, to come around the corner for the final home stretch, and their hearts sank as the runner from the other team broke the corner first. The Adventure Life crew was about to let out a collective sigh when Chris appeared, sprinting at top speed, rounding the bend. He managed to make up for a five minute lead and cross the finish line only ten yards ahead of the other team!
The race was a great way to combine an individual sport with team-inspired motivation, pushing each runner to complete the fastest miles they have ever ran. Our team also made friends with the competition, accepting a bottle of champagne and exchanging hugs at the end of the day.
The relay was in perfect Adventure Life form, combining epic scenery, great friends, and an impressive mental and physical challenge. Team Adventure Life finished the race and found themselves talking abut the possibilities for their next challenge – Inca Trail trek? An Amazon Adventure? Arctic expedition cruise...? Who knows... But with 100 miles down they are ready for anything!