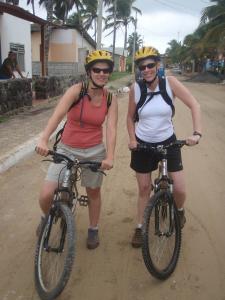 For the past couple of months in the Adventure Life office we have been gearing up (pun intended) for the
Bike Walk Bus Week
Commuter Challenge here in Missoula. This is a week long event to kick off Spring with sustainable commuting all around Missoula. Businesses offer free coffee, treats, and discounts to patrons who bike, walk or bus to their stores. Of course, in an office of environmentally conscious adventurers, it's only natural that we should commute sustainably via bike, bus or foot.
This Missoula in Motion competition begins between businesses around town next week.
Missoula in Motion
is a nonprofit that promotes the many sustainable transportation options offered in the Missoula community in an effort to reduce congestion, pollution and stress, while promoting both individual and community health.
Our goal at Adventure Life next week is
100% participation
for all employees! You wouldn't think that this is such a hard goal to reach in a small office with fifteen employees, but let me tell you. It's amazing how much our lives have adapted around the convenience of having cars. Now we are able to run errands clear across town in a manner of minutes versus hours. But with a little planning ahead and visiting to the grocery store twice a week instead of six, it can be done. Actually, we are pretty spoiled being located across from the Good Food Store in town. And to add to our commuting challenge, it's been snowing off and on throughout the week. We wouldn't want it to be too easy, right?
It has been a growing experience for all of us as an office over the last two months. To motivate one another, each week we have had team and individual competitions for the highest percent of participation. We began April with about 70% participation in the office, and we have ended this week with 83% participation. And now I can feel that we are about to make it to 100 percent! It has been suggested that we should find the most innovative way to commute, to challenge ourselves even more. Cartwheeling, kayaking and rollerskating were among the suggestions. Maybe that will be our goal in June - finding the most creative way to express ourselves in our commute. We have outdoor enthusiasts and creative minds to brainstorm together. For now, we'll focus on saving the planet with our sustainable commutes. Our creativity can come into play next month.