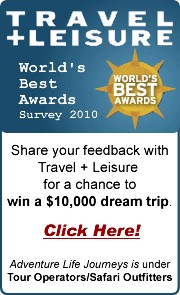 For over a decade, Adventure Life has provided authentic adventures throughout Latin America. And now, we are so pleased to be nominated for
Travel + Leisure's annual World's Best Award
. The World's Best Awards are completely dependent upon the comments and first-hand experiences from travelers. As an Adventure Life traveler only you can provide Travel + Leisure with personal comments about your experiences with our company. I invite you to share your feedback with the folks at Travel + Leisure Magazine.
Travel + Leisure has provided an extra incentive: By participating in the World's Best Awards Survey, you'll be entered into their sweepstakes for a chance to
win a $10,000 dream trip.
Sounds good to me!
- Click here to access the survey.

- You will find Adventure Life Journeys under the category Tour Operators/Safari Outfitters.

- It's quick and easy, and takes only a few minutes.
If you like, you can also comment on other travel-related components, such as your favorite destinations, hotels, airlines or more -- I know Travel + Leisure will welcome any and all feedback you wish to share. Survey ends
March 31, 2010
Thank you for feedback and your support. We are dedicated to providing exceptional travel -- a fun and exciting holiday, while at the same time creating a better understanding between travelers and our wonderful hosts.
And as always, travel well!
What you've been saying about Adventure Life...
"Outstanding! We were exhausted and exhilarated, having given our knees and hips lots of workouts with the uneven steps everywhere. We would do it again in a minute! We are already telling our friends that Adventure Life is the way to go to Central and South America! I look forward to travels with you again. Many, many thanks for fulfilling a life-long ambition." - E. Carducci, Machu Picchu by Train
"It is difficult to praise this programme too highly - both for content and for organization, the latter being totally seamless... We would like to express our thanks to every one of the Adventure Life team for a truly superb holiday which we shall never forget." - The Iveys, Ancient Kingdoms
"I felt treated as an individual and not as just one of many tentative travelers. I am planning a trip to Tanzania and was very disappointed not to see anything on your web site. I would always check Adventure Life first for any future trips!" - T. Jones, Islands and Inca.
More Adventure Life testimonials.