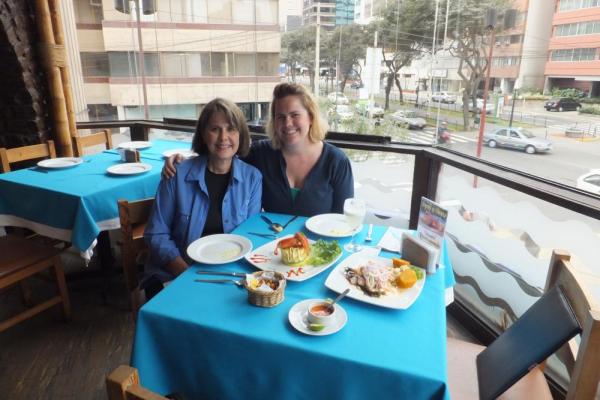 It's two weeks til we leave for Argentina, and the preparations are finally coming to a close. International air reservations, domestic air reservations, trip reservations with Adventure Life, Reciprocal Taxes to Argentina to enter the country.... now all that is left is to pack the suitcase and get some cash from the bank account!
Kristin, my daughter who lives in California, and I are going together. This is our third mother-daughter vacation; the other two were in Costa Rica and Peru (photo above is of us in Lima prior to going to the ranch to ride) and both of them were equestrian vacations, ie. we rode horses most of the time. This time around, we are spending just one day riding, but are going to be on a lot of other active trips in Argentina: hiking, biking, rafting, and zip lining.
I am in good shape for riding horses, but I don't know how sore I'll be after hiking in the mountains! It takes a whole different set of muscles. Well, I am packing all kinds of aspirin, etc. to help with the soreness but I am sure I'll be OK. I told Kristin: if i get really sore one day I'll just stay "in town" while they hike and do some shopping!!
I'll use this blog to keep you all up-to-date on the trip. I'll also post photos as we get them. Stay in touch!