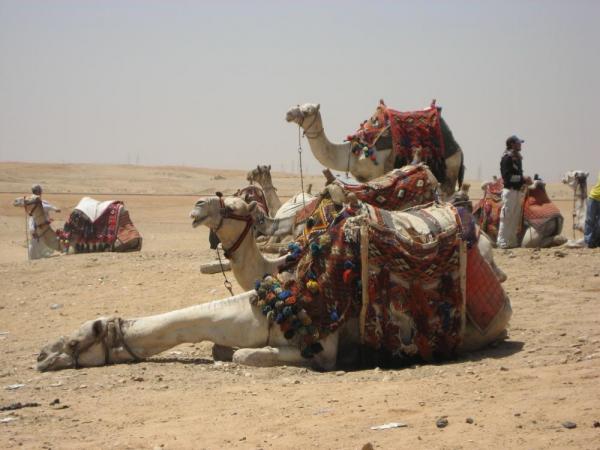 Last night was not very restful, and so this morning I woke up a little nauseous and not ready for the big day ahead. At about 6 o'clock this morning we started to set sail. I was a little nervous about the movement because I easily get motion sickness. However, the movement was so subtle that you can hardly tell you are moving unless you look out the window. Matt was finally sleeping better and the fever had broken in the very early morning. He still wasn't feeling well enough to eat anything but at least he was keeping the fluids down. We figured that he had food poisoning, but the only thing different that he had from me was lamb at the hotel. It was surprising that the hotel would have something like that but I guess food poisoning can really happen at any establishment. Ahmed wanted to know the details because they write a report and contact the restaurant whenever a traveler gets sick. He said its best to do it this way so the restaurant managers are aware of the issues and investigate the problems. He also said that the crew on the ship is specially trained in proper food preparation skills by an outside company that works with five star hotels and restaurants and comes to Egypt to do the training. Its nice to know they are so thorough.
I go out for the breakfast buffet which looks wonderful but I feel so nauseous that I'm not able to eat any of it. I remember that I took a bit of Matt's lamb to taste it the other night. Such a shame to be sick on a cruise with such amazing cuisines. I tell Zainab on the way back to our cabin that I will not be able to make it on the tour. I would hate to get out there and we sick for the hours in the sun. She said that it is better to rest up today if we are sick because she wants us well for tomorrow in Luxor - the best part of the tour and the final evening on the ship. I head back to the cabin and fall into bed. We end up sleeping until lunchtime when the group returns and we receive a call. Zainab recommended that we get up and try to eat something. We force ourselves to get up and head to the dining hall. Nothing sounds good but we're able to have a couple Sprite's to settle the stomach. Kelly and Kent, a couple that works in Africa, swear by the power of Pepsi to cure all stomach woes. Maybe we'll try that next time.
Matt and I rested a bit more and then attended the afternoon tea time. Food was starting to sound good again. The kitchen staff offered to make anything that we would like -toast, broth, or other light meals. They are very accommodating. After tea, I went to the a cooking class presented by the head chef. He taught us how to make baba ganoush and a creme brulee desert. Not as intimidating as I had once thought. It is an interactive experience and I enjoy the comments from my fellow cruisers. The people we have met on the cruise come from diverse and interesting backgrounds. It has been fun to get to know them.
This evening, the crew held a galabaya party for the guests. Some guests purchased the galabayas (which are long dresses with interesting Egyptian designs on the front) while they were out today at the temples. There was also a gift shop onboard and I chose from one of the galabayas the owner had for $15. Matt found another one for men that was $10 and wore this with his shama from Yemen around his head. We meet again for a short cocktail hour and then the crew invites us upstairs to the outside dining area where they have arranged a beautiful buffet of traditional Egyptian food. Afterwards, we hear music and singing coming from the lounge below. It slowly comes closer, until several of the crew appear with drums singing and dancing in their galabayas. They invite us to join and everyone descends to the lounge area once again. The dancing is so beautiful to me and there is one younger man in the crew in particular who is fun to watch because of his enthusiasm. He gets all of the guests involved. After a time of celebrating and dancing we retire to our cabin and get ready for our busy day tomorrow.