Today we met our guide and headed to the sky tram for a ride up Pinchicha Volcano for amazing views over the city. The area was pretty dead, so we had a tram car all to ourselves.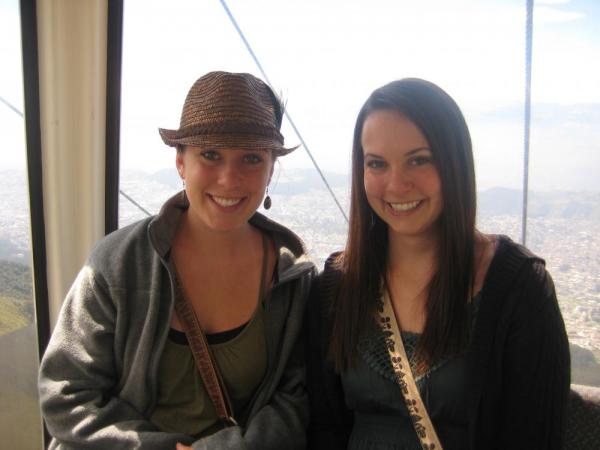 Quito looks beautiful from above- a long stretch of city surrounded by amazing green hills and mountains. It was a little chilly when we got out at the top, so I was glad I had my sweater. We walked around the top, taking in views from each possible direction and then rode the tram back down again.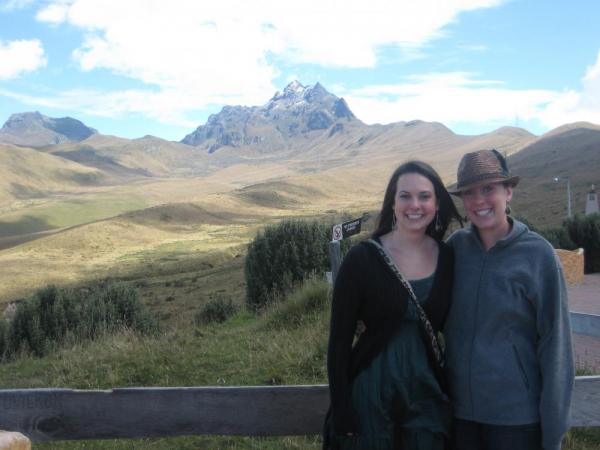 After the sky tram, we headed to Old Town in Quito. First we stopped to see the Gothic Cathedral- the largest of its kind in all of the Americas! It was beautiful! The gargoyles surrounding the cathedral were not what you would expect, they were all the native animals of Ecuador. They had condors, tortoises, llamas and more! It was sort of funny looking, but a really neat concept.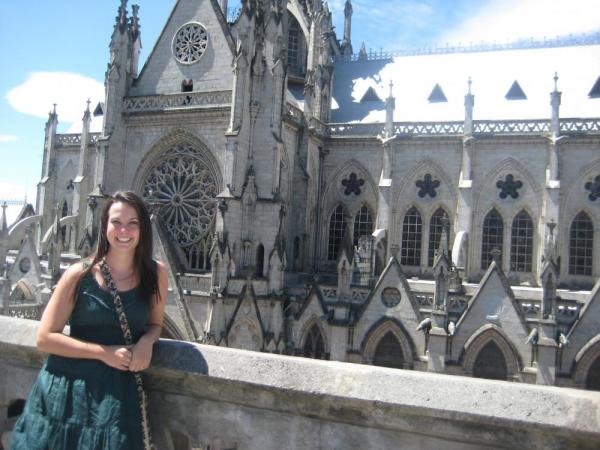 We parked in a tiny parking garage underground and then set out on foot. We headed to the main government square (most towns in Ecuador have a main square with the government building on one side and the church on the other). The White House of Ecuador in on this square, so we went in to look around and take our photos by the guards.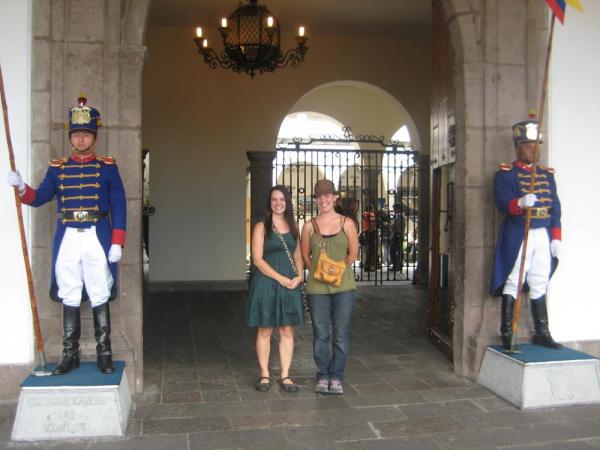 Out in front of the white house, people come to either shout praise or criticism. Both were happening while we were there. It was interesting to see how normal and peaceful this was! We went to the Cultural Center where we saw the glassed in courtyard and another courtyard with 2 giant monkey puzzle trees growing in it.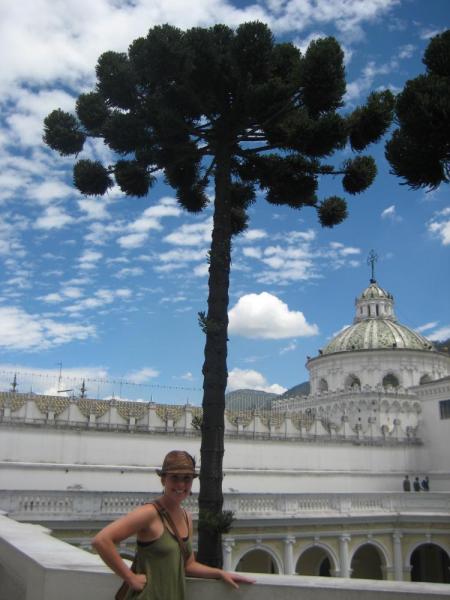 We continued to the Gold Church, a gorgeous cathedral with incredibly intricate designs covering the entire inside...and all of the designs were gold leaf plated. It was pretty spectacular to see! As part of their compensation, many of the artists who worked on the church got to be buried in the catacombs beneath it. We grabbed some fresh juice from a stand and went to another square that had a fair trade store where they were selling a type of rainforest seed Amanda had been looking for.
After shopping, we were off to the Adventure Life office and Betty's house. Betty has a beautiful home next door to the office. We got to tour the office and see where they sit every day when we work together.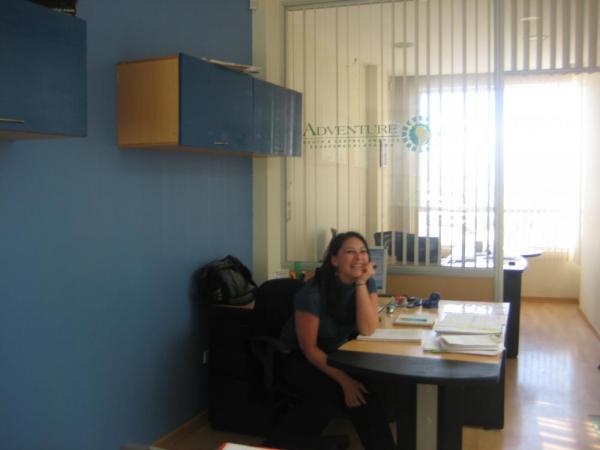 Next, we went over to her house for lunch. Amelia served us homemade empanadas that were delicious! Since Betty knows how much I like to cook, she thought she would teach us how to make our meal, rather than just feeding us- how thoughtful! She first taught us to make aji (thier version of hot sauce) and then she and Giovi taught us how to make classic Ecuadorian ceviche. They said that their favorite is made of conch, but that we probably wouldn't like it, so the next best version is made with shrimp. We watched as they mixed everything together, explaining as they went. It was so cool to get to learn about the food we were going to eat.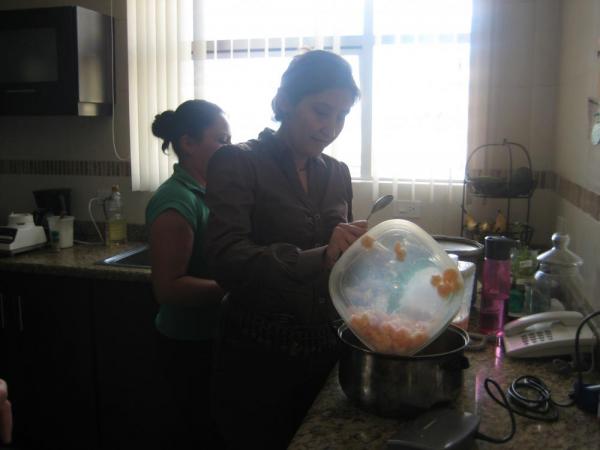 We sat down to lunch with the whole staff. They serve the ceviche with banana crisps, rice, aji and popcorn (my favorite food on earth). It is also typical to drink local beer with it, so we felt that we had better do this as well! It was the best meal we had the whole trip!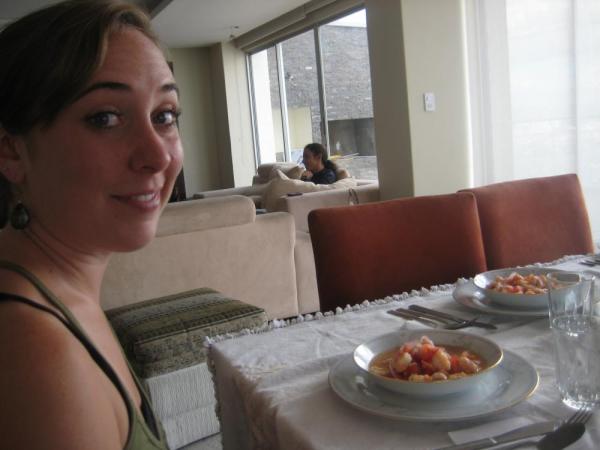 After lunch and a family photo,we bid farewell to most of the office and headed off with Betty and Marcelo for the Middle of the World (the equator). On the way, we stopped at Pululahua Volcano to see the giant crater that now houses a small town. Unfortunately, as we drove up, a giant cloud rolled in that was so thick we weren't able to see anything! Marcelo stopped at one of the vendor's booths on the way out and bought us each a postcard with a photo of the crater town on it. That was very sweet!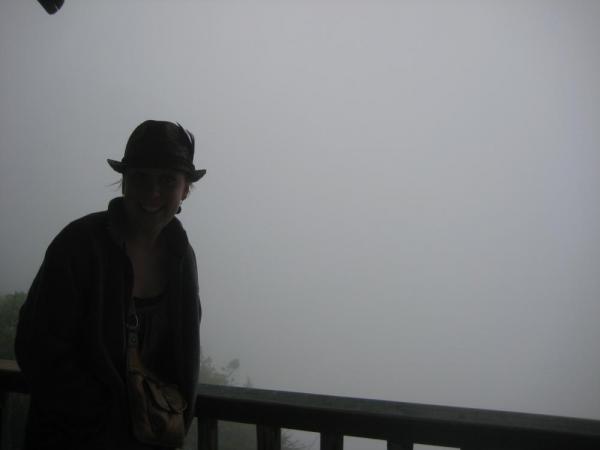 We continued to the Middle of the World museum where we ran into Daniel leading some of our other travelers around. I fully expected this museum to be super cheesy and sappy, but I ended up loving it! They had displays and recreations of typical homes for the different regions and tribes of Ecuador. We learned how shrunken heads were made (and saw real ones!!!), were taught about burial practices that made me glad I wasn't part of those tribes, and learned how guinea pigs are used in medicine. (Shamans will take a guinea pig and rub it over the body of a sick person and then sacrifice it and cut it open. Whatever part of the guinea pig that has turned dark is where the illness is located in the person). Guinea pigs are also used to judge people's spirits. The animals are kept in the house and if they make noise when someone visits, the people know that visitor has a bad spirit and will not let them in the house. If they stay quiet, the person has a good spirit and it allowed to enter- luckily, we passed the test and the guinea pigs stayed quiet!!
My favorite part, by far, was when they showed us natural phenomena that occur at the equator. They placed a basin filled with water directly on the equator and drained it- the water drained straight down, as expected. They repeated this 5 feet south of the equator and it swirled one direction- they repeated it 5 feet north of the equator and it swirled the opposite direction! I was not expecting that big of a difference in only a few feet- I was pretty amazed!!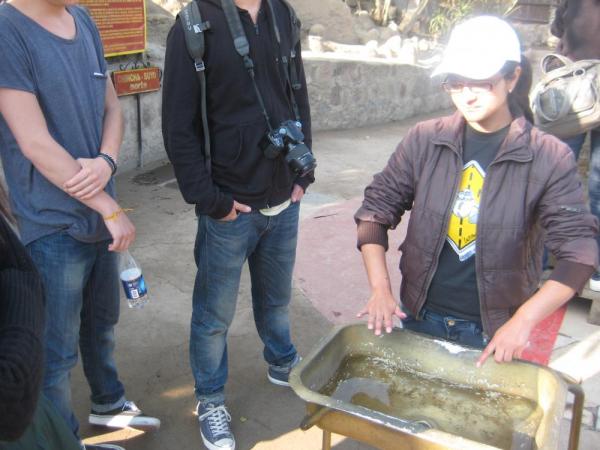 They also did resistance tests to show us that we lacked a lot of physical resistance when standing on the equator and they also had us attempt to walk a straight line blindfolded. You aren't able to do it, and almost feel drunk, because you are feeling the pull from both magnetic poles at the same time- crazy!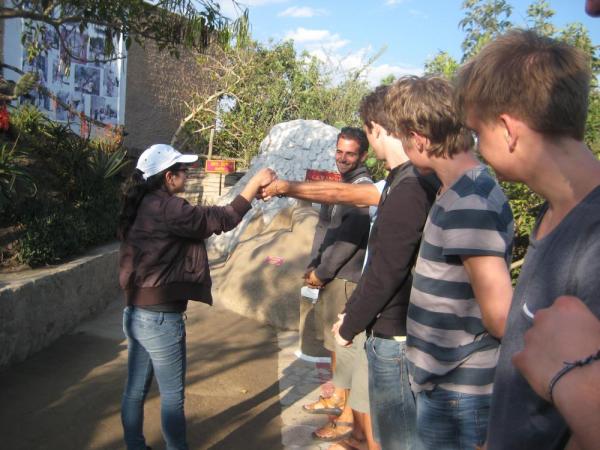 We also got to try to balance a raw egg on a nailhead (I was one of only two in our group to succeed- they gave me an Egg Master certificate!).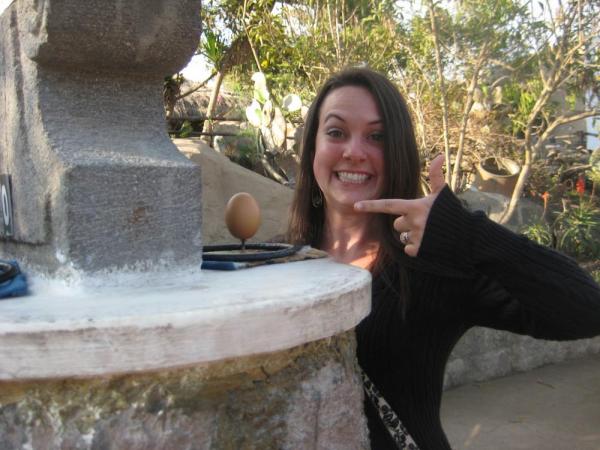 On the way back to the hotel, Betty and Marcelo took us to a grocery store to buy our favorite candies from our trip to take home to family and friends. They also took us to an artisans market in La Mariscal so that Amanda could buy a recreation of a famous Guayasamin painting that she had been searching for. After we successfully bought our wares, Betty and Marcelo dropped us back off at the hotel and we said our good byes. We had an hour or two to relax before Daniel picked us up and drove us back to the airport. After a few delays, we were on our flight and headed to Michigan for our little brother's wedding. It was such an amazing trip and awesome adventure. We only wish the rest of our loved ones could have experienced it too!