Today, the Columbia and Snake rivers look significantly different than they would have 200 years ago. Both used to churn with cascades and rapids and danger could often be found around every turn. I imagine that most of both rivers would be largely unrecognizable to Lewis and Clark if they able to see them now: wide… still…. dammed 8 times.
Part of the fun of this particular cruise was getting to navigate the locks. We passed first through
Bonneville
(where we stopped to take a tour of the dam and its fish ladders) then
The Dalles
, followed by
John Day, McNary, Ice Harbor, Lower Monumental, Little Goose
, and
Lower Granite
.
Throw dams into the pot of things I previously knew next to nothing about (despite growing up near one which, at the time of its construction, was the third largest and second highest concrete dam in the world).
Navigating the locks are incredibly interesting. First, a ship signals to the dam that she would like to pass through. The dam gives the green light and opens a set of doors, which the ship sails through. The doors then close behind the ship and you're left in a narrow enclosure. The ship anchors herself to the walls of the locks by hooking onto a buoy (set in the wall) which, once filling begins, rises with the water. The ship also rises (or falls, depending on your direction), until eventually, she sits on the same water level as the river ahead. A second set of doors opens (or lowers, depending on the dam) and the ship sails through, paying no mind to the fact that she's just risen 100 feet.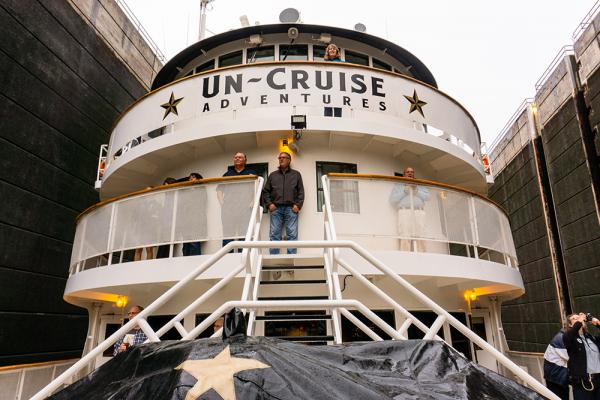 The end result is genius: the dams generate power, the locks allow vessels to pass, and the fish chutes and ladders enable the salmon to spawn as normal.
Who knew?