Have questions? We're here.

Get inspired by the possibilities.
Build your ideal trip.
Midwestern Passage
Louisville to St. Louis - Example 9 Day Cruise aboard American Countess
Board the American Countess riverboat and cruise through the heart of the American Midwest on this 9-day journey from Louisville, Kentucky to St. Louis, Missouri on the Ohio and Mississippi Rivers. Experience the laid-back, small-town hospitality of Kentucky ports such as Owensboro, where you'll find classic folk tunes and distilleries making Kentucky's signature bourbon, or Henderson, where you can explore the region's role in the Civil War. Admire historic handicrafts at the National Quilt Museum in Paducah, Kentucky, and follow in the footsteps of historical figures like Mark Twain and the Lewis & Clark expedition in Cape Girardeau, Missouri. Your journey concludes in St. Louis, Missouri, where you'll find a wealth of museums, foodie hot spots, and, of course, the famous arch marking the gateway to the west.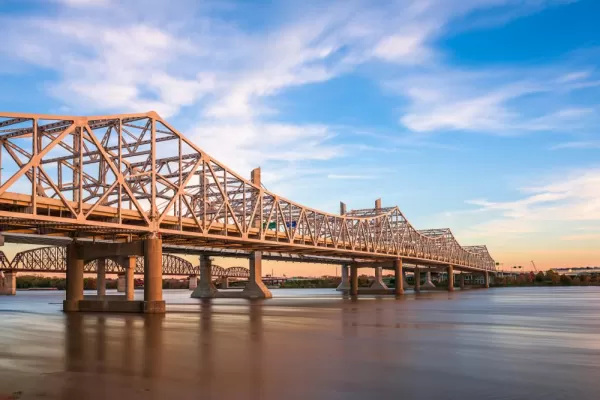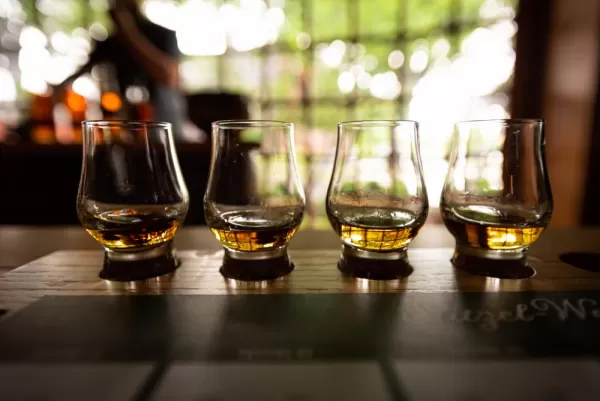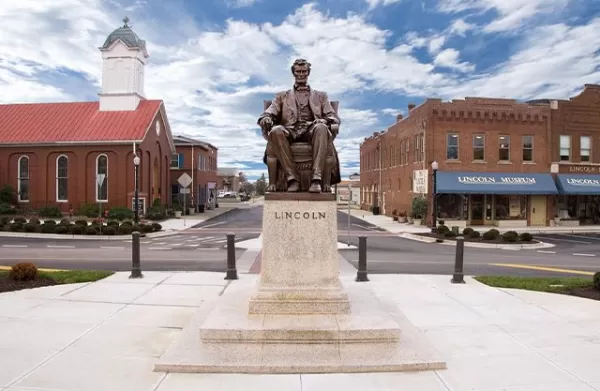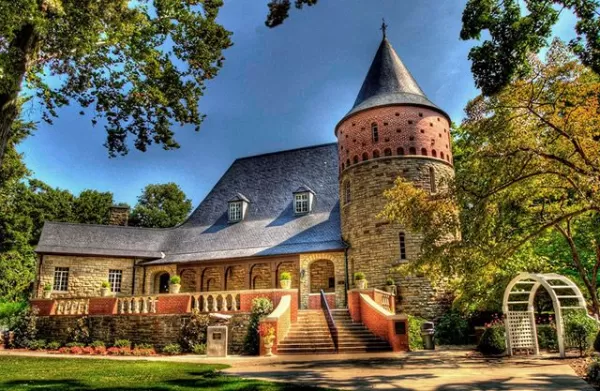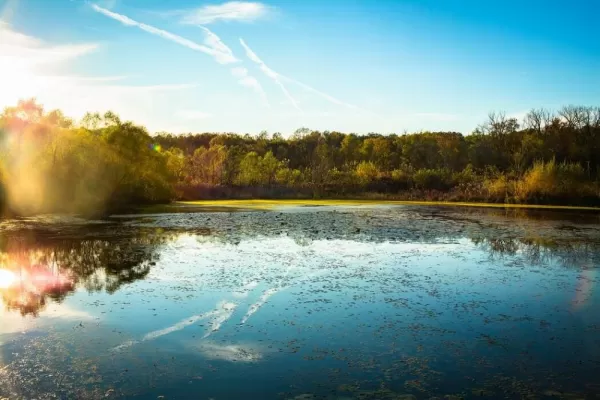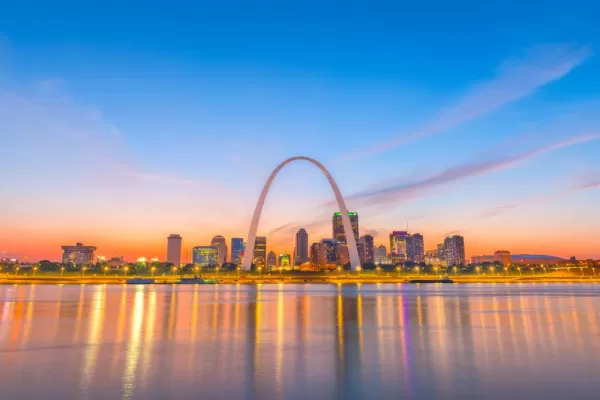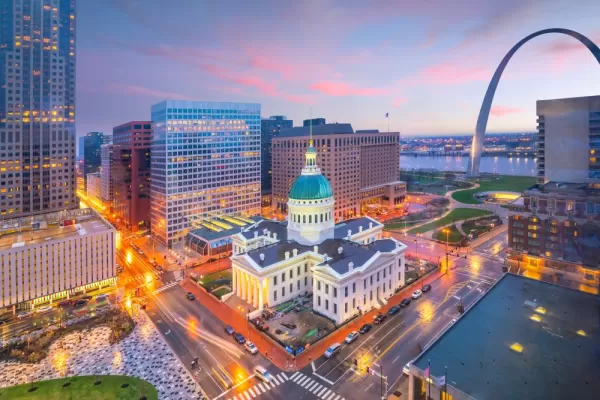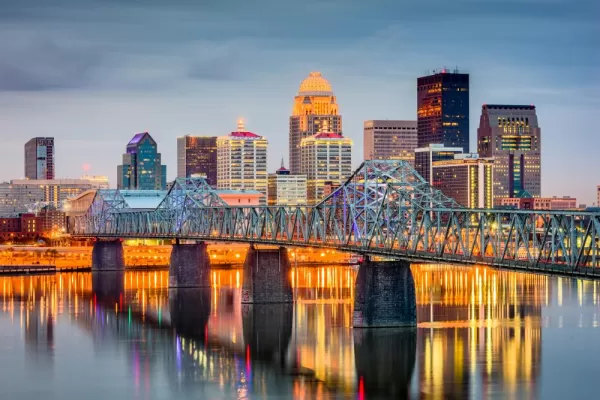 Sip classic cocktails made with locally-distilled Kentucky bourbon
Enjoy lively folk music in the community of Owensboro
Admire historic handicraft at the National Quilt Museum
Explore the vibrant art scene and foodie hot spots of St. Louis
Full Itinerary
Expand All
Day 1: Louisville, Kentucky
Enjoy your complimentary stay at the pre-cruise hotel. The evening is yours to become acquainted with the city. Our Hospitality Desk will be located in the hotel, and our friendly staff can assist with everything from general questions about your upcoming voyage to reserving premium experiences. Both American Queen Steamboat Company and local representatives will be readily available to provide you with dining, entertainment and sightseeing options to maximize your time here.
Day 2: Louisville, KY | Embark
This authentically quirky port is a muse to artisans of mixed mediums – from sidewalk chalk to street fare – and home to the cultural diversity that quickly captivates the heart of its visitors. The local tradition that lives within images of Derby hats, Old-Fashioned cocktails and the 120-foot Louisville Slugger that towers over the friendly city are better lived than seen. Explore the red penguin-peppered Main Street. Embrace oddity. Experience Louisville.
Day 3: Brandenburg, KY
1 Breakfast, 1 Lunch, 1 Dinner
The essence of Kentucky radiates, from its bourbon traditions to a tableau of rolling farmland. Soul-stirring river views and Southern warmth welcome those who pursue relaxation. Mysteries of the Civil War enlist lifelong learners on the battlefield while sprawling parks and trails make way for recreation. The grass is bluer in Brandenburg and all the surrounding areas.
Day 4: Owensboro, KY
1 Breakfast, 1 Lunch, 1 Dinner
The exuberance that pervades the sounds of folk music flows through the community of Owensboro. Each of its spaces is a lovely ballad that tugs at the heartstrings of visitors – from the notes of bourbon distilleries to bumbling butterflies in the botanical garden. The tawny banks of this river jewel extend a warm welcome, and invite you to experience the beauty in bluegrass.
Day 5: Henderson, KY
1 Breakfast, 1 Lunch, 1 Dinner
Capture your inner artisan in the home of James Audubon and W.C Handy. Hospitality flows freely through a vibrant downtown that kisses the rolling river. Wide streets welcome guests and showcase historic preservation that awakens a classic ambiance in storefronts and homes. Discover nature fingerprinted with humanity in the many parks and trials that showcase artistry throughout the town. Greetings from Henderson – a walkable community wrapped in warmth.
Day 6: Paducah, KY
1 Breakfast, 1 Lunch, 1 Dinner
In the hands of artists, modern Paducah was thrown into form. Fingertips muddied with passion and eased by the vision of river water glided along the surface to pull up the community and create the National Quilt Museum. Residents backstitch past into present, then bind appreciation for culture – ensuring that the seams of history will not soon come undone. The people of Paducah have taken great care to orchestrate every crevice of its community into a symphony of craft and color. Life is a work of art, and the town of Paducah certainly is alive and well. Feast in this foodies' fantasy. Uncover mastership. Catch a glimpse of Paducah.
Day 7: Cape Girardeau, MO
1 Breakfast, 1 Lunch, 1 Dinner
Cape Girardeau has shown hospitality to the likes of Mark Twain, Meriwether Lewis and William Clark, and now greets our guests in the same vein. Peeking through the long-standing architecture and handsome panoramas are moments that will mature into golden memories. They say sometimes the little things make the biggest impact, and here, a million little things have built an empire. Take time to dance among the light of day or pedal along the sliver of bike lanes that strip along city streets. Embrace legends, discover a simpler time and relive the wonders of the past. Here, exploration of young America is at your fingertips.
Day 8: River Cruising
1 Breakfast, 1 Lunch, 1 Dinner
Strategically placed above our docking area on the Chickasaw Bluffs is Fort Pillow – where rest the silenced voices of the Civil War. The smoke has cleared to shed light on the pogrom that transpired in this decisive point. It is here that the Fort Pillow Massacre took the lives of 221 Confederate soldiers, and experienced historians resurrect stories misplaced in the tumult of war.
Day 9: St. Louis, MO | Disembark
As the journey concludes, there are other opportunities for you to take in the town. Enjoy the city at your leisure, or consider an airport transfer.
Dates & Prices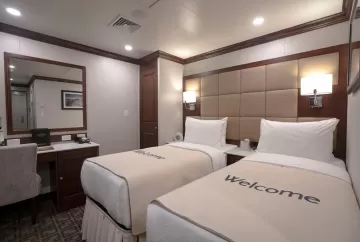 Select a Date
Inside Staterooms (E)
170 sq. ft. (wheelchair-accessible rooms are 220 sq. ft.). 43 cabins located on the Observation and Cabin Deck. Queen bed or two single beds, Full bathroom with shower, Writing desk with chair, Interior access.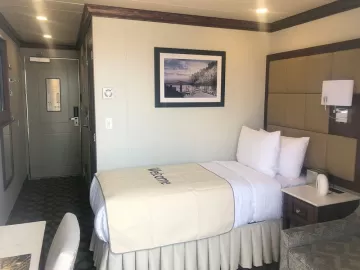 Select a Date
Single Outside Stateroom With Open Veranda (SO)
180 sq. ft. 1 cabin located on the Observation Deck. With open veranda, Single bed, Full bathroom with shower, Furnished lounge area with sofa and desk, Sliding doors open to deck, Interior access.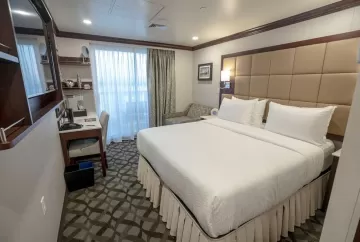 Select a Date
Deluxe Outside Staterooms With Open Veranda (B)
220 sq. ft. with open veranda (wheelchair-accessible rooms are 300 sq. ft.). 44 cabins located on the Observation Deck. Queen bed or two single beds, Full bathroom with shower, Furnished lounge area with sofa and desk, Sliding doors open to deck, Interior access.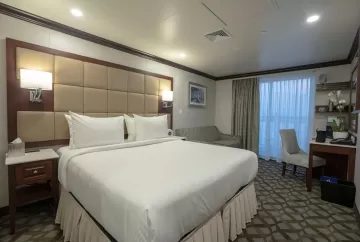 Select a Date
Veranda Suites With Private Balcony (A)
255 sq. ft. with 40-sq.-ft. private veranda (wheelchair-accessible rooms are 325 sq. ft.). 35 cabins located on the Cabin Deck. Queen bed or two single beds, Full bathroom with shower, Furnished lounge area with sofa and desk, Sliding doors open to veranda, Interior access.
Notes
Inclusions
Pre-cruise hotel night stay in the embarkation city
Included Hop-on/Hop-off Shore Ex on all ports of call (except embark, disembark ports) on AQSC cruises. Traditional shore excursion program on the VCL ships. Premium shore excursions available at an extra charge
Unlimited beverages including world-class wine lists, top-shelf spirits, local craft beers and specialty coffees
All meals including fresh lobster and USDA Prime Beef available every night
24-Hour in-room dining
Unlimited WiFi
Live, Daily Entertainment and Enrichment
Exclusions
Port fees
Gratuities
Premium and Connoisseur Beverage Packages
Premium Shore Excursions
Air
United States Travel Links
Inquire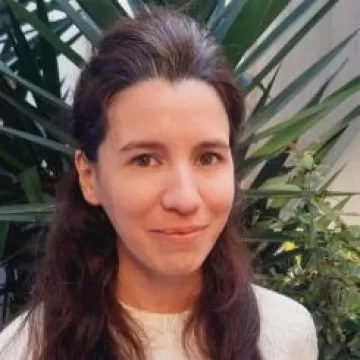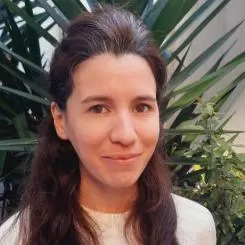 We Love to Talk Travel
Call
1.800.344.6118
or
Chat Now
We are so glad that we chose Adventure Life. The service is top-notch. Everything is well taken care of and we just have to print the documents and go. Franny even gave us timely updates on possible airport strike.
KC Chan
United States Travel Guide
Favorite United States Tours & Cruises