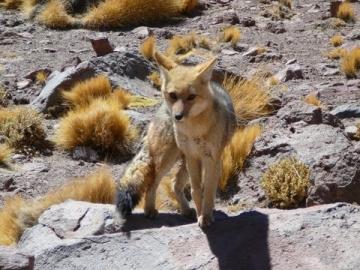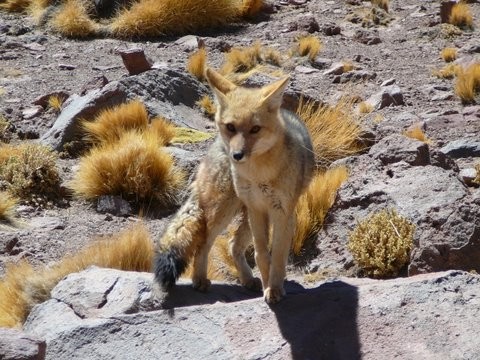 I had arrived at lunch much later than usual that day– having spent the morning swimming in an emerald green lagoon.
"I was missing you, Mrs. DeGiglio," Max said by way of a greeting when I entered the dining room of the Terrantai Lodge, a wonderful small hotel made of native stone and adobe.
I had come to San Pedro de Atacama, one of the driest places on earth, on the recommendation of a friend who tempted me with stories of lunar landscapes, soaring geysers and pristine altiplanic lagoons. I was not disappointed.
Max had been very attentive since my arrival a few days earlier when I had stumbled into the dining room too early, starving and disheveled after a crack of dawn flight from Santiago. A handsome 27-year old who hailed from a tiny town in Patagonia, Max had only been on the job a short time, but intuitively seemed to know how hard it could be for a single female traveler to dine alone. So he fussed over me and stopped by my table often, once looking sheepish when he forgot a spoon on a particularly hectic night.
"In the weeds'," I told him one night. "An American expression for a server who's hopelessly behind or so busy he hasn't the foggiest notion of who's on first or what's on second. Don't worry. Happens to everyone."
He laughed.
Anyway, I explained that I had been busy freezing by buns off in Laguna Sejar because after all it was my birthday and everyone should do something a little crazy, whereupon he immediately excused himself for a minute only to arrive back with a special drink made of blue Curacao to remind me of my swim. Downing the drink rather quickly emboldened me to invite the British couple at the next table to join me. That was a good move as we shared a bottle of wine and they turned out to be great company on the Valley of the Moon tour a little later as I traipsed along trails admiring the stark geological formations made more impressive by the shadows cast by a late afternoon sun.
Rushing back after a gorgeous sunset, I stopped by the desk, asked Max to save me a snack since I would be missing dinner, then grabbed a cab for a special trip to Alain Maury's observatory and some celestial delights. Out in the desert away from all sources of light pollution, he dazzled us with other galaxies, several planets and shooting stars.
When I arrived back close to midnight, there was Max, telling me the chef had prepared a special dinner – grilled steak, fresh veggies and quinoa. Not wanting to keep him any longer – I'm sure he had been on the job since noon - I told him to bring the meal to my room and I would eat there. I could not stop smiling. It truly had turned out to be a hell of a birthday.
On my last night in San Pedro, Max said he would miss me and asked if I would join him for a drink after work – say around 10:30 or so? We could watch the stars, have a smoke, talk, he said.
I couldn't imagine why this young man would want to hang with someone old enough to be his mother but remembering my hasty dismissal of Yan a week earlier, I agreed, feeling compelled to return, even though I was tired from a 5:00 p.m. start to see the geysers.
Watching him as he hustled to finish closing the restaurant brought back memories of my days as a waitress. As he polished the glasses, refilled the salt and pepper shakers, and reset the tables with coffee for the next morning's breakfast, he began to talk. He showed me pictures of his girlfriend and the village where he grew up. He spoke of his father, a physics teacher and mother, a nurse, and told me he wrote poetry and played the guitar, a kindred spirit who reminded me of my own youth. He said he wanted to be a citizen of the world and maybe work next in Uruguay and then on to Europe – to be everything he wanted to be.
"Do you believe in destiny," he asked? "I'm not sure," I replied, but it made me think.
When it took him longer to finish than he expected, he remarked on my patience but I told him I understood; I, too, had been a server and often came home in the wee hours of the dawn.
"See, we both like to stay out all night," he said.
Finally he was done, and as promised, told me it was time for our drink. It was nearly midnight by then but I dutifully followed him around the corner to a dark, smoky bar blaring Chilean rock music, where he introduced me to his friends as Senora DeGiglio from his hotel. We raised our glasses of Pisco Sours and then he mischievously showed me a special toast where we clinked the top of the glasses first, then the bottom and then rubbed them up and down against each other
.
"Seven years of good sex," he said, smiling.
"I had a feeling it was something like that," I replied and laughed.
We continued to talk – about apartment rents, music we liked and our dreams of travel to faraway places. An hour later he walked me back to the hotel.
The next day I arrived back at the hotel just in time for my transfer to the airport. Earlier I had cajoled the staff into one more tour to see the Rainbow Valley and petroglyphs, though I knew I would be cutting it close with maybe 15 minutes to spare.
But there was Max, hanging around the lobby, waiting for my return and asking about my
my trip.
"Fabulous," I said.
"I knew it. You have a new light in your eyes."
I took his picture and thanked him for making me feel so welcome and comfortable at the hotel.
"Your girlfriend is very lucky to have you," I said. "You're a good man."
The van pulled up and he helped me with my luggage, accidentally dropping my windbreaker in the dusty road.
He apologized, but then remarked that maybe the dust would be something to remember him by.
We hugged as I stepped into the van. A few minutes later, almost instinctively, I began to wipe the dust from my jacket so that I wouldn't look too messy on the plane.
But then I stopped.
Copyright, Wendy DeGiglio 2010. All rights reserved.