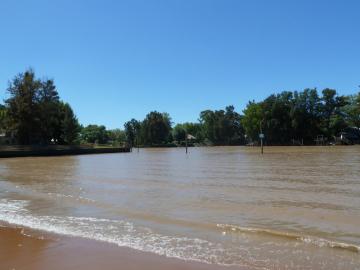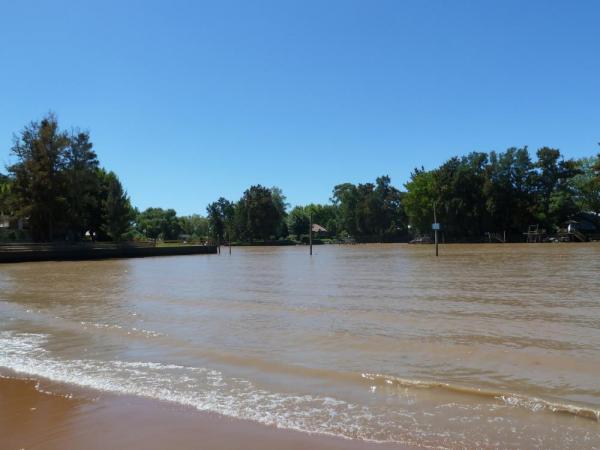 Started the day with a birthday present for my husband in a plastic bag as I forgot to bring wrapping paper. Breakfast was custom made omelets. They were delicious, but I lost my appetite midway through when they carried in a whole pig that was going to be roasted that evening. They are also preparing a lamb, a Chilean tradition for celebrations, but a bit too close to the source for me, a former vegetarian.
Today was Summit Day, the chance to raft the Class V+ Terminator, the toughest rapid on the river that is commercially raftable. It turned out to be no problem!
Today was also our first semi- rainy day. The guides were right, however, when they said that the river is the best place to be in the rain. With all our gear, the rain just blended in with the tremendous waves so we hardly noticed.
We stopped for a BBQ lunch at the camp. Ryan had decided, very hesitantly, that he might consider joining us for the afternoon segment that covered the Bridge to Bridge segment of the first two days and the two Class V rapids at the end. He was terrified as his only other whitewater experience had been scary and painful with his tendinitis, but he wanted to give it a try.
We pushed off and Gretchen wanted to try out the front so I lost my lead position for the first time that week and sat across from Ryan in the back. It was actually a lot of fun seeing the river from a different perspective.
More importantly, Ryan had a blast! From the first wave train, he was loving it!! Thanks to the rain, the rapids were even bigger than before and he thrived on the adventure. We even had the chance to raft the huge hole at Mundaca (where they had done the kayak rodeo), thanks to our guide, Diego. He had promised us a chance at this raft eating monster wave on our first day and we were the only raft that got to run it as I reminded him of his promise. Though it is an easy (and safe) place to flip, our raft stayed intact. In fact, we didn't have anyone fall out of a raft all week.
We finished the rafting with the technical Casa de Piedras (our best run through this one yet) and Ryan (who doesn't drink), even took them up on their offer of a beer at take out. He was pumped from an amazing river experience, made all the sweeter on his birthday!
Diego, our raft guide, is also a winemaker in the off season and he gave us an incredible wine tasting this evening with over 15 different reds to try.