Happy Australia Day!!!! Today was an Australian Holiday and the kitchen staff was preparing a special BBQ meal for us later on tonight. This morning, we went to Cooktown and walked around to see the sites. Since it was Australia Day, most of the people and businesses were not active. I made sure to bring my binoculars, because I had a feeling I was going to see many interesting birds! In the bay area, we could see different egrets along the shoreline and spotted eagle rays swimming in the shallows. When we walked around Cooktown, we got to see many interesting bird species like the rainbow lorikeet, friarbirds, Australasian fig birds, and honeyeater species, to name a few. We had a choice of visiting the museum or going to the botanic gardens. Of course, I chose the botanic gardens. When we got to the gardens, we saw many interesting trees and flowers. Also, it was good that I wore bug spray, because the mosquitoes were pretty thick in the forested areas. You could see Australian wildlife in the enclosure, but since it was a holiday, I guess the kangaroos remained in bed. The rainbow lorikeets and masked lapwings were very active and pretty to look at! On our way back, we passed a few memorials and statues before returning to the boat. Cooktown was a great place to visit! We only had a few hours to spend here before we move on to our next destination, Lizard Island!!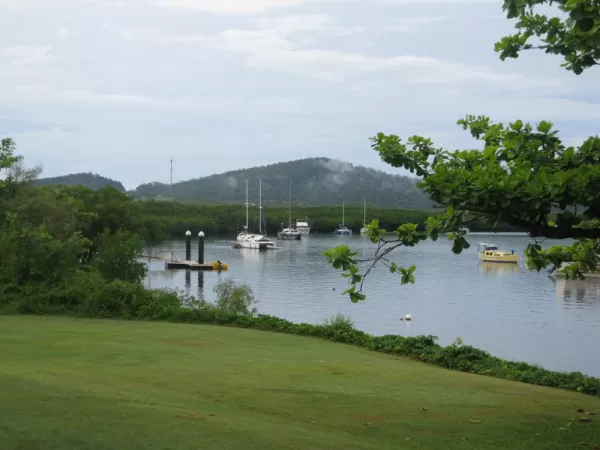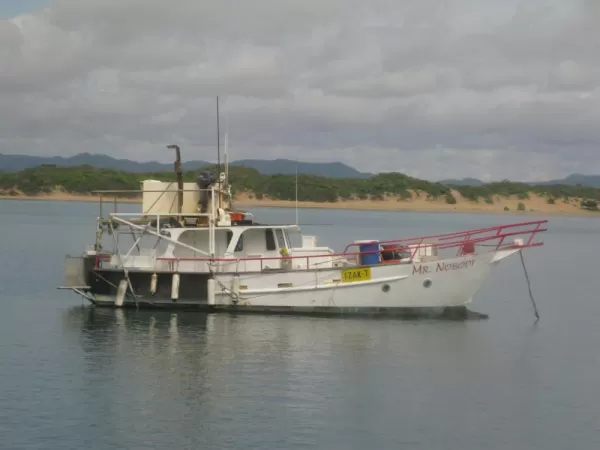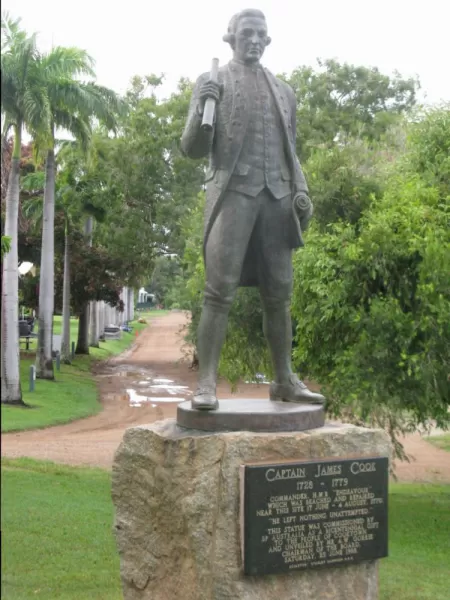 Cooktown, Australia! There were many boats in port!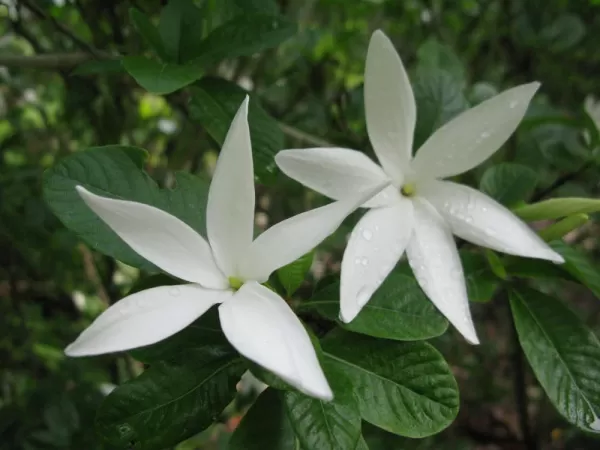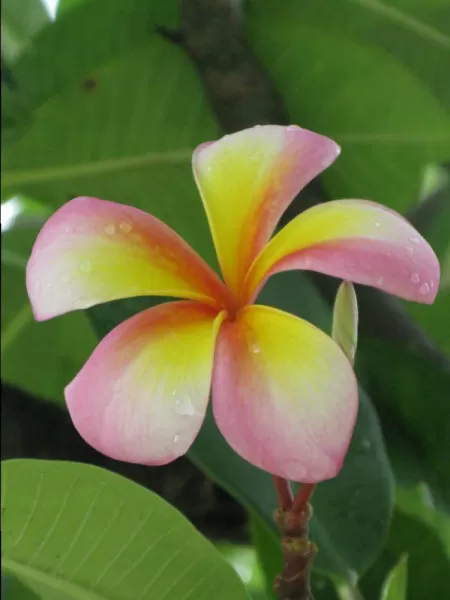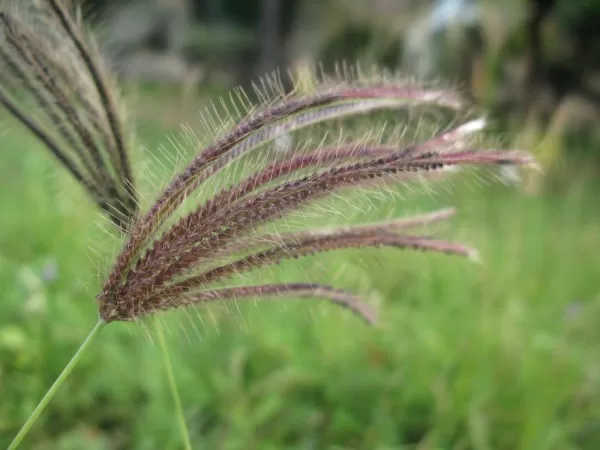 The flora was amazing here!!!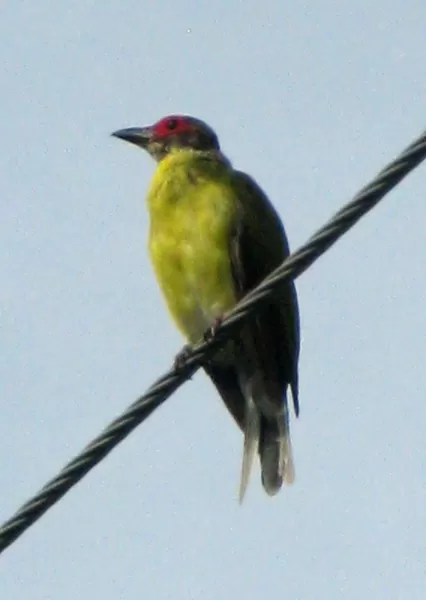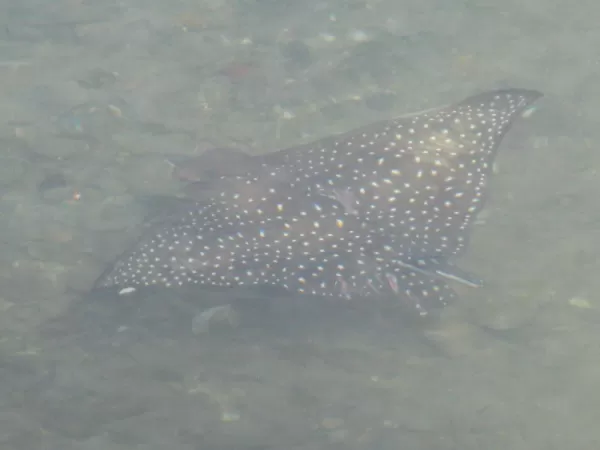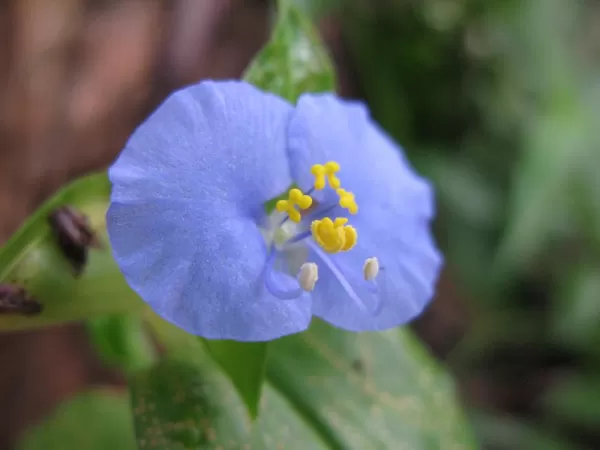 On the way to Lizard Island, you could see the dune systems along the Australian Coastline. Some of the dunes were massive! During the trip to Lizard Island, I was able to look for rare ocean/ pelagic species of birds. There were shearwater species everywhere! During the travel time to Lizard Island, we had a small lecture about corals and some rest time. One of the small things people loved was the tea time. They had a large assortment of teas, coffees, and expressos people could try with a small cake or dessert. I was on the top deck reading a few books and watching the horizon for any potential bird or mammal species.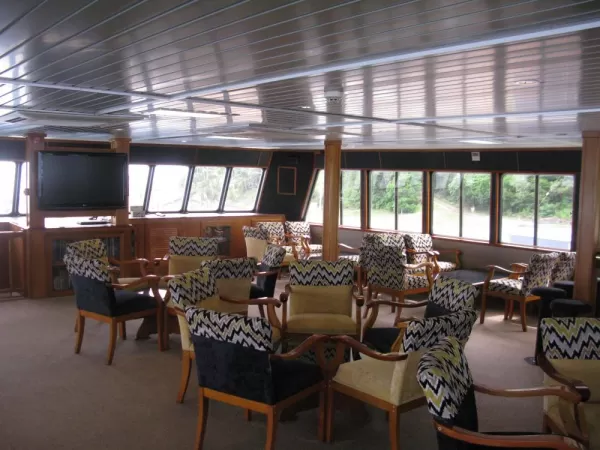 The top deck/ bar/ library/ tearoom.
Lizard Island Reef
Around evening, we got to Lizard Island. There was a thunderstorm over the mainland, so we only got to see a partial sunset. The water was perfect and very warm. We got to have our first opportunity to snorkel! Lizard Island Reef areas were amazing! They were known for having cuttlefish and giant clams. When I went swimming through the reef areas, I saw many giant clams! They were massive!!! With the giant clams, there were burrowing clams that were in the corals. Some giant clams were over three feet and were a couple hundred years old! They were very colorful. Mostly the insides of the giant clams were bright blue and green. I got to see a variety of fish such as triggerfish, chromis, sandperch, slingjaw wrasse, stingrays, and coral trout! Make sure to scan the open sand areas between the reefs, you could see a green or hawksbill turtle. Many sea turtles and cuttlefish love to swim in this water. Feather stars could be seen on many of the coral structures as well. Many of the parrotfish swim with you and were a little curious. One blue streaked cleaner wrasse was confused by my presence above his cleaning station.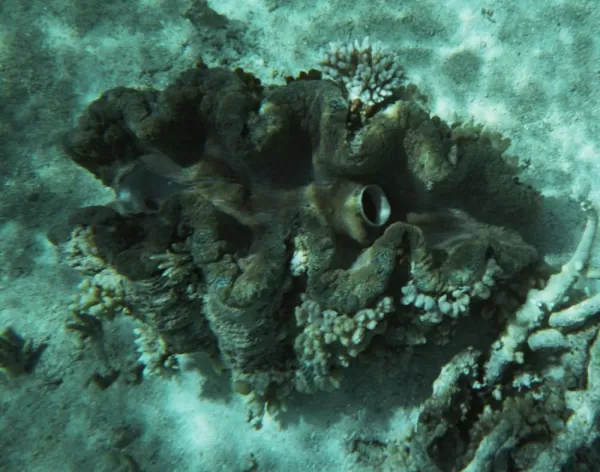 (Few snapshots of from the Lizard Island Reef)
After our snorkeling event, we got to relax and prepare for an Australia Day BBQ! We had many unique Australian foods including marinated kangaroo, which was actually really good. There were many unique fruits, sausages, and salads at the buffet line. The BBQ was amazing, and I got seconds. <_<;;; Outback by the stern of the ship, we got to watch the crew feed large fish. There were white tipped reef sharks, giant trevally, nurses harks, and mullet eating the small fish the crew was throwing out to them. It was a great evening for BBQ and to watch large fish compete over small fish. The nurse sharks were quite large and majestic when they swam through the water. Overall, a great evening!! Tomorrow, I will be waking up early for the Lizard Island hike!!