We arrived in Cairns, Australia this morning! This was the end of the North Tour and half of the people left to do other activities in Australia! I had a great time so far and I experienced many beautiful islands and reefs so far! The five of us that were left went on a small land tour before the Southern Tour Trip. They had to clean the boat and get ready for the next voyage. There was supposed to be twice the amount of people on board this time!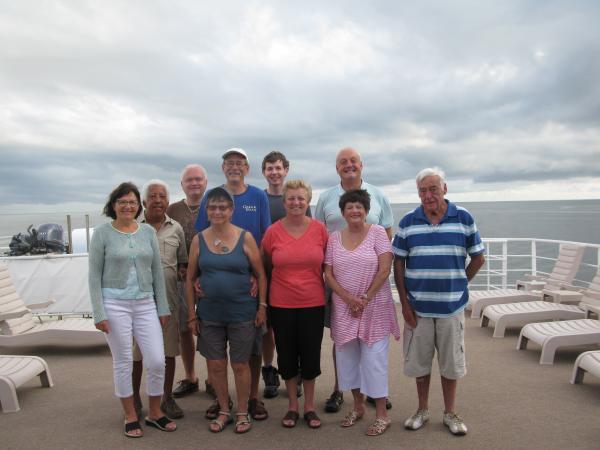 Our first group ready to part ways! We had a fantastic time on the first trip!
We had a small bus taxi to take the five of us to an Aboriginal Heritage Park! This was a very interesting park that talked about and showed us Aboriginal Culture! There were many lectures and presentations that you could attend about spear/ boomerang throwing, food and medicine, history, and art! There were many other presentations to view as well! Between the lectures, I did some bird watching and looked for interesting trees and insects to take pictures of. You can talk with many Aboriginal people to about all kinds of topics! I got to play the didgeridoo and view a lot of the unique art they had displayed. Each piece of art they did show had a story!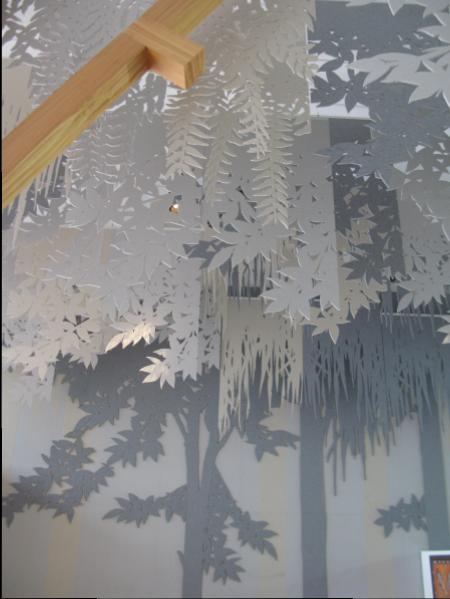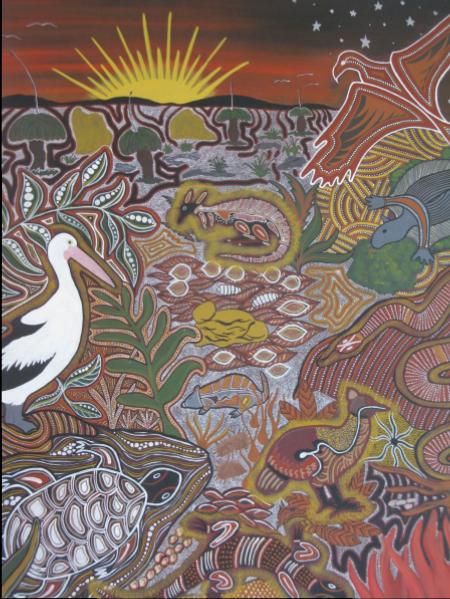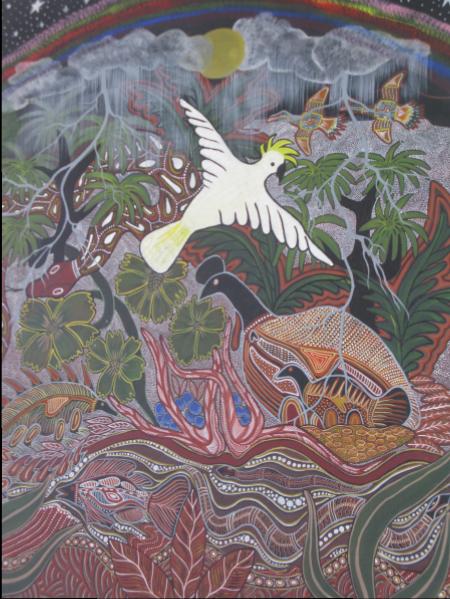 After spending a few hours at the park, we had to return for the next voyage of our trip! We got to meet many new people on board, including new staff! Now we have two marine biologists and more cabin crew! There was another small lecture about safety and an overview about the ship! Our next stop was to go to Thetford Reef!!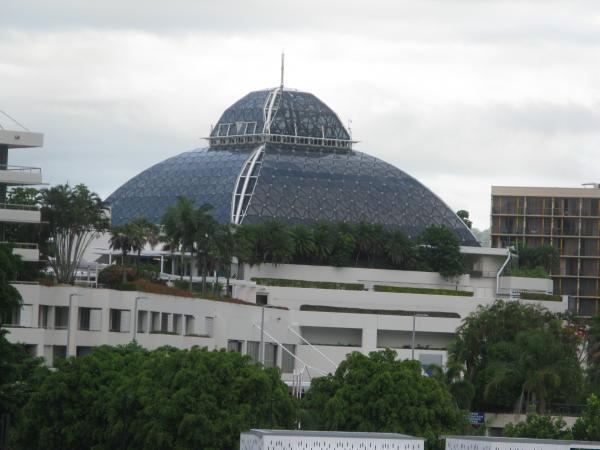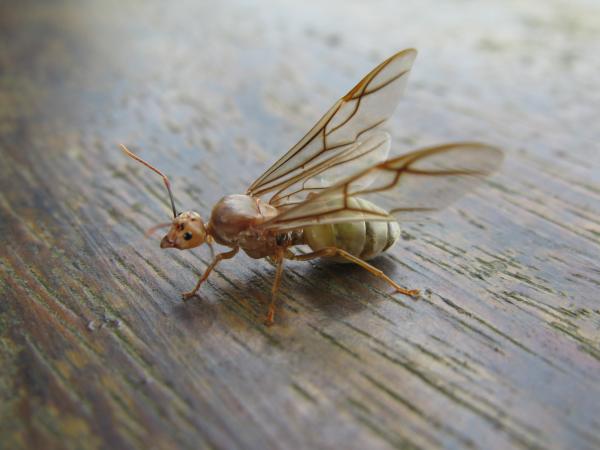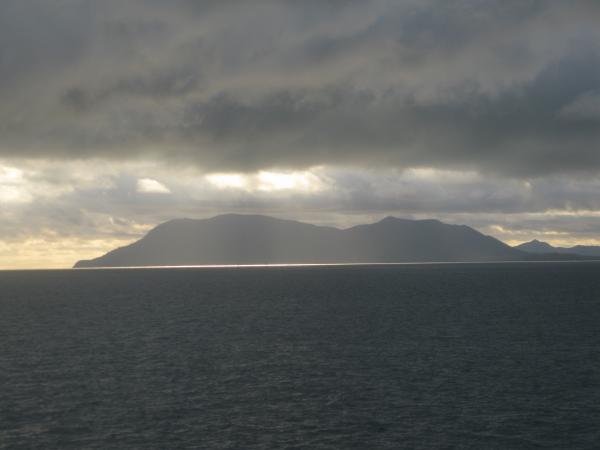 Some of the views before we depart for our next adventure!!
Thetford Reef
This reef was another unique reef to encounter! We had to swim against a strong current, but the crew of the boat made sure to put rest floats for people in case they grew tired. This reef had a very large drop off with many large schools of fishing swimming around the reef. You could see small sharks and large wrasse species here! This reef did have some algae and broken hard coral from a recent storm disturbance, but the majority of the reef was very much alive! I loved to look in all of the crevices, because you get to see rare fish such as grouper, eel, squirrel fish, and other hidden species. Look for crevices within the coral to find sea anemones and clown/ anemone fish!! This reef had an extremely diverse amount of hard corals! The table corals were very large and impressive to look at! This reef had many schools of fish swimming around and there was always something to look at! There were many fish that I loved to view on this reef. I loved looking at all of the rabbitfish (foxface and masked), slingjaw wrasse, bullethead parrotfish, regal angelfish, orangespine unicornfish, and orange finned anemone fish.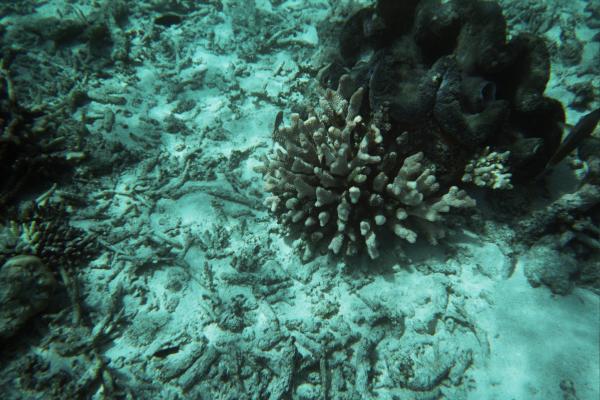 Coral damage on the left due to storms.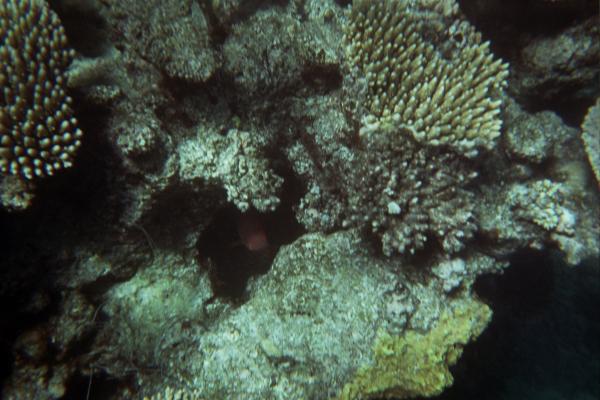 Squirrel fish hiding in the crevices.
(On a side note, each reef stop we did take there would be two glass bottom boat tours. I highly recommend taking at least one trip at each reef. If you like to write down fish species or see new creatures, these tours were the best way to see everything. The marine biologists, including the boat driver, would point out many unique fish that you would never notice unless it was pointed out to you.)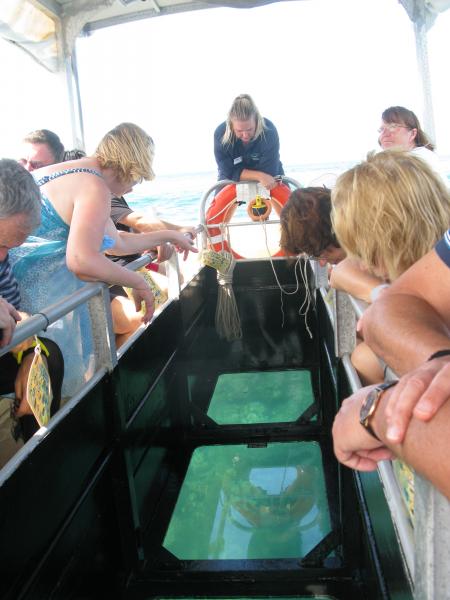 Glass bottom boat tours are a great way to view the reef!
In the evening, we got to stop at a private sand caye for wine, watching the sunset and socializing! I decided to walk along the beach to view the huge group of terns and black noddys that were resting on the other end of the island. There were very unique seashells and ocean debris on this island. There were tiny dried starfish, very colorful seashells, sand dollars, and pretty cowrie shells everywhere! I did notice there were ghost crabs all over the island as well!! The birds did not seem to mind the crabs. Most of the crabs were actually curious of me. When I was watching the birds and sitting perfectly still, I saw a few crabs walk from where the birds were to my location to get a good look at me. They immediately scuttled back to their homes when I decided to move. There was no sunset during this time, but I got to meet a lot of the new crew and talk about their backgrounds. Most of the crew had some background in education relating to the Great Barrier Reef. I learned about Australian Conservation and how people preserve land and protect animal species. When the glass bottom boat came to pick us up, no one wanted to leave, because the weather was perfect and the sights were beautiful!! Overall, a great start for the Southern Tour trip!