Today was the final stop for our tour before we head back to Cairns, Australia! It had been quite an adventure and every stop we took literally took my breath away because of the beauty of the reef systems I have encountered. Fitzroy Island was located near Cairns, Australia. The island did have a reef system surrounding the outskirts of the island. Fitzroy Island was covered with a large tropical rainforest with many interesting birds to watch like the sulfur crested cockatoo and Pied (Torresian) Imperial Pigeon.
We had our final breakfast and got our swimsuits on for the swim. I was a little nervous about the weather. We were in a clear patch of sky, but we were surrounded by storm clouds. One of the positives about being surrounded by storm clouds were the colorful rainbows! The area looked like Maui for a bit! Before we headed to the back deck for snorkeling and a briefing, they warned us to definitely wear our stinger suits for this dive. Everyone always wore their stinger suit, so I wondered why they had to make an announcement about it.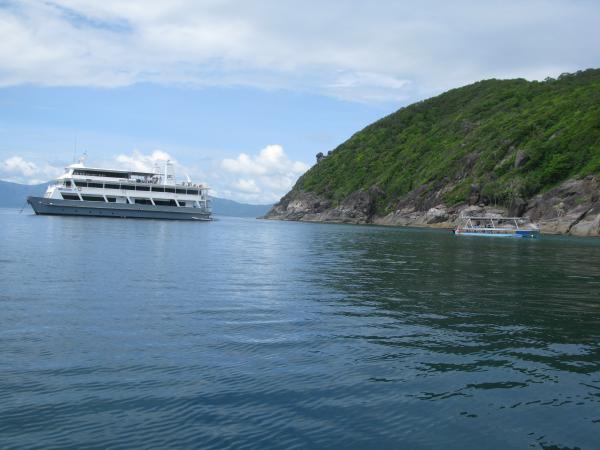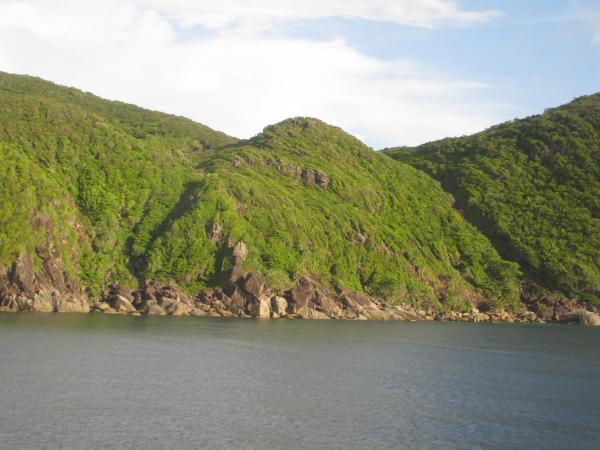 I waited for the glass bottom boat tour to depart before I went into the water.  The water was at the perfect temperature and I was told that there were sand patches where sting rays could be seen. I took a final look at my surroundings above water and I headed towards one of the sand patches. The area had many beautiful schools of small shiny fish. Mostly I saw striped silverside and crocodile needle fish moving along the surface. There were so many schools of fish, I was memorized by all of the shiny flickering of the scales. There was a large amount of butterflyfish that were swimming along the reef tops. Ornate, eastern triangle, and longnose butterflyfish could be seen along the outside of the coral structures. One resident that did surprise me was a pink moon jellyfish that floated past me. The cool part about this jellyfish were the little baby fish swimming around the inside! The small juvenile reef fish were using the jellyfish as protection. Very clever nature….very clever!!
As I continued towards the shoreline, I saw one of my goal fish!! The flutemouth was an extraordinarily long and thin fish swimming in place by one of the sand openings. It was pretending to be like a stick, because it did not move from its spot, no matter how close I got. One thing I did notice when I swam closer to the shoreline was the increasing amount of jellyfish I saw. Moon jellies, comb jellies, and upside down jellyfish everywhere! Not making this up. I was so caught up with the flutemouth fish to not notice the jellyfish swarm around me. I did not want to be stung in the face again. After awhile I could not avoid them, there were so many!! There must have been a couple hundred of them along by the shoreline. They were very beautiful and I made sure to take a lot of pictures of them. When I did see another fish I wanted a picture of, a jellyfish would photobomb my picture.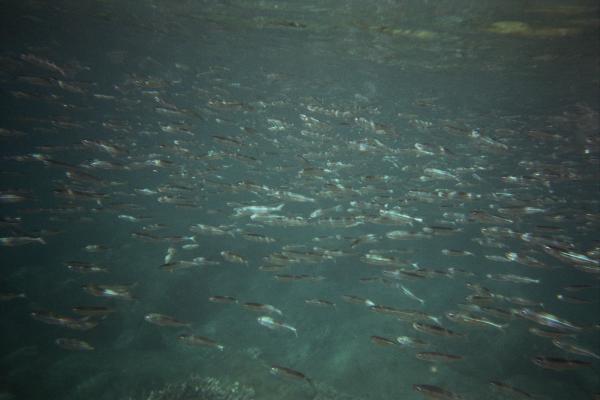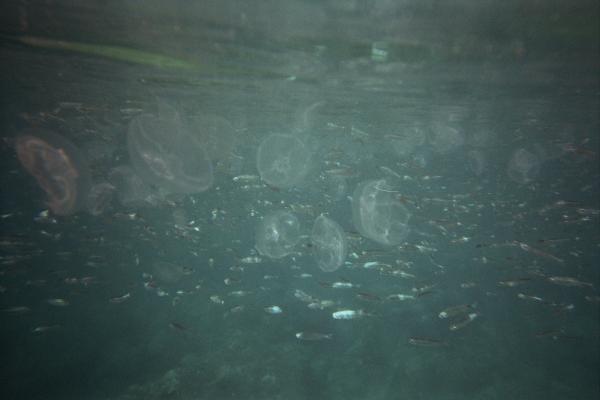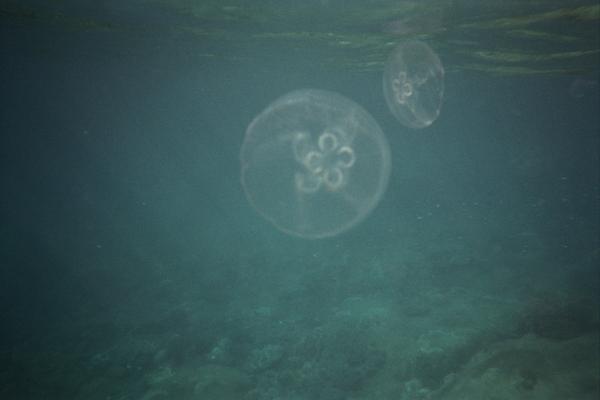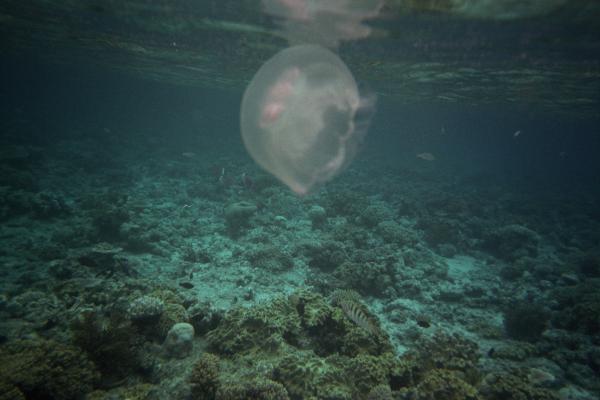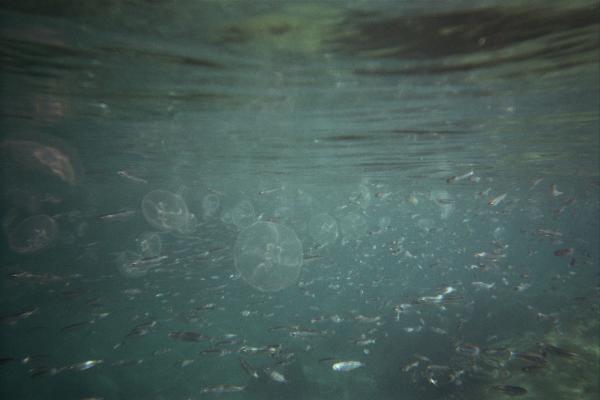 At first I was nervous about being surrounded by these jellyfish, but since I was wearing a stinger suit, I wanted to try an experiment…. I touched the jellyfish on the bell (head) to push them away. I found out quickly that they did not really sting at all and they were harmless. All of these jellyfish were just here to eat different zooplankton. The reason why there were so many of them here was due to the current I presume. Fitzroy Island was a good resting stop for them. I began swimming through the jellyfish without any incidents. When I relaxed to look at each jellyfish, I noticed a large amount of fish that were schooling through the swarm. There were many juvenile fish as well that were swimming in the jellyfish, especially the upside down jellies. Other snorkelers noticed that I was in the jellyfish swarm and they began to adventure through the jellyfish as well. This was one of my most memorable experiences!! It was a joy to see all of the jellyfish.
After snorkeling, I took a glass bottom boat tour to dry off a bit before I packed all of my clothes for the trip back home. This reef showed many unique soft corals that ranged from purple to yellow to green. There were a high number of harlequin tuskfish that made this reef their home. Of course we saw the regulars like the half and half pullers, scissortail sergeants, parrotfish and triggerfish. They were all amazing to look at! The barred rabbitfish along with the harlequin tuskfish were my favorite to look at.
Unfortunately, it was time to go and we had to depart for Cairns, Australia. I did some bird watching off the boat and I saw many interesting birds along the islands and mangrove areas. We all had a group picture and we had to bring our smiles again. Fortunately, everyone was already wearing their smiles!! We had a nice quick lunch and we ported at Cairns. The crew was all lined up and I was able to greet each one and say my thanks for such an awesome trip!!! We had a bus ride back to the airport from the boat and I had plenty of time to view Cairns one last time along the way. The large fruit bats were still numerous and flapping their wings together to keep themselves cool. Many of the urban birds I saw before such as the masked lapwing, willie wagtail, and Rainbow lorikeets were flying around.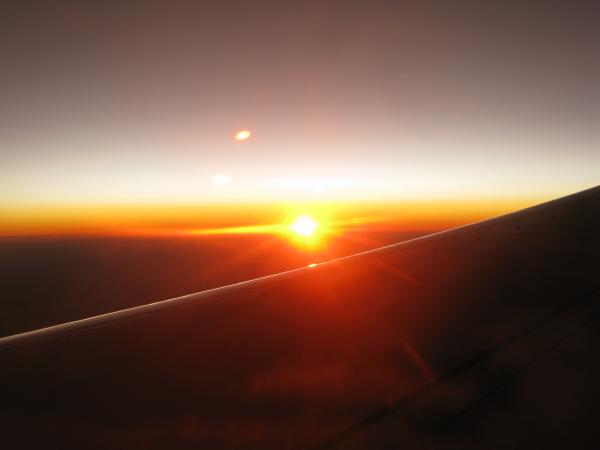 This trip had been quite an adventure. Every single reef was unique and provided me with a better understanding how the coral reef ecosystem works. I have been to many reef systems before in Hawaii, China, Belize, Honduras, Costa Rica, Bahamas, and Florida, but the Great Barrier Reef was a completely different and brilliant experience to have. I would never forget this amazing trip. In the future, I would want to return to Australia to experience the wildlife and reefs again. Maybe in a few years after I have traveled to other countries I have not been to!!!