When should you visit the Caribbean? 
Whether travelers seek an active vacation with sea kayaking, snorkeling, and fishing, or a restful time spent reflecting over the clear turquoise water, a Caribbean cruise with Adventure Life offers it all. With an island chain stretching over 2,500 miles long but only 160 miles wide, the Caribbean Islands are in the heart of the tropics, giving them a year-round feeling of endless summer. With water temperatures remaining consistent around 80 degrees all year, swimming, snorkeling, and kayaking are always in season.
Air temperatures fluctuate between just 70 and 90 degrees Fahrenheit (between 21.1 and 32.2 degrees Celsius) from the winter to summer months, but the summer months experience the highest temperatures and humidity, while winter months are the driest and sunniest, characterized by lower humidity. Brief afternoon rain showers can occur all year.
In our opinion,
the absolute best season to visit the Caribbean is from late December through May
, after hurricane season but before the hazy months of early summer.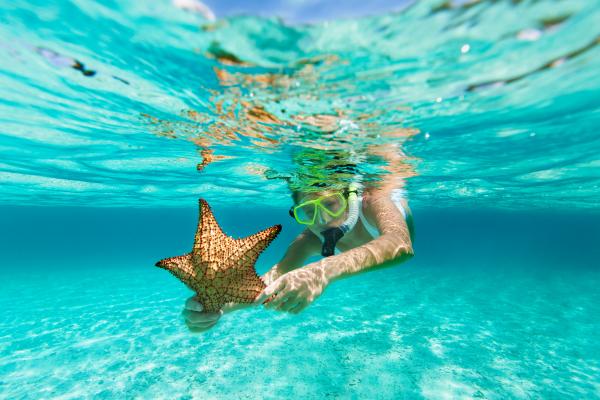 High Season in the Caribbean
The high season in the Caribbean runs from December through May, coinciding with the winter months of North America and Europe when travelers are seeking warmer spots to vacation. During this time, port cities are alive with sun-seekers and vibrant local cultures, eager to share their unique Caribbean cuisine, art, and island lifestyle. The only downsides of visiting during this time are that there will be far greater crowds of travelers visiting the islands and your hotels may be more expensive when compared to other times of the year.
Hurricane Season (May-October)
While there is not a pronounced "rainy season," the wettest months occur from May to October, which is also considered hurricane season. Therefore the optimal time for a cruise of the Caribbean is outside of these months for clear sailing. Many island resorts close down for part of September and all of October to refurbish and prepare for December.
Hazy Horizons 
From mid-May to mid-June, a strange phenomenon can occur when Sahara sands from Africa blow across the ocean and create hazy conditions in the normally crystal clear horizon of the Caribbean. That said, since these are the North American summer months, it is still a popular time to visit the Caribbean, and travelers will still enjoy pleasant daily temperatures and a full menu of activities to choose from.