The British Virgin Islands are located about 50 miles east of Puerto Rico, and are adjacent to the U.S. Virgin Islands. About 60 islands comprise this archipelago, only 16 of which are inhabited. The largest island, Tortola (Spanish for turtle dove), houses about 75 percent of the population. The capital of the BVI, Road Town, is located on Tortola.

After Tortola, the next largest island is Anegada, followed by Virgin Gorda, and then Jost Van Dyke. The total population of the BVI is under 25, 000 people.

The island terrain is born from volcanic origins, and thus is generally rugged and hilly. Most areas are still natural and uncultivated, much with a tropical, woodsy cover and an abundance of tropical flora. The sapphire blue of the ocean against the emerald green backdrop of the islands offers a true beach lovers paradise with its white, sandy beaches.
Want to Go?
destination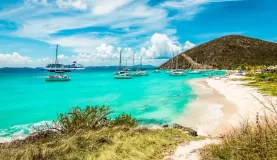 region