Step back into time and visit the Dominican Republic. Learn about the ancient history, enjoy the local culture, and taste the delicious cuisine on a Caribbean cruise. Enjoy tropical weather and sandy beaches on a relaxing vacation including the Dominican Republic.

Dominican Republic Ancient History

Originally occupied by Tainos (friendly people), called the island Quisqueya (or Kiskeya). None are left in existence today. The Tainos gave the world one of the favorite holiday foods, the sweet potato. They also gave us peanuts, guava, pineapple and even tobacco. Unfortunately they were wiped out by diseases and slavery brought to them by the Spanish.

The Tainos welcomed Christopher Columbus when he arrived on December 5 of 1492. They also welcomed his return in 1493. In 1503 the Spanish brought with them African slaves as labor for the plantations they were building.

Consequently, two colonies were grown on Hispaniola, one Spanish and the other French. Thousands of African slaves worked the land and in 1804, after a struggle that lasted for 70 years, the French colony gained independence. Thus it became the major black republic in their New World.

Dominican Republic Culture

The culture of the Dominican Republic exciting, colorful and full of vibrance. With a passion for music including merengue and bachata, music is definitely a form of expression amongst the people. Secular music played an important part in the daily life of the Colonial era including the planters and the elite.

Spain introduced song and dance with forms such as the bolero and fandango during the 18th century.

Dominican Republic Cuisine

Visitors on a Caribbean cruise are likely to find an eclectic mix of foods available such as the local fare El locrio. A mix of rice with chicken or beef, it is sometimes served with kidney beans. El asopao is a thick soup with rice and meat. Fried banana's with cinnamon will delight the palate after a delicious meal.

The style of cooking is unique to the island with so many cultural dishes available. Influences from Tino Indians, Spaniards, African slaves and other immigrants have created their own food styles and dishes full of distinctive flavors, appearances and tastes.

Recipes are kept simple and high in carbohydrates and starches. Made from naturally local grown foods readily available in family gardens or from local street vender's. Generally their foods are not spicy. If you don't see black pepper be wary of asking, you're likely to be handed a bottle of hot sauce in lieu of your missing black pepper.

Dominican Republic Geography

Occupying the eastern two thirds of the island of Hispaniola, the Dominican Republic is 48,921 square km and the second only to Cuba in size. With a coastline stretching 1,633 miles and bordered by the Caribbean Sea you'll find plenty of beach to explore.

The geography is greatly diverse from arid semi desert plains to lush valleys tapering to tropical rain forests. The Dominican Republic has 27 different climate zones which result in a variety of beautiful lush vegetation.

Visitors on a Caribbean cruise can enjoy the gold or white sand beaches although the interior of the country has a fabulous offering for visitors as well. Five mountain ranges run through the country as well. Divided into 30 provinces the capital is Santo Domingo and is the oldest city in the Caribbean.

Dominican Republic Modern History

Colonists in 1821 declared their independence from Spain. Haiti invaded and occupied it for over two decades. The Dominicans refused to accept the Haitian rule. In February of 1844 a bloodless coup was led by Juan Pablo Duarte reclaiming the autonomy of the Dominican Republic.

In 1861 they again submitted to Spanish rule. After four years of resistance they expelled the Spanish Troops in the War of Restoration. In March of 1865 the Queen of Spain finally signed a decree which annulled the annexation and she then withdrew her soldiers from the island.

In 1916 President Woodrow Wilson sent Marines to the Dominican Republic to quell a coup attempt. They remained for eight years. Although considered imperialistic, it was this occupation that stabilized the Dominican Republic.

Dominican Republic Weather

Temperatures remain between 81(F) to 87(F) in most places throughout the year. The humidity can make the temperature feel warmer than it actually is. Sea breezes help to relieve the heat and the rainy season from May to October adds even more moisture to the already tropical climate.

Hurricane season runs from June to November and heavy rains frequent the area during these months. Heavy rains may cause flash flooding and land slides so it's important if visiting during this time to follow all of the advice of tour operators and local authorities.

The main tourist season is December through February and again July through August. Higher prices and more crowds will prevail at these times. February is a wonderful time to visit and enjoy Carnaval and the whales as they make their appearances. Travelers in November will miss the whales, but they'll be able to enjoy baseball season.

Dominican Republic Politics

The Dominican Republic consists of three branches of government, including executive, legislative, and judiciary branches. The Head of State is also the Head of Government, and the framework allows for a multi-party representation. The President holds a vast amount of power, including that to appoint and remove officials, even popularly elected ones, among other authority.

Leonel Fernandez won a third term as president in the elections of May 2008. Many see his success as pulling the country out of a deep economic slump. He first served as president in 1996 after then President Joaquin Balaguer stepped down. Born in 1953 to an army officer, he moved to New York with his parents. Upon his return to the Dominican Republic, he attended the Autonomous University of Santo Domingo. He obtained his doctorate in 1978.

Travelers are encouraged to avoid political demonstrations which often lead to violence. These demonstrations rarely occur in tourist areas and foreigners are rarely targeted.

Dominican Republic Wildlife

Hispaniola is well known for it's bat population. Home to over 22 species of bats only 3 of them have become extinct from the island.

The area is also home to Humpback Whales, Atlantic Spotted Dolphins, Spinner Dolphins, Clymene Dolphins, steam frogs, tree frogs and the tuck-wheep frog. Of course, no island would be complete without a few American Crocodiles lying around basking in the sun. Desert Gecko's also enjoy the tropical climate here.

Birders love to visit and observe the over 300 species of birds that have been recorded in The Dominican Republic. Including a fascinating 27 endemic species. More than any other Caribbean Island. Home to a variety of slugs, snails and various bugs even the fire flies are fascinating here.
Want to Go?
region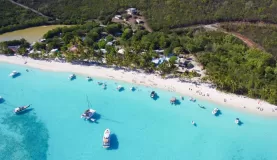 country