As part of the United States, the US Virgin Islands are an organized, but unincorporated territory of the US. The islanders are considered US citizens, but they cannot vote in the US Presidential elections. The Democratic Party of the Virgin Islands, the Independent Citizens Movement (ICM) and the Republican Party of the Virgin Islands are the main political parties on the islands. All other candidates run as independents in the races.

The US Virgin Islands elect a delegate to Congress but this delegate cannot participate in floor votes but they are able to vote in committee.

For the islands, at a more territorial level, elect 15 senators for a two-year term to the unicameral Virgin Islands Legislature. The selection of the senators is by district; seven senators are elected from the St. Croix district, seven from St. Thomas and St. John and then one senator at-large who must be a resident of St. John.

The islands also elect a territorial governor every four years. Prior to 1970, the President of the US appointed the governor. The islands also have both a District Court as well as a Superior Court. The judges are appointed by the both the President and the governor.

The US Congress has offered a choice to the citizens of the islands to be independent, status quo, or statehood. None of these have attracted enough interest or voter turnouts so the islands will stay at their current status of territory to the US. It has been suggested that the possible future Puerto Rican statehood might set the ball in motion for other territories to increase their political interest in their status.
Want to Go?
region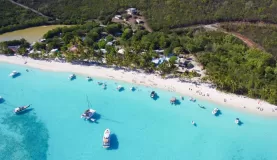 destination