The island of St. John is a place to find beautiful and exotic animals, coral, and plants. Frogs, gecko, anole and iguana lizards are among some of the animals on the various islands. There are over 30 varieties of birds on the islands including the bananaquit, the ani (a black, parrot-like, smooth billed bird), and two species of Caribbean hummingbirds. Many birds seen in the continental US during the summer months are found in the forests in the winter.

Of the mammals on the Virgin Islands, the bat is the only native mammal. Bats are important to the island because of their ability to pollinate many of the island's flowers and disperse seeds from fruit trees and shrubs. Insect control, including mosquitoes, is another important function bats serve on the islands.

Deer, sheep, donkeys, goats, cats, dogs, pigs and mongoose are not native to the islands. Their presence has altered the island including erosion, vegetation patterns, and has reduced the size of the natural species on the islands.

With over 800 plant types, there are plenty of diverse species of flora including the bay rum tree, the Teyer palm, and rare orchids. The bay rum trees' fragrant leaves provided the oil for the manufacturing of bay rum cologne. The Teyer palm is the only native tree on the island of St. John.

Another important wildlife refuge for the islands are the coral reefs, which include fish such as parrot fish, tands, grunts, snappers, butterfly fish, angles, damsels, squirrel fish and wasses. Other animals such as sponges, starfish, urchins, worms, crabs, lobsters and anemones also inhibit the warm tropical waters around the islands.

While on the islands, a visitor might just run into dwarf herrings, great barracudas, mangrove crabs, snowy egrets, spotted eagle rays, and jellyfish. Only in certain areas is finless snorkeling allowed to protect the marine life. Off the island of St. Thomas, whales can be found breeding off the north end of the island from January to April.
Want to Go?
destination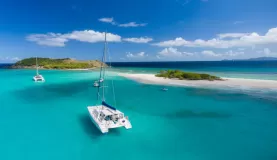 region