When to go?
The best time to visit
Egypt
is from
October to April,
when temperatures are a little cooler. However, be mindful of
Ramadan
which usually takes place in
March or April,
as local business hours will be different. You might find it difficult to find restaurants or shops open during the day.
January and February
are the busiest months, so avoid them if you are looking for a more relaxed vacation with less crowds.
Traveling in
September, October, March, and April,
when the peak tourist season begins or ends, is also an excellent option. Temperatures will be a bit warmer, but you won't find as many crowds.
It's important to note that between
March and May
, the
Khamsin
Wind
tends to bring thick dust and sandstorms, so if you're exploring the Giza Pyramid Complex or sprawling deserts of Egypt during this season, be sure to bring a bandana or something to cover your face.
If you're not a fan of scorching heat,
avoid visiting Egypt from May through August
. While the average summer temperatures of
Cairo
don't climb over 100°F (37.8°C), Southern Egypt (between Luxor and Aswan) has consistent daily highs of up to 106°F (41°C). If you must travel this time of year, consider a
Nile cruise
to enjoy the occasional breeze on the river.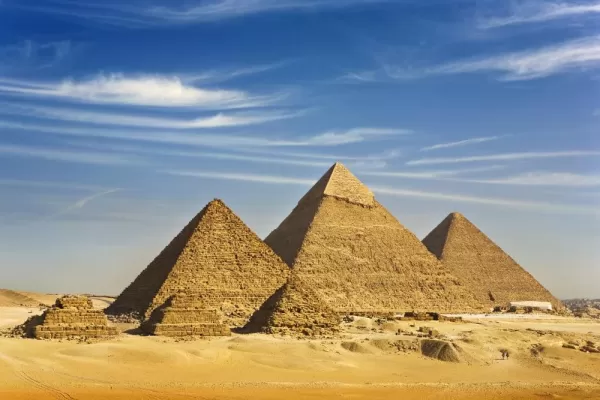 Egypt Weather
Since Egypt is mostly a desert country, expect
dry heat with very low humidity.
Unlike many countries in the southern part of
Africa
that have a distinct wet season, Egypt never receives more than half an inch of monthly rain at any point during the year. Even in the wettest parts of the country, it only rains on average 46 days per year. This means that the hotter months are a little easier to endure without humidity.
However, bear in mind that the sun-baked tombs, which receive no ventilation, can be downright harsh in the heat of summer. The
hottest months
in Egypt are
July and August,
when temperatures can be almost unbearable for travelers sensitive to heat.
The south gets a bit hotter than
Cairo
. High temperatures that can reach 40°C make this not the best time to go to
Luxor
,
Aswan
,
Abu Simbel Temple
, and other tourist sites in
Upper Egypt
. If you plan a trip at this time, opt for morning or afternoon tours and avoid the midday sun.
At a Glance
Winter: December-February, peak tourist season, crowded attractions, pleasant temperatures
Spring: March-April, waning crowds, hot but tolerable weather, fewer crowds
Summer: May-September, few crowds but extremely hot weather, sometimes in the triple digits
Coolest month: January
Hottest month: July
| | | |
| --- | --- | --- |
| Month | Temperature | Rainfall |
| January | 48-66°F | 0.2 inches |
| February | 50-69°F | 0.15 inches |
| March | 53-74°F | 0.15 inches |
| April | 48-83°F | 0.04 inches |
| May | 60-90°F | 0.02 inches |
| June | 68-93°F | 0 inches |
| July | 72-95°F | 0 inches |
| August | 72-94°F | 0 inches |
| September | 69-91°F | 0 inches |
| October | 63-85°F | 0.03 inches |
| November | 57-77°F | 0.15 inches |
| December | 51-69°F | 0.23 inches |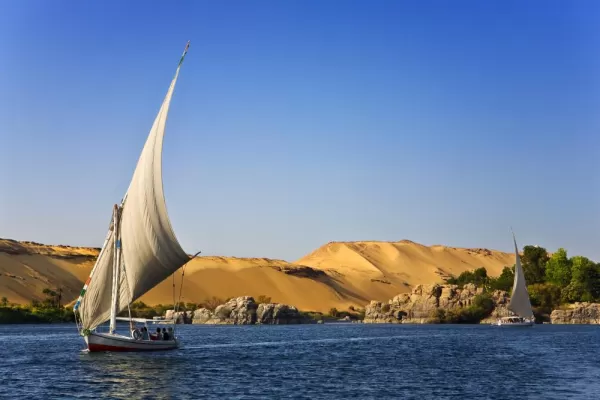 Best Time for a Nile River Cruise
The best time to
cruise the Nile River
is between
October and April
. With blue skies and mild temperatures that don't usually exceed 26°C, travelers can make the most of offshore day trips and explore Egypt's top tourist attractions, such as the
Giza pyramids
and
Luxor temples
. However, as this is the river's high season, accommodation prices tend to increase, especially during the December holidays.
Best Time for Snorkeling and Diving the Red Sea
Summer months from June to August may be too hot for some sightseers, but they offer the perfect conditions for scuba diving and snorkeling in
Sharm el-Sheikh
,
El Gouna
,
Marsa
Alam
, and other dive sites in the
Red Sea
. You can dive year-round in
Egypt
, but these months boast the calmest waters and clearest underwater visibility. Plus, the
Mediterranean
coast tends to be cooler, with the sea breeze providing some relief from the heat.
Best Time for Cultural Events
While some Egypt tour packages include special cultural events, it depends on the time of year you choose to visit. Besides celebrating the holidays in December, winter experiences include the Coptic Christmas in January and Abu Simbel Festival in February. Locals celebrate Sham El-Nessim in April to mark the coming of spring, then hold the Wafaa El-Nil festival in August as a tribute to the great Nile River.
Holidays in Egypt
Coptic Orthodox Christmas
The Coptic Christmas is not unlike the Christian holiday celebrated in other parts of the world. The only difference lies in the religion's use of the Julian calendar over the Gregorian calendar, moving from December 25 to
January 7
.
Abu Simbel Sun Festival
This festival of light takes place twice a year
(February and October)
at the temple of Abu Simbel and matches the dates of the birth and coronation of the Pharaoh Ramses II. The main show begins when the sun's rays break through the stone to illuminate the statues of Ramses II, as well as those of Amun, and Ra, the two sun gods. Outside the temple, the locals celebrate with dances, music, theater shows, and typical cuisine.
Coptic Orthodox Easter
Coptic Easter also has a different date compared to the more widespread Christian holiday. It
often takes place in late April or early May
. It is celebrated on the Sunday before the Egyptian holiday of Sham Al Nassim and ends with an incredible feast that lasts until the following day.
Sham Al Nassim
This is a very old traditional festival that means "to smell the breeze", which celebrates the beginning of spring. It takes place on the
Monday after Coptic Easter
and is accompanied by three traditional meals: dried salted fish that symbolizes fertility and well-being; eggs painted in colors symbolizing new life; and green vegetables representing hope and intended to ward off negative energies.
Ramadan
This is the holy month for practicioners of Islam, which
usually takes place in April.
During this time, you'll find that all Egyptians, regardless of their religion, change their daily activities. As most of the population is fasting from dawn to dusk, many businesses will be closed during the day. While travelers aren't expected to fast during Ramadan, many landmarks, shops, and dining establishments are only open for a few hours. Some restaurants and businesses will only operate after sunset.
Wafaa Al Ni
This festival, which translates as "Bride of the Nile," takes place in
August
and celebrates good harvests and the absence of floods. Locals celebrate by offering a wooden or clay doll dressed as a bride to the river for good food.
If you want an unforgettable trip at a reasonable price, get in touch with our
Adventure Life travel experts
. Our goal is to find the best time to go to Egypt for
you
and stage the perfect Egypt vacation that fits your schedule.