Late April to early June and September to early October are widely considered the best times to cruise the Rhine River due to ideal weather and crowds, while cruise prices are correspondingly higher during these periods. That said, the decision of when to take a Rhine River cruise is largely a personal preference of weather 

At a glance, the summer months (June-August) are hot and receive the highest volume of tourist traffic; spring and autumn months have more pleasant temperatures and are considered the shoulder seasons; November and December, though chilly and occasionally just cold, are great months to travel the Rhine to see the traditional Christmas markets set up in each town along the way. November is the most economical month to take a Rhine River cruise.

If we had to pick a month, September is the best month to cruise the Rhine. Why? The fall foliage is turning central Europe into a harvest wonderland; brisk autumn temperatures characterize the season, with the last warmth of summer still in the air; and a remarkably lower number of people traveling through Europe makes the sites and destinations much more enjoyable to explore. 
Of course, traveling during another month might be better for your preferences, if you really enjoy the warm temperatures of summer or if you're hoping to see a certain event like the Christmas Markets or the Rhine on Fire fireworks displays throughout the year.

Spring Rhine River Cruises
Though water levels are hard to predict in March, April, and May, this can be a great time to visit Europe to see the landscape coming back to life in vibrant pastels, especially the picturesque fields of tulips that define many parts of the countryside in the Netherlands. 

Summer Rhine River Cruises
Summer is the most popular season for tourism along the Rhine River. If you love the heat, you're in luck, because temperatures can reach over 100 degrees Fahrenheit. Since this is peak season, cities and sites tend to be much more crowded during this time, which isn't necessarily a bad thing, but some people find it a bit of an inconvenience, especially coupled with the heat. It is the best time to soak in the sun on the panoramic decks of each riverboat. 

Winter Market Cruises on the Rhine
These exclusive November and December cruises highlight a unique tradition that has defined the holidays along the Rhine for centuries - the Christmas Markets. Each of the cities and towns you stop in on your Rhine River cruise will feature an Old Town decorated to the nines with stunning traditional Christmas displays. In the heart of it,02020 all are the markets, where travelers can enjoy the flavors of generations-old holiday recipes, handcrafted souvenirs, and festivals that showcase the cultural heritage of each town. Be aware that the temperatures during these months are much colder, so pack plenty of warm clothes!
There are no Rhine River cruises during frigid months of deep winter in January and February, and spring river cruising resumes in the month of March.

Water Levels
Anyone planning a European river cruise must be aware of how water levels might affect their itinerary. When water levels are too high, riverboats may not be able to pass under bridges; on the other hand, when water levels are too low, certain portions of the river might not be navigable for the long riverboats. There is also the possibility that a lock along the river isn't working properly, which can also cause a delay. 
Unfortunately for savvy planners, there's no way to predict the water level when booking a cruise since it depends largely on the weather that year or even that month. When high or low water levels do interfere with cruises, don't worry - cruise companies will either wait for the water to return to a safe level to continue the itinerary or offer to transport you to the planned destinations via luxury coach while using your riverboat as your hotel.
Spring floods caused by melting snow and daily showers do tend to make flooding more likely in March, April, and May. Drier summers may lead to lower water levels starting around August. These vary from year to year and your Adventure Life Rhine River specialist or cruise director will be in contact with you if last-minute river level itinerary changes are necessary. In the unusual case of a river being impassable due to high or low water, travelers are normally given an alternative to travel a similar route via bus, and frequently, connecting with another river ship in order to continue your cruise on a navigable section of the river. 
 
Want to Go?
country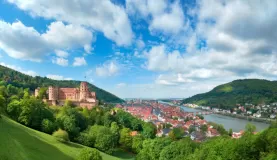 region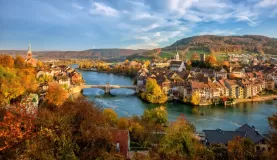 country