When to Go?
The best time to visit
Greenland
is in the summer between
June and August
, with September offering travelers the last chance for an expedition cruise before the pack ice sets. 
Summer marks 24-hour sunshine and temperatures above freezing, setting the ideal stage for
wildlife viewing
and
small ship cruises
. However, the perfect time for a Greenland adventure ultimately depends on your itinerary. Travelers chasing the northern lights will get the best chances in the frosty winter.  
When visiting Greenland, keep in mind that the island's immensity means temperatures vary drastically from region to region. For instance, winters in southern Greenland are only several degrees below freezing, while temperatures in the extreme north can get as low as -30°C (-22°F). Summers in the south are warmer with the occasional peak of 20°C (68°F), even when other parts of the nation remain below 10°C (50°C).  
It's key to prepare for the varying daylight hours. Days are 24 hours long in the summer, while parts of the nation go entirely dark for a few months in winter.
At a Glance
Midnight Sun:
mid-April-August or June-July, depending on where you are
Cruising Season:
June-September
Northern Lights:
September-March
Whale Watching:
July-September
Dog Sledding:
January-April
Seasons
Spring (March to May)
Springtime is marked by warming days with average temperatures rising until it pushes above freezing in May. By this time of the year, the sun has returned across all of Greenland. 
Sun and snow make March and April fantastic for outdoor activities like dog sledding, skiing, and snowmobiling. 
Head to
Sisimiut
in west Greenland to indulge in the
top adventure activities
. Northern lights are also still visible until March or April.  
Summer (June to August)
Bright and balmy summer is excellent for visiting Greenland, from hot springs to the sprawling valleys. Local wildlife is out and about grazing on the fresh tundra, while migratory birds and whales make their way to the island. 
Coastal areas are snow-free, green, and primed for camping,
hiking
, and
kayaking
, while late summer is peak
whale-watching
season along the western coast.
As the ice thaws in west and south Greenland and the fjords become more navigable, expedition ships begin to arrive. Peak season for
small ship cruises
lasts all through the summer, with excursions available until September. 
Keep in mind that this is also mosquito season in Greenland, so make sure to pack bug spray.  
Autumn (September)
With a good mix of daylight and nighttime, September is one of the best times to go to Greenland. As it's the transition period between summer and long winter, there are still opportunities for wildlife viewing and sightseeing, while the longer nights kick off the start of northern lights. 
Pack ice goes northbound in September, offering travelers a chance to go on one last expedition cruise to coastal spots in east Greenland, like Scoresby Sund and Northeast Greenland National Park. Beyond this month, very few cruises sail the fjords.  
Winter (October to February)
It's below freezing everywhere in Greenland, and Northern lights are the main attraction with darkness blanketing most of the island. Expect ultra-cold weather during this season, with temperatures dipping below freezing at the start of October and staying frosty all through winter. Conditions are a bit milder outside the Arctic Circle, but even
Nuuk
in southwest Greenland only sees the sun a few hours every day in December.
Besides the aurora borealis, winter is also the ideal time for dog sledding adventures.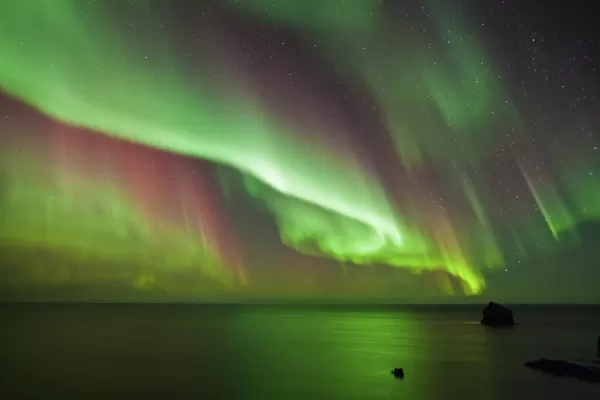 Best Time to See Northern Lights (September to April)
With most of the island nation falling within the Arctic Circle, Greenland is one of the most stunning places to witness the aurora borealis. Ideal viewing conditions are when the skies are dark and clear, making autumn and winter months the best season for the spectacle. The dark days of winter are especially suitable for aurora viewing, whether you're chasing the phenomenon in
Kangerlussuaq
,
Disko Bay
, or Nuuk. 
If you want to get a glimpse of the Greenland northern lights, don't visit the country during the summer as the midnight sun makes it nearly impossible to see the dancing lights.
Midnight Sun (April-August) and Polar Night (November-January)
Days are long with the midnight sun above the Arctic Circle in the summer. The longest midnight sun is in the northernmost towns like Qaanaaq, Upernavik, and
Uummannaq
. Here, the sun doesn't set from late April to late August. Places closer to the Arctic Circle like
Ilulissat
and Kangerlussuaq experience the midnight sun from June to July.  
The opposite is the polar night, when the island goes dark for most of the winter. Southern Greenland gets only four hours of daylight in the deepest of winter. On the other hand, far north areas around Ilulissat go completely dark from late November until mid-January.
Wildlife Viewing
Muskoxen (all year): Western Greenland
Arctic Fox (all year): All around Greenland
Walrus (all year): Western Greenland and Eastern Greenland
Humpback whales (late August-September): Southern Greenland
Orcas (August-September): Western Greenland 
Belugas (August-September): Western Greenland
Narwhals (July-September): Southern Greenland and Western Greenland, around Disko Island)
Bowhead Whale (August-September): Northern Greenland and Western Greenland
Polar Bears (all year, but rare): Northern Greenland
Minke Whale (May-October): Southern Greenland, and Western Greenland
Fin Whale (August-September): Southern Greenland and Western Greenland
Let our
Adventure Life travel experts
know if you need further assistance on the best time to travel to Greenland for the activities you have in mind.