Offering unparalleled views of the Bay of Bengal, the award-winning Radisson Blu Resort Temple Bay Mamallapuram is just steps from the shore. The hotel and resort provide extensive facilities for the ultimate getaway or destination event. After an unforgettable morning on the water, take a short stroll to spend an afternoon at the dramatic archeological sites of Mamallapuram, also called Mahabalipuram.

Radisson Blu Resort Temple Bay, located along the shores of the Bay of Bengal at Mamallapuram, is a 65 km drive from Chennai and 0.8 km from the Mamallapuram center. This seaside town is an acclaimed World Heritage Center with centuries-old historical monuments and temples. It offers 157 rooms comprising Chalets (Garden, Pool Edge, Oceanview, private pool villas, Bay villa, and Bay Bungalow). It has one of the longest meandering swimming pools of 27000 sq. ft. and an infinity pool of 3500 sq. feet. A Modern Ayurvedic Spa for ultimate relaxation and rejuvenation, Versatile Banqueting Zone offers indoor and outdoor areas for conferences, dream Weddings, and celebrations. Various Food and beverages comprise The Wharf - a seaside specialty restaurant, Waters Edge Cafe - Round clock diner, Sindbad, spirits bar, Maritime tales - relaxing lounge bar, round-the-clock in-room dining facility.
Rooms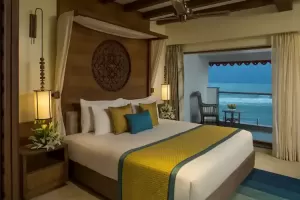 Chalet Sea View Room
495 sq. feet with twin or 1 King size bed fit for 3 adults.
Inquire
Beyond expectations! Then again we weren't sure what to expect. Lovely stay at the lodge, met other like-minded travelers (many had their trips planned by Adventure Life) and the owner was a gracious hostess. It felt like you were one happy family, visiting with a favorite aunt.
Nancy Sin