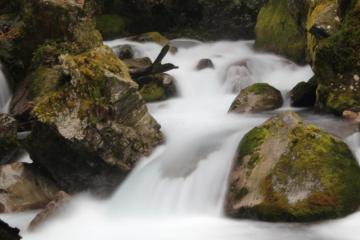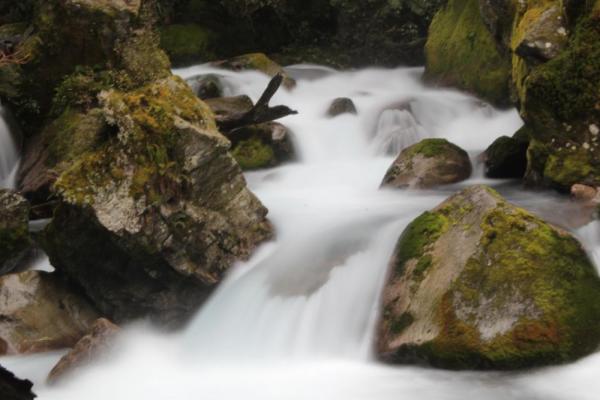 June 25 - Wanaka
We woke up around 7:15 AM. The night wasn't as cold as I was thinking it would be. I was pretty comfortable all night. We took down the tent and had a banana for breakfast. It was about 8 AM when we finally left the campground. We had gotten in late the night before so we hadn't paid.
As we drove out of the campground we stopped at the gate where the owner of the park was staying in his trailer. I walked up to the door and his dog was inside barking. A few minutes later Joe, the owner, came outside. I told him we needed to pay for the night. He remembered us since we had already stayed in his campground on our previous trip through Queenstown.
He was grateful that we had stopped. I don't think he realized we were even camping there. He only made us pay $7 NZD for the night, the price of one person to camp there. He also asked where we were headed and I told him Wanaka. He knew of a place to camp there and suggested we mention his name and they would give a 15% discount.
We left and began our two hour drive north. We wanted to stop at a few places along the way first. Our first stop was the Shotover Canyon. When we did our jetboat ride we didn't have a chance to get photos of the canyon since we had to hurry to the paragliding afterwards.
We first stopped on the side of the road over looking Lake Wakatipu not far from our campground. The sky was clear and the mountains were a pinkish color from the sunrise. We took a few pictures and continued on. We made another stop near Lake Wakatipu as we entered Queenstown. We walked a few hundred yards to the shore and took some pictures. We got back in the car and drove to the Shotover Canyon.
The route was pretty icy the further we got from town. The drive was only about 10 minutes outside of town, but there were a few spots where we passed cars covered in snow and saw slippery parts on the road. We didn't have a problem, but a few other cars were pulling over or skidding slightly.
We parked in the Shotover car park and walked to a bridge overlooking the canyon. We took some pictures, but didn't cross it. It is a one lane bridge and with the roads being icy we didn't want to risk a car sliding into us. That would ruin our trip. The spot we were at was good for pictures anyway.
I was ahead of Andy so rather than wait I walked down a short path that led to the shores of the river. The path was really icy and covered in snow. I stopped along the way and took some pictures and videos. I was at a good angle to get some videos of a jetboat tour that was just starting. It sped off in the same direction we had. A few minutes later it came raising back and passed below me and through the canyon.
Andy had come down to meet me and we walked a little further to the snowy rocks below. We waited for a few minutes as another tour was getting ready to begin. We took some videos of the boat from a different angle as it flew by.
We walked back to the car and drove to our next stop, the Catholic Church we had gone to for mass. We hadn't taken pictures and it was basically on our route out of town so we made a quick stop. The church was small, but a little bigger than the last one. It was in front of mountains and made for a good photo.
As we were driving to our next destination we stopped at another unplanned detour. There was a historic bridge and Andy wanted to look at it. He said the first time we drove by a week or so earlier it was too bright to see it, or something like that. We drove a few kilometers down the road and saw the parking lot to see it. It was pretty plain, but we took pictures anyway. The best part was that the parking lot was icy so I could skate across it partially.
After the 15 minute detour we were ready for our next stop, AJ Hackett Bungy Jumping. It is the sight of the first bungy jumping location in the world. We weren't planning to do bungy jumping, it was way too expensive. Andy wanted to stop here because a scene from Lord of the Rings was filmed here. Something about two statues on a bridge. The bridge was used for the shot.
We spent about 40 minutes at the bungy bridge. Even though it was expensive, $175 NZD per jump, it was popular. A lot of people had stopped to do it. We watched 4 or 5 people jump off. None of them seemed scared about it. Most just dove off head first as if they were diving in a pool. One girl just jumped straight off with her feet first. I didn't watch after that, but I imagine that way is much more painful as it would jerk you down.
A bus had stopped with mostly Indian people, and they were the ones doing most of the jumping. We had seen a short trail as we were walking back to our car and walked down it a little ways hoping to get a different view of the bridge and the canyon. It wasn't much better so we walked back to the car and continued the drive to Wanaka.
We made two more stops before Wanaka, both were in Cromwell, a small town we had passed through before on our way to Queenstown the first time. Cromwell is a small town, that Gollum, the Spanish guy we met in Mt. Cook, told us sold dried fruits. He had shared some of his dried mango with us so Andy wanted to get some of his own. He has been wanting to buy local foods for a long time.
I didn't care if we stopped, but we saw a small stand on the side of the road so we went for a look inside. We looked for a few minutes at dried fruit, chocolate, jelly's, and vegetables. I wanted some of the chocolate, but couldn't decide which kind. It was all way over priced for the amount in each package. We asked what one of the cheaper one's was. It was chocolate, but we didn't know what was in it. She said it was a hokey pokey flavor. Great description lady. She said foreigners wouldn't know what that meant, which we didn't. She said we could try some. She opened a package and gave us a piece each, she ate some too.
It was a honey comb type flavor inside. It was pretty good. We decided we would get it. She also said we could try some jelly's since we were looking at them a little. They were ok, but too expensive for what we wanted to pay for such a small amount. I also wanted eggs, but again too much.
Andy ended up buying some dried fruit pack. We also bought 4 apples, they were reasonably priced. In total it cost $9.70 NZD. We drove another few miles down the road and had to stop again. On the way through Cromwell the first time we passed some large fruit statues. Andy wanted to get pictures of it.
It was basically a monument of four fruits with the name of the town under them. I'm guessing Cromwell is known for its fresh fruit based on the monument and fruit stands along the roadside. We each got our picture taken in front of the place.
It seemed like we had made all of the necessary and unnecessary stops for the day. We could finally drive to Wanaka. Wanaka is like Queenstown, only smaller and much more expensive. Our plan was to stay for one day, but maybe two. I wanted to do the Diamond Lake Hike and maybe another if we had time.
Wanaka is on the shores of Lake Wanaka. The name is pronounced like Hanukah, but with a W. I kept seeing Adam Sandler's Hanukah song while we were there, but making my own verse that included celebrating Hanukah in Wanaka. The town is a ski resort and it being winter time and there having just been big snow storms pass through the area we were prepared for bad weather and icy roads. All day the weather had been nice, hopefully it would continue when we got to Wanaka.
We were looking for the campground as we drove into town, but ended up taking a wrong turn. We ended up on the opposite side of the lake from where we wanted to be, but didn't realize that at first. We stopped at a picnic site and took pictures of the lake with the mountains behind. We climbed up onto a large rock to get pictures, and then walked down to the shoreline to get more. I got a few really good self portraits here.
We continued down the road passing different campgrounds and motels, but never saw the one we were looking for. We saw a campground in the distance and hoped it was the one we wanted, it wasn't. We drove another 20 minutes and found nothing.
We ended up finding out that the road we were on wasn't the one we wanted. We stopped on the side of the road to take some pictures of Mt. Aspiring, since we were near the Mt. Aspiring National Park. As we were about to turn around and go back to town we saw a sign that said lead Diamond Lake Hike. It was just down the road. It was still early, around 1 PM, and the weather was good. Rather than waste time driving across town to look for the campground we just continued on the road for a few more kilometers.
We hadn't had lunch and we were starving. Our little breakfast wasn't enough to hold us over all day. We made ham sandwiches and ate chips and a cookie. The hike was supposed to take 40 minutes one way. It included a 10 minute hike to Diamond Lake, and then 30 more minutes to an overlook of Lake Wanaka and the town.
The trail starts out very steep, but than levels out for the next few minutes and leads to the lake. The area around the lake was icy, and parts of the lake were frozen. There is a circuit trail around the lake, but we wanted to get to the top.
Most of the trail climbs from here. The first part is a steady uphill climb that leads to stairs. The trail then flattens out and goes to an overlook of Diamond Lake. From there the trail climbs a little more to the final overlook. I remember thinking it was only a few hundred yards away, but the way from that point took about 15 minutes. Judging distances has been a problem the last few hikes. Maybe the lack of food is messing with my mind, or the hills are deceiving since the trails wind around differently than I'd expect.
We got to the top and the weather was perfect. There were very few clouds in the sky. We were the only ones at the top so we took our time. There had been two girls start the trail right before us, but they had already gone up and headed down. A guy passed us running down the trail at one point, and a girl soon followed. There were also a group of 5 girls that started right after us, but they stopped at the lake. I could see them from the lookout. They were just sitting on the ground talking loudly. I could hear them from the cliff above.
We did some 360 shots. I took one with my bag on the bench from the top.; Since there were mountains all around it looked really cool. I also took one of Andy standing on the bench with his arms in his pockets. Both turned out great. We spent 30 minutes or so at the top. It was becoming dusk so we headed down.
There was a branch off the trail to a higher point, but since it was 4 PM we decided we didn't have time to do it. We got down to the bottom around 5 PM. Now that we read the map correctly we were ready to find the campground. We should have gone down the left side of the lake before, but went right. I kept wondering why the lake was on our right before since the map said it should be on the left.
We took a wrong turn along the way and got stuck behind a huge truck carrying a tractor. It was trying to back into a small drive way in a residential neighborhood. It took about 10 minutes for it to properly line itself up. I don't know how it got down the narrow driveway, but he did. Good driving.
We eventually found the correct road we were looking for and drove about 7 minutes outside of town down a gravel road to the campground. It was $15 NZD a night per person, but with the discount it was only $11.90 NZD. The campground was pretty big. It had 140 tent sites, but of course nobody was using them. There were a few campervans there, which looked like people that lived there. One had a circus tent connected to the side of their camper, at least that's what it looked like.
The lady working at the campground said it may snow that night and to choose a spot under the trees if we wanted more protection. We picked a spot close to the kitchen that was mostly covered by trees. It seemed like a good spot, but we had to lay slightly downhill.
We set up our tent quickly and then went to the kitchen to have dinner. We had ramen noodles again. We had bought some really cheap brand called budget, it was $0.65 NZD. The flavor was oriental, but there was nothing oriental about the flavor. It was just noodles with corn and peas and carrots. It didn't taste like chicken noodle soup, but that's pretty much what it was. I won't be getting that kind again. We also had a salad as usual with carrot sticks and a cookie.
We spent the next two hours or so writing in our journals. We didn't take showers because it cost $1 NZD for a 7 minute shower. That's about $0.70, not worth it. We only took showers when it was free. It had been raining off and on the whole time we were in the kitchen area and didn't realize it. I went to the tent before Andy. I was tired and done writing for the night. It was around 9:30 PM. I had a long day and wanted to go to bed.