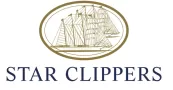 As he grew up, Mikael Krafft became an expert sailor, owning many different sailing boats. It was during an Atlantic crossing on board his yacht "Gloria" that he came up with the idea of building two tall ships inspired by the Clippers he dreamed of as a child. Thus, Star Flyer and Star Clipper were born, followed some years later by Royal Clipper. His dream was to recreate the legendary clippers that crossed the oceans in the 19th century and in doing so offer people the chance to experience the unique thrill of sailing aboard a Tall Ship.

Its legendary dream has become a reality.

For more than 30 years now Star Clippers, the acknowledged specialist in sailing cruises, has been sharing the dream with thousands of passengers from all over the world onboard its three sailing ships.