Have questions? We're here.

Get inspired by the possibilities.
Change and customize this trip to make it yours.
Indonesian Explorer: Raja Ampat to Papua New Guinea
Example 16 Day Cruise aboard Spirit of Enderby
A true expedition voyage in every sense, our inaugural journey will explore Indonesia's rarely visited and little known biodiverse-rich jungle-capped volcanic islands scattered across pristine pellucid waters well beyond traditional tourist routes. Join acclaimed author, scientist and explorer Professor Tim Flannery as we discover a true paradise where untouched dense jungles home to some of the rarest flora and fauna on the planet meet crystalline tropical waters teeming with exotic marine life and some of the world's best coral reefs all wrapped in a land steeped in history and rich in culture and tradition.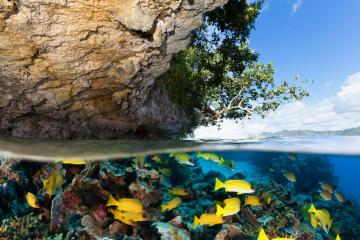 Visit Misool Island, the second largest island in Raja Ampat
Lookout for the endemic birds Kofiau Paradise Kingfisher and Kofiau Monarch
Explore the incredible Pegunungan Arfak Nature Reserve
Swim with Whale Sharks in Cenderawasih Marine Park
Davao City
Jayapura
Madang
Oceania
Papua
Philippines
Raja Ampat
Sepik River
Full Itinerary
Expand All
Day 1: Davao, Philippines | Embark
Arrive in the port city of Davao and transfer to your hotel for the first night. Meet your fellow voyagers and expedition staff for an informal get together over dinner at the hotel.
Day 2: Davao
1 Breakfast, 1 Lunch, 1 Dinner
Davao is the starting point of our expedition, home to impressive dormant stratovolcano Mount Apo and the gateway to Mindanao, one of the Philippines' largest islands. Enjoy breakfast at the hotel before we head out to explore some of the local sights. Boarding the ship in time for lunch, settle into your cabin and join the captain and your expedition team in the bridge as we set sail.
Day 3: Karakelong Island, Indonesia
1 Breakfast, 1 Lunch, 1 Dinner
Sailing into Indonesian waters we will clear customs before enjoying an expedition day exploring little-known Karakelong Island, the largest of the Talaud Islands. With abundant and exotic wildlife and flora on land (new species are still being discovered), and a white sand beach fringed by a wide reef on its southern shore we will be looking for opportunities to explore the forests in search of endemic species and enjoy our first snorkel.
Day 4: Morotai Island
1 Breakfast, 1 Lunch, 1 Dinner
The northernmost tip of the North Maluku Province, Morotai and its surrounding tropical islands are framed by clear blue waters and boast white sandy beaches, tangled jungles and exceptional snorkelling due their colourful marine life, reefs with impressive coral gardens and cliffs, and wreckages of an extensive World War II legacy. Our morning exploring these remote paradise outposts might include exploring Morotai's largest town Daruba's famed Blue Beach where Allied Forces wrestled control of the island from the Japanese in September 1944 and celebrated at the Morotai "Museum" at nearby Kao Bay where the half submerged WWII Japanese Cargo Shipwreck Tosimaru can be seen from shore, or Dodola Island, actually two islands Large Dodola and Small Dodola connected by a white sand bridge revealed at low tide, famed for its myriad opportunities to swim, snorkel and explore.
Day 5: Weda
1 Breakfast, 1 Lunch, 1 Dinner
Surrounded by 24 islands, we have an early start on Weda where we will make our way to the 'lekking trees' of the Wallace Standardwing Bird-of-paradise where we hope to see their elaborate dancing displays and take the opportunity to look for other species known to the area including Red-cheeked Parrots, Dusky Megapode, Goliath Coucals, Sombre Kingfishers, Halmahera Cuckoo Shrikes, Blue-capped Fruit Doves, Halmahera Flycatchers, Rufous-bellied Trillers, Ivory-breasted Pitta and Invisible Rail. Afterwards we plan to explore Weda Bay's fascinating underwater world recently highlighted by the discovery of the rare Walking Shark. This aquatic wonderland and snorkelling hotspot in the heart of the Coral Triangle is known for sightings of pygmy seahorses, reef sharks and more among its diverse marine life.
Day 6-7: Raja Ampat
2 Breakfasts, 2 Lunches, 2 Dinners
Lapped by stunning turquoise waters, Raja Ampat's collection of 1,500 tiny, jungle-cloaked islands are among Indonesia's most beautiful. We plan to spend 2 days exploring the bounty of rainbow corals, shoals of multi-coloured fish, intriguing ocean-carved limestone formations and jungles of this tropical paradise of forgotten islands. Believed to contain the most biodiverse marine habitat on the planet, the waters surrounding Raja Ampat are home to 600 species of hard coral and 1,200 types of reef fish and make for exceptional snorkelling and Zodiac cruising. On land, spotting the brilliant Wilson's Bird-of-paradise and Red Bird-of-paradise will be high on our agenda here, with early morning visits planned ensuring the very best opportunity for all to see these remarkable birds in their natural habitat and, hopefully, witness their rarely-seen mating dance around their 'lekking' trees. Other activities could include hiking up to viewing platforms to enjoy the spectacular vistas of scattered rock islands and heart-shaped lagoon of Karawapop.
Day 8: Amsterdam Island
1 Breakfast, 1 Lunch, 1 Dinner
Part of the Su Islands (Mios Su) or the Soe Island Group, a cluster of small islands off the northern coast of Western New Guinea, our visit to little-known and explored Amsterdam Island channels the true expedition nature of our voyage providing an opportunity to explore where very few have been before.
Day 9: Manokwari and Arfak Mountains
1 Breakfast, 1 Lunch, 1 Dinner
Located at the top of the Bird's Head Peninsula and surrounded by lush rolling hills and impressive spine of the Arfak Mountains, Manokwari is the capital of West Papua. Here we plan to travel high into the Arfak Mountains to the Pegunungan Arfak Nature Reserve and enjoy the rare opportunity of exploring the higher elevations and misty tropical montane rainforests with their exceptional suite of endemic plants, animals and birds. During our journey we will be on the lookout for the Western Parotia and Vogelkop Bowerbird, and visit the viewing hides for a once-in-a-lifetime opportunity to observer the Magnificent Bird-of-paradise, among the region's 320 bird species.
Day 10: Cenderawasih Marine Park
1 Breakfast, 1 Lunch, 1 Dinner
Enjoy the unforgettable experience of swimming with the iconic Whale Sharks of Kwatisore Bay in Cenderawasih Marine Park. One of the best places in the world to snorkel with these gentle giants, we aim to visit the local fishermen's Bagans (handmade floating platforms) where these mega-fish (known to grow more than 12-metres in length), hopeful of catching some of the smaller fish escaping fishermen's nets, are known to congregate. This spectacular 15,000-square-kilometre marine park is also home to some of the finest coral reef examples in the world and 18 tropical islands, which we will explore, where 209 species of fish and 4 species of turtle can be seen. We also plan to visit a village where the locals live by a unique mix of traditional, Dutch and modern influences.
Day 11: Poronai River & Ahi Islands
1 Breakfast, 1 Lunch, 1 Dinner
Flanked by mangroves and tropical rainforest the remote Poronai River snakes through dense, unexplored and unspoiled terrain and sustains a plethora of wildlife including crocodiles, frogs, butterflies, endemic birds and hundreds of species of plants, as well as a number of traditional tribes who are largely cut off from the outside world. We plan to Zodiac cruise the river searching for wildlife and meet with villagers at Totoburi Village before snorkelling the coral gardens and Japanese war plane wrecks off Ahi Islands.
Day 12: Biak & Rusbasbedas Islands
1 Breakfast, 1 Lunch, 1 Dinner
The seldom-visited Biak Island in the Schouten Islands archipelago of Cenderawasih Bay boasts the highest endemic biodiversity in Papua including 17 endemic birds. Among the species we may encounter are the Long-tailed Honey-buzzard, Red-capped Flowerpecker, Yellow-bibbed Fruit-dove, Geelvink Imperial-pigeon, Biak Black Flycatcher and Numfor Paradise-kingfisher and Leaf Warbler. In the afternoon we plan to sail to the pristine and isolated Rusbasbedas Island with its white sand beaches, shear drop-offs and enormous corals teeming with brightly coloured fish make it paradise for snorkellers and beachcombers.
Day 13: Liki Island
1 Breakfast, 1 Lunch, 1 Dinner
Enjoy a warm and unique welcome at Liki Island, part of the Koemamba Islands in formerly Dutch New Guinea, where villagers share local customs and traditions along with some of the island's culinary delights. Explore the forest looking for wildlife on a nature walk, or snorkel along the edge of the abundant coral reef on this charming and rarely visited island.
Day 14: Jayapura
1 Breakfast, 1 Lunch, 1 Dinner
The peaceful paradise of Lake Sentani, the glittering freshwater lake reflecting the steep, verdant mountains in the Cyclops Strict Nature Reserve of Papua's capital Jayapura, is renowned for its famous artifacts, traditional motifs, pottery, woodworking and bark paintings, and is our destination following an early morning arrival. Taking local buses, we will journey to the lake's edge before enlisting traditional longboats, passing stilt houses, as we navigate its many islands. Experience local culture in the form of dance and artists at work making bark paintings and bride money before returning to the ship for lunch and sailing towards Vanimo and Papua New Guinea for our International arrival into Papua New Guinea.
Day 15: Sepik River, Papua New Guinea
1 Breakfast, 1 Lunch, 1 Dinner
We have allowed plenty of time to fully appreciate this remarkable river, its birds, animals and the people that call it home. The Sepik River, the longest in Papua New Guinea, flows from the highlands to the Bismarck Sea. It is a rich arterial river that has fostered great traditional artists. We plan to explore the river by Zodiac, following tributaries and channels in search of local wildlife. Enjoy a warm welcome at Kopar Village where we will experience village life and a traditional Dragon Dance unique to this region. The world-renowned artists of the Sepik region travel long distances to meet the ship and there is the opportunity to purchase unique carvings and more directly from them.
Day 16: Madang | Disembark
The self appointed 'Prettiest Town in the South Pacific', Madang is bound by lush rainforest, calm blue waters studded with volcanic islands, Tupira's supreme surf break, flourishing coral gardens and rich history. For those disembarking, a transfer to a central hotel, or the airport, will conclude your voyage, OR continue the adventure with us on 'Melanesian Discoverer'. Note: During our voyage, circumstances may make it necessary or desirable to deviate from the proposed itinerary. This can include poor weather and/or opportunities for making unplanned excursions. Your Expedition Leader will keep you fully informed.
Photo Gallery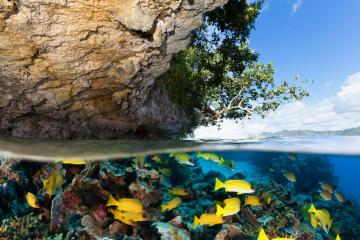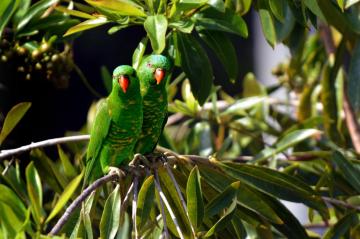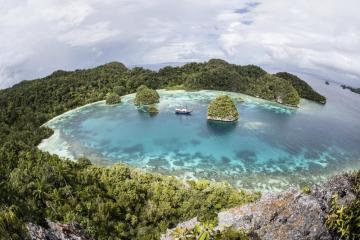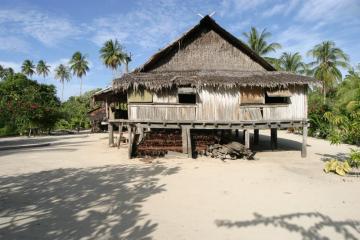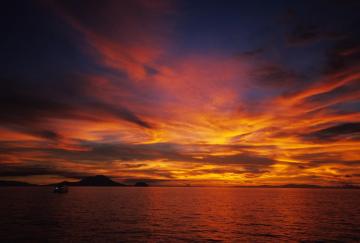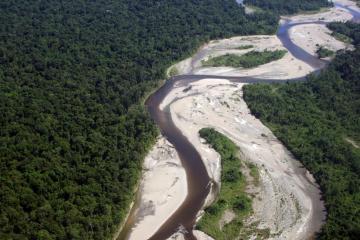 Dates & Prices

Select a Date
Main Deck Triple
One cabin located on the Main Deck, with two lower bunk beds, one upper bunk bed, outside porthole, wash basin, desk and chair, wardrobe with hanging space, and shared bathrooms on same deck.

Thirteen cabins located on the Main Deck, with two lower bunk beds, outside porthole, wash basin, desk and chair, wardrobe with hanging space, and shared bathrooms on same deck.

Four cabins located on the Middle Deck,with one lower and one upper bunk, side-facing windows, desk and chair, wardrobe with hanging space, and private bath facilities.

Select a Date
Superior Plus
Eight cabins located on the Upper and Middle Decks,with two lower bunk beds, side-facing windows, desk and chair, wardrobe with hanging space. and private bath facilities.

Two cabins located on the Upper Deck, with one double bed in separate room, side-facing windows, separate lounge area with a single bed, desk and chair, wardrobe with hanging space, and private bath facilities.

Select a Date
Heritage Suite
One cabin located on the Upper Deck, with one double bed in separate room, forward- and side-facing windows, separate lounge area with a single pull-out bed, desk and table area, wardrobe with hanging space, and private bath facilities.
Notes

- Travel Insurance is mandatory for all passengers aboard the Spirit of Enderby.
- Single clients are matched with a sharer of the same sex in a twin-share cabin. Payment of a single supplement guarantees a single cabin. The single supplement is 1.8 times the price of the voyage with the exception of the suites which are double the single rate.

Includes:
Pre/Post cruise transfers, all on board ship accommodation, meals and all expedition shore excursions.
Excludes:
All items of a personal nature, laundry, drinks, gratuities. International/domestic flights, visas and travel insurance.
Inquire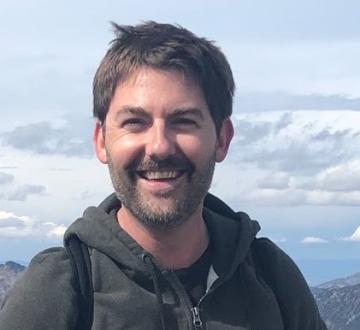 We Love to Talk Travel
Call
1.800.344.6118
or
Chat Now
We are so glad that we chose Adventure Life. The service is top-notch. Everything is well taken care of and we just have to print the documents and go. Franny even gave us timely updates on possible airport strike.
KC Chan
Papua New Guinea Travel Guide
Favorite Papua New Guinea Cruises