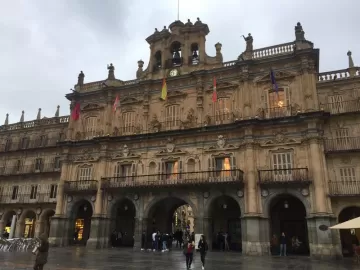 When I was 22, I spent my last semester of college in Salamanca, and hadn't been back since. I have fond memories of this relatively ancient town and was near tears when we drove into the city and the cathedral and old town came into view. We had rented a studio apartment and were pleased to see that it was in the oldest part of town, just a two minute walk from my old school and within a five minute walk of the Cathedral, the University and the Plaza Mayor. Salamanca's history dates back to the Roman times, and the oldest buildings still being used are up to a thousand years old. The original cathedral is from the twelfth century, the University was founded in 1134, making it the oldest continually running University in Spain. And the Plaza Mayor, the prettiest plaza I've ever seen (but I may be biased) is not only the center of the old city, but is also the gathering place for the entire town, including the nearly 30,000 students that live and study in Salamanca. All towns in Spain have a lively vibe in the evenings as people go out and walk and socialize before a late dinner. But Salamanca's young, vibrant population make it a whole different experience. When I lived there nearly 13 years ago, I was one of those students meeting at midnight under the clock to go out for the night. Now that I'm in my thirties, I was back in our apartment in bed by midnight. Oh how times have changed!
One evening while walking in my old neighborhood, we spotted a little Doner Kabob shop on the corner and decided to check it out. I hadn't had a Doner Kabob since I was in Europe last, and was looking forward to finding a good one. We ordered one to split and while waiting for our order started talking to the owner. He was a young man from Morocco who had had this shop for about a year. He was excited to be in Spain and that his business was doing well. And after one bite of the Kabob, I was convinced that he would be successful! This was hands down the best Doner Kabob I have had.
Besides just wandering around and eating (which we did a lot of!) we also visited both cathedrals. Salamanca is one of the only towns to have two cathedrals. The Old Cathedral one was built between the 12th and 14th centuries, but as the city grew, they realized this was not going to be large enough. Rather than tear it down and start over, they kept the old one and started building the "new" one in 1513. It took over 200 years to complete and after spending some time walking around the outside, you can see why. There is so much intricate detail in the carvings and gargoyles, and then you go inside and are blown away a second time. We even were able to find the astronaut, which was added in during the renovation in 1992. Apparently when renovations are done, it is common for a small update to be made to show the history and timeline of renovations. After visiting the new cathedral, we walked into the old one, which relatively was much simpler. There were beautiful paintings and intricate carvings, but the cathedral dome was the most beautiful part of the whole cathedral.
We later tried to visit the University but the front was being renovated, getting ready for the 900th anniversary so we decided to save that for another visit. It rained much of the time we were in Salamanca, but it didn't stop us from walking around nearly every part of the old town. We walked down to the Puente Romano (Roman bridge) to get a beautiful view of the city with all the old buildings lit up at night.
It was hard to only spend a weekend in Salamanca, but we both agreed that it was worth the visit, and next time we'd be back for longer. We may even spend a month or two refreshing our Spanish at one of the many Spanish-language schools someday!