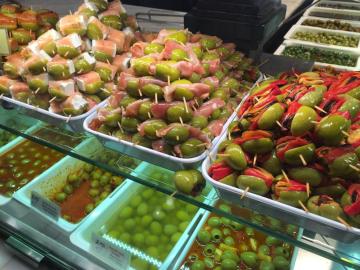 I've always loved Spanish cuisine, and after just a few days in the country, Evan was hooked. We had some extra time in Sevilla and so I decided to book us a cooking class at the Taller Andaluz de Cocina cooking school. The class was in the Triana Food Market, located just across the Triana bridge from the old part of town. The market was built over old castle ruins, which are still visible through windows looking down into the lower levels. When we arrived, we met Maria, who welcomed us to the modern, beautiful kitchen that takes up a couple stalls of the traditional market. She surprised us in that we were the only people signed up for that date, so the private class was ours! We walked through the market with Maria, learning more about Spanish olives, olive oil,
Jamón ibérico
, cheeses and wine. Spanish people are proud of their food, and for good reason!
We learned that even though Spain is relatively small (it's not much bigger than Montana), food is still produced regionally. For example, cow milk and cheese comes from the north, where cows are more prevalent, sheep's cheese is produced in the middle of Spain and goat's cheese is from the southern region. We also learned more about Serrano ham and
Jamón ibérico
, which if you've ever been to Spain, you've seen hanging in every restaurant and many houses. The cured meat comes in a variety of qualities, and prices. The ham is cured with salt and then left to dry for two to four or more years, depending on the quality. If you liked cured meats, Spain is a must-visit.
We purchased some fresh produce and a few other items from various vendors, and then made our way back to the kitchen. Victor, the chef, had arrived and set up the kitchen while we were learning about the market, and we got ready to start cooking. The class was hands on, but we also got to watch Victor work his magic. He was clearly professionally trained, and had worked several years in fine restaurants before deciding to start this cooking class with a couple partners. The first thing on menu was gazpacho, a cold tomato-based soup that is popular in southern Spain. The Andalusia region is known for being hot and cold, refreshing soup in the middle of a hot summer day is often welcomed. We then made a traditional Seville tapa with cooked spinach and chickpeas. While we were preparing these items, Victor got started on our Paella. He explained that Paella is a regional food traditionally in the Valencia area. But over the years, it had spread throughout Spain and is certainly one of the most well-known Spanish dishes. Traditional, Valencia paella was made with chicken, rabbit, rice, green beans, etc. Now you can find vegetarian paella, seafood paella and mixed paella. Since we were in a traditional cooking class, we were making the Valencia version, minus the rabbit. Victor said he liked it with both chicken and rabbit, but many tourists did not like the idea of eating rabbit, so they have started just using chicken. We learned all the tricks and less than an hour later, we had finished our perfect pan full of paella. It really was a perfect science, down to the second. Victor knew exactly when it was ready, and showed us the true test - if you could stand the pan vertical and everything stayed in.
We then poured some sangria and sat down to enjoy our four course meal, complete with an ice cream cocktail at the end. I've always enjoyed Spanish food, but this class gave me a new appreciation for all the traditions and history of the Spanish cuisine. I couldn't have asked for a better chef or location for this class.