Zanzibar Hotel-Pongwe Beach Hotel in Pongwe, Zanzibar, Tanzania is an amazing place to stay because of its unique rooms that have their roof made of coconut palm leaves sourced from our own Zanzibar beach, the walls are lime-washed, and the doors are handcrafted. Handcrafted furniture and a large en suite bathroom with Moroccan-style walk-in showers are featured in the rooms. Its goal has always been to be a small and intimate Zanzibar beach hotel, which, combined with our incredible location on Pongwe beach, allows us to offer a true getaway experience ideal for those seeking relaxation or a romantic break.
Rooms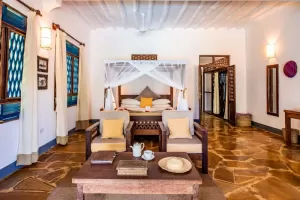 Standard Room
Zanzibari double bed and additional beds for triple/quadruple rooms
Locally woven wardrobe
En-suite shower
Mosquito netting & fan
Sun beds on private terrace
A step away from the beach
Inquire
Our guide and driver were very good with their knowledge and were very helpful with our questions. It was a very pleasant visit that would have been impossible to do on our own. Hotels and restaurants were fantastic. The special places we got to go to, like the kitchens, were great. Enjoyed the entire trip!
Meyer Smolen