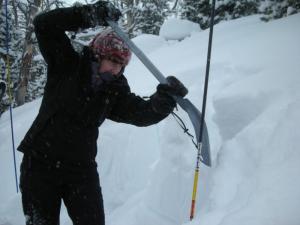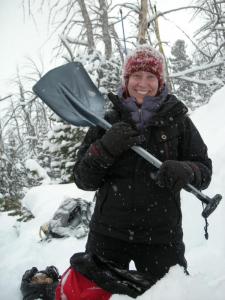 One of our trip planners, Kassi, is taking avalanche training courses in nearby Bozeman, Montana. Offered by the
America Avalanche Institute
, the course takes students from the classroom outside, into backcountry and in avalanche terrain. An outdoor nut (and I use "nut" with the utmost respect) with an addiction for snow -- better yet, a snow-and-skis combination -- Kassi will be putting her training to use.
Adventure Life
supplies our full-time employees with funding for continuing education opportunities. In the past, staff members have taken advantage of this perk to pursue interests as varied as our personalities. This includes Spanish classes, web development, kayaking lessons, Latin America economy courses, accounting,
SCUBA
... and now avalanche education.
Having the ability to determine snow stability is key to staying safe while exploring the backcountry and knowledge is power... Or in other words
respect the snow!
Have fun, Kassi. Smart girl.