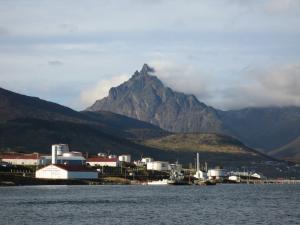 Twenty-two hours of flying finally brought me to the city of Buenos Aires. I chose to stop over here for a couple days, just to break up the trip... and enjoy a tango show and some of BA's fantastic history and architecture. Before the show, I took a tango lesson, and after stepping on my instructor's toes twice, she told me I was a natural. A day of intense heat was followed by an afternoon of cool showers, and then a delightful evening of food and wine in a plaza in the historic neighborhood of San Telmo. Three AM found me final asleep in bed!
Upon arrival in Ushuaia, I treated myself to a dinner of king crab. Nighttime finally fell at around 10:30pm and a nighttime dinner found me asleep after midnight again. Today we spent the day hiking and paddling in Tierra del Fuego National Park. I drank half a bottle of wine at lunch and the 5 mile hike felt more like 15 - but it was a glorious lunch and I had a beautiful rest on the shores of the beagle channel!
Upon arrival back in Ushuaia, I learned that the Kapitan Khlebnikov has been
trapped in the ice
for the past 6 days! Thus, our departure will be delayed till Wednesday. I'm taking this chance to explore more of Ushuaia, renting mountain bikes tomorrow for a day of riding. Six days, trapped in the ice! This information keeps rolling around my head. What a
Shackleton
experience! I'm quite glad that I'm here, enjoying the foods, treks, and biking of Ushuaia.