You might be wondering what the difference is between a European barge cruise and a river cruise. The relaxed and intimate atmosphere onboard is very similar, and destinations are often largely the same as well, visiting many of the same major ports. The main differences between a barge cruise and a river cruise in Europe are the speed and size of the boats. 
Occupancy
Barge cruises have much smaller occupancy (usually 12-24 passengers) and cruise the rivers at less than 4 miles per hour, whereas river cruises may host around 200 passengers and cruise around 11 miles per hour. 
Speed
Both river cruises and barge cruises are excellent ways to experience all that Central Europe or Britain has to offer, especially if you want to take in the beautiful scenery. While the speed of the barge cruises might seem quite slow compared to river cruises, it is actually a comfortable and relaxing pace to enjoy the panoramic views of the rolling countryside and postcard-perfect landscapes. 
You might even realize that the barge moves slower than a person typically walks. Because of the significantly slower pace, barge cruises visit fewer ports along the way but give you more time to enjoy the landscapes. And the small size of the barges allows them to navigate the canals in addition to the bigger rivers.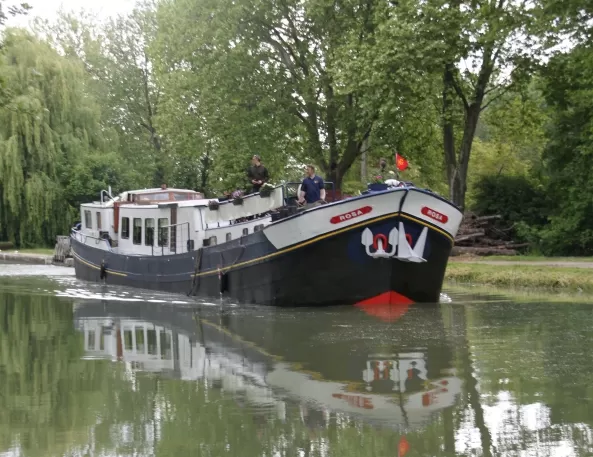 Number of Passengers
Plus, the smaller number of passengers aboard makes for a much more intimate experience, with more one on one attention from the captain and crew. Barge cruises can be a great option for small groups and families - a barge can typically host about two families. These are ideal for sociable travelers who enjoy making fast friends in small groups. There are affordable options to charter barge cruises as well. 
Cuisine
Food also distinguishes European barge cruises: The small occupancy means that the captain of the barge might also be the owner and the cook, and that means that the cuisine onboard is not produced en masse but rather prepared especially for you and made with the freshest local ingredients. Since the people cooking your food are local to the area that you cruise, you can count on authentic local dishes and flavors and truly exquisite wine pairings from nearby vineyards. 
Cabin Size
You should note that as far as cruising goes, cabins aboard barges are quite small - smaller than those on a classic European riverboat. If you are planning a romantic cruise with your partner, you will likely be able to find accommodations with a double or queen bed, but make sure to request this.