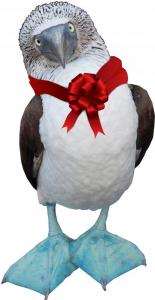 Planning for great holiday travel is about being smart and traveling well — work out all the kinks in advance, keep a cool head, and you'll set yourself up for smooth-sailing.
1. Plan in Advance
Spaces fill up quickly for holiday departures, especially on the most coveted travel dates — which is exactly why I am reminding people to start planning in July and not October. Air travel expenses begin to skyrocket for the holidays in October. Booking early improves your chances of finding reasonable prices as well as desirable departure and arrival times. Here is a handful
Adventure Life's Holiday Departures
to get you started.
2. Travel Insurance – a good idea
Travel insurance can safeguard you from delayed or canceled flights, weather disruptions, lost luggage, medical emergencies, last minute cancellations and more. Disagreeable weather is typically at its best during the holidays (after all, that's one of the reasons we all choose this time of year to escape), which increases the chances flight interruptions. Along these line — if possible, try and arrange any connecting flights in a warm-weather city like Dallas or Atlanta where planes are least likely to be "snowed-in." Remember to keep all your receipts for filing claims upon return.
3. Pack Light & Smart
Less is more. Packing lists are a helpful guides and will usually include (or exclude — I guess I don't need three pairs of shorts for four days after all) items that never crossed your mind. A few helpful items to bring: flashlight, earplugs, sunscreen, disposable wipes, zip-lock baggies of various size. Also, make sure your carry-on has your essentials, such as any medications or eye-wear. If your checked luggage goes missing, it can take additional time to show-up during the holiday season. Make sure your carry-on fits airline regulations, or it will have to be checked. And if you decide to bring a gift, don't wrap it, as security will more than likely unwrap, even if it is in your checked bag.
4. Photocopy Important Documents
Passport, tickets, credit cards, drug prescriptions and other critical documents should be photocopied, and the copies carried in a separate location from the originals. Have all emergency and important contact numbers (your tour operator's 24-hour contact number, hotel, family, airline, and your credit card company's number in case it is lost or stolen) readily available. And while you're at it, double check the expiration date on your passport. It should be valid for at least 6 months after your departure date.
5. The Art of Traveling with Children
Everyone has their own tricks for entertaining kids during long travel days, but during your holiday, try an approach that invites children to immerse win the local culture and countries. Give you child a disposable camera. Older children might enjoy keeping a journal. When it comes to mealtime, encourage kids to try something new on the menu. This is an adventure trip — let them play the role of world explorer! Make sure you have all the appropriate documentation for traveling aboard with children, such as documented vaccinations, passports — and if another legal guardian for your child is staying in the US, you should obtain a notarized letter from him/her granting permission for you to leave the country with the child. The other guardian may have this notarized with their signature at a local bank before mailing it to you. Bring this with you on your trip. More advice on
family adventure travel.