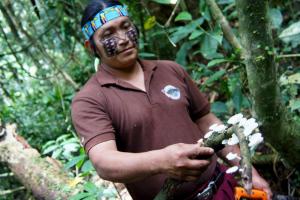 To tip or not to tip - or what to tip!? Questions regarding tipping etiquette are some of the most common concerns travelers have when visiting a foreign country. To make matters even more confusing, there is no universal language for tipping; in fact, in some countries a tip is considered an insult or an act of arrogance. Unfortunately, there is not a straight-forward, yes or no, answer to the "tipping question." Instead, tipping is a personal subject – some people tip very generously and others choose not to tip at all. We strongly believe that in no case should it forced upon our travelers. That said, tipping for services in South and Central America is very common and very much appreciated. If you are pleased with a service, here are some suggestions.
Restaurants -- 10% of the bill*
Hotel/airport portage -- US$1 per suitcase, per person
Local guides -- US$5-8 per day, per person
Cooks and Porters -- US$2-3 per day, per person
Driver for tours -- US$3 per day, per person
Guides on Galapagos tour -- US$5-10 per day, per person
Galapagos cruise
crew -- US$10 per day per person for entire crew
*This amount is usually included in the bill, so double check that you are not tipping twice. And note that many times your server doesn't see this tip if it is included in the bill - it is typically pooled into the staff or absorbed by the restaurant. If you feel your server did a stand-out job, you might want to leave something specific for him/her.
Rest assured – if you have reservations or are confused about tipping you are not alone. Whatever you feel comfortable with is usually the best rule of thumb. As in any situation you might find at home, if you feel someone has provided exceptional service, any small gift of extra tip is graciously accepted. But bottom line, remember that tipping is at your discretion.
Let me expand...
In general, Latin America is not really a tipping culture -- certainly nothing like the U.S. where the culture is such that it is almost a requirement; at the very minimum there is a huge pressure to tip.
United States citizens are known throughout the world for being "good-tippers" or for over-tipping. In Latin America it is not "expected" like it is in the U.S., and it is certainly much more appreciated. But sectors of the community that work specifically within the tourism industry are becoming much more accustomed to receiving tips.
For example, take taxi drivers -- those directly working in the tourism sector anticipate a tip from travelers. Is this due to an increase of U.S. visitors and their tipping practices? Perhaps. But truly the only division that really expects, and almost requires a tip, are guides.
Keep in mind, however, that many of the services that you receive on a
Latin America trip
would cost much more in North America, especially if you venture outside of the tourism sector and into locally-owned businesses.
For services directly linked to the tourism industry, tipping is quite common. For those outside of the industry, it is not expected, but welcomed. Frankly, you are probably more inclined to want to tip, simply because you've receive a service at a very reasonable price.
That is about as clear-cut as I can get when it comes to tipping. Honestly, even when I travel I always struggle a bit with tipping but typically follow my own recommendations.
Questions?