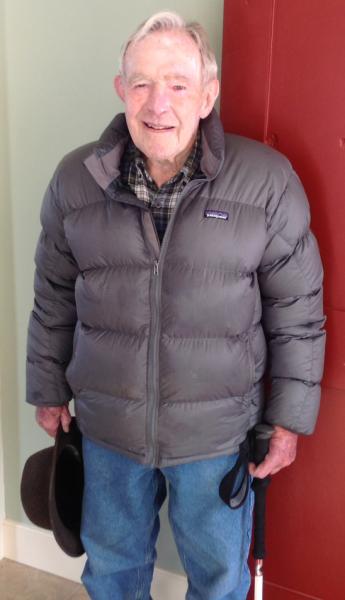 The highlight of my week was a conversation I had with a gentleman named Norval. He has a trip planned with Adventure Life to Chile and Argentina. The trip planning process went as expected, and his packing list is conventional. The detail that is exceptional about this trip is that Norval is 96 years old.
Norval and his daughter, Shannon, will be taking this next journey later this month. He has never been to Argentina or Chile, so Adventure Life is honored to help make this special experience possible!
As a fighter pilot in the Air Force, Norval has done traveling for military assignments throughout his life. However, he has also experienced different parts of the world on personal trips. His enthusiasm for traveling has not diminished, as he expressed excitement for this next adventure. He is especially looking forward to the
Australis cruise
they will be taking from Punta Arenas, Chile to Ushuaia, Argentina. The only other cruise Norval has taken was one in the mid-1990's. He and his wife sailed from Venice to the Black Sea, and he was surprised by how much he enjoyed it. Surely, then, he is going to love this Australis cruise to the "End of the World."
Norval is an inspiration to us all. His story proves that age is just a state of mind, and that we shouldn't let it keep us from doing the things we enjoy. Norval told me that he is not yet packed for this trip, but I believe he is MORE than ready...
From my conversation with Norval:
What age were you when you first began traveling?
Back in those days, they weren't concerned with drivers licenses. So, I was driving when I was 10! So, I guess I started traveling around when I was 10. But really, my freshman year of high school I decided I wanted to be a fighter pilot. So, my third year of college I went to flight school at the Army Air Corps in Texas. I moved there from Idaho, where I grew up. That was October of 1939.
Is there a favorite personal travel experience that stands out to you?
In 1997, my son and daughter (Shannon) joined me on a Trans-Siberian Railway trip. We all agreed at the end that it was the best trip of our lives.
What advice would you give to the younger generation of travelers?
I guess all I would say to them is to have fun.
Why did you choose Argentina and Chile for your next trip?
It was Shannon's idea. I haven't been to either country. I guess she figures I'm 96 so I better hurry and see them!
What has changed in the travel world throughout the years?
The process has changed so much. By the time I get through the airport, I am exhausted. (Norval said this might be due to his age, but I think it is true for so many of us.)
What have you learned through your travels?
I have really enjoyed the traveling that I have done. I guess the more you think about your own traveling, the more you realize how much more there still is to see in the world.
**Check out Norval and Shannon's
tour
and
cruise
itineraries.