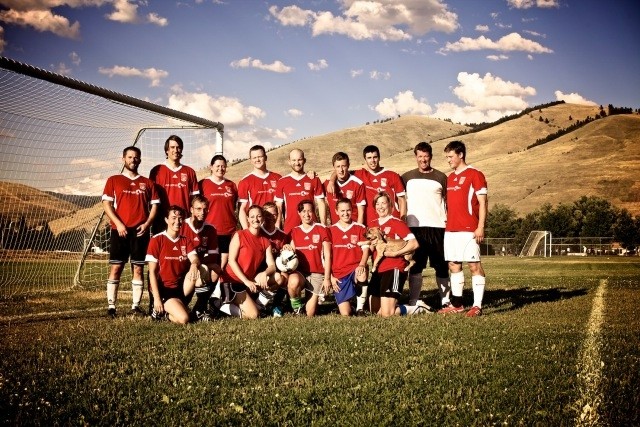 This year Adventure Life has kicked off our Sports Sponsorship Program. When we're not exploring places like Peru, Nicaragua,
trekking Patagonia
or
cruising Antarctica
, Adventure Lifers find time to volunteer around Missoula and be as active as we can! Thus the Adventure Life Sports Sponsorship Program was born in an effort to support our staff and the community in which we live. Applications quickly rolled in for soccer teams, volleyball teams, relay races and more! Now that the summer soccer season has ended, here's a report on the teams:
We checked in with two of our fearless leaders, Jonathan Brunger and Julia Kocubinski. At times, they had to put aside their Adventure Lifer camaraderie and battle it out on the field as their teams fought for standing in the
Missoula Park and Rec Summer Soccer League
.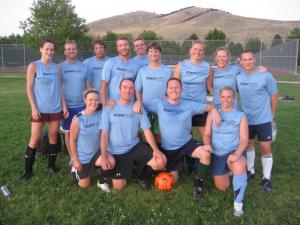 Julia has been playing with her co-rec team for three years. Although they maybe lacking a bit in the area of hardcore "soccer players", they are all athletes and spend time playing volleyball, running, and just have fun in general together. This year was a chance for improvement as they faced off against teams in a more competitive league. As the bar was raised, they noticed their skills improving as individuals and a team. Although they finished the season in the middle of their league, Julia reminded us that they beat the other Adventure Life team. The highlight of the season for her was scoring the winning goal against Jonathan's team!
The Adventure Life Rock Stars, Jonathan's team, have been around too long to remember, at least ten years. Many Adventure Life staff members (past and present), their partners, and friends have worn the Rock Stars jerseys over the years. Twice in the last six years their team has won the co-rec city championship and several times they have been runners-up as well. (Although there were claims that it may have been the referees' fault they didn't win those years.)
This year was a fun season for the Rock Stars despite not being as successful as past years. Even though the average age of players has increased by a decade since the team was formed and they are still pulling out plays and making goals. The number of spouses and kids cheering them on from the sidelines has increased as well. They've discovered that their kids (the next generation of "Rock Stars") happen to be their team's biggest critics as well. "Why didn't you score?" "Why is your knee hurting?" Just trying to keep Mom and Dad in line and striving for perfection!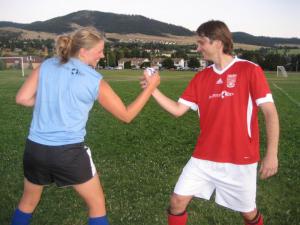 Congratulations to both teams on a successful season. Adventure Life has been proud to sponsor you!