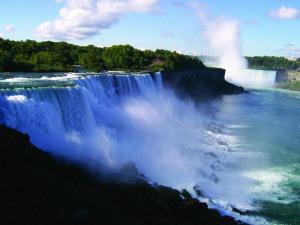 North America's Great Lakes live up to their name. For centuries, these five incredible bodies of fresh-water have played a major role in the exploration and trade expansion of the United States and Canada. Although they are called lakes, they are rather inland seas that makeup one-fifth of the world's fresh surface water. Their shores are rich in Native American tradition, and the historic port cities continue to be influenced by their vast waterways. Not to mention, the lakes have a captivating natural beauty uniquely their own.
The
138-passenger ship, Yorktown
, invites travelers to explore a bit of the history, culture and nature of the Great Lakes. This 11-day
Great Lakes cruise
explores all five Lakes: Ontario, Eric, Huron, Michigan and Superior. Embarking in Toronto, venture through Lake Ontario to transit the modern engineering achievement of the Welland Canal. Visit Niagara Falls before entering Lake Erie. After a stop in Detroit, sail Lake Huron and explore Mackinac Island, a Victorian-era haven at the entrance to Lake Michigan. After transiting the Soo Locks, enter Lake Superior, the largest and deepest of the Great Lakes. Cruise along the impressive Pictured Rocks National Lakeshore. Enjoy the pristine Keweenaw Peninsula before reaching Duluth.
Want to go?