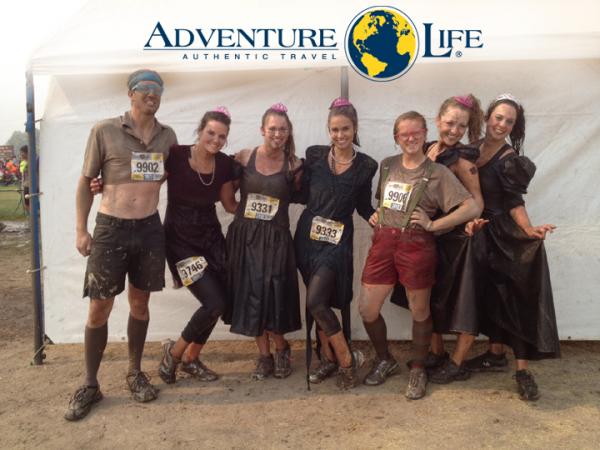 Creative costumes, great brews, and mud-covered bodies were all part of Missoula's Dirty Dash Event supporting our local
CASA program
. CASA stands for Court Appointed Special Advocate. Each trained community volunteer provides consistent, long-term advocacy for every child to live in a safe, permanent home.
The Adventure Life Team was funded through the company's Sports Sponsorship Program which gives support to employees involved in athletics around Missoula. Adventure Lifer's
Erin Correia
and
Sullivan Peraino
recently arrived back from their Galapagos cruises and Ecuador adventures to rally our team for the event! Running a 5K can be difficult enough – but to do it on a smokey-air polluted day (thank you nearby forest fires) takes some real dedication. The course began with haystack obstacles and high-stepping tire traps. Then the real challenge came by army crawling through mud-filled pipes and climbing up net walls. As the race grew harder and harder, the group came together to help their fellow teammates and really anyone within arms reach.
To "up the ante", spectators purchased water balloons to chuck at the unsuspecting racers. They looked in need of a little water to scrape off the mud caked to their dresses. Oh, did I mention that they ran the race in prom dresses? Yep, they were the belles of the ball and won the Dirty Dash "Best Costume" award. We can always count on our Adventure Life ladies to pull off anything with class. A few characteristics of our bold beauties include: poise, resourcefulness, dependability, fearlessness, confidence, determination, and of course a sense of humor. All of which come in handy while traveling the world, be it an
Arctic wilderness adventure
or trekking through the
Peruvian Andes
. Their charm and elegance shined through. Don't take my word for it - check out our photo album of the event
here
and stay tuned for next year's Dirty Dash!