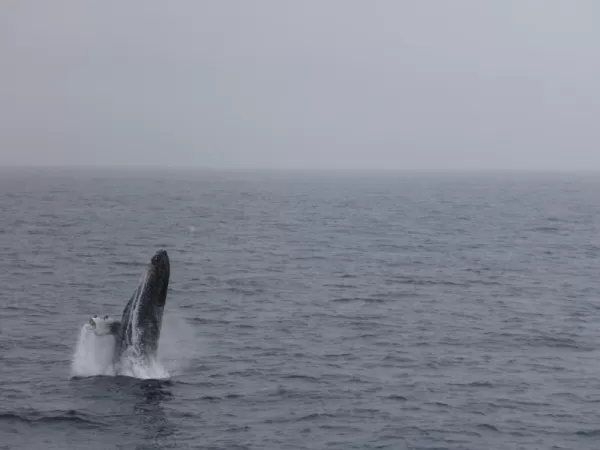 Ushuaia, Argentina
Weather: Partly cloudy. 43degrees F
''Antarctica? Why?'' ''Antarctica? Wow!'' Those were the two most common responses from family, friends and colleagues when they learned I was off to the frozen continent for the holidays. Professionally, I study isolation among humans specifically Americans 50+ so for me going to an isolated continent was a logical extension of my professional work. In fact, I felt lucky making a choice to see up close and personal a swiftly changing part of our planet, but some people didn't consider me lucky.
Antarctica is a continent of extremes. It is the coldest: a temperature of -128 degrees F was recorded in 1983 at Russia's Vostock base. It is also the windiest, the driest, and the highest. If you've read anything about travel to Antarctica, you're familiar with tales of crossing the iconic Drake Passage, which separates South America from Antarctica. Suffice to say its 621 miles of storm-prone sea. ''I'm an experienced traveler,'' I told myself. ''Surely I can handle Drake's Passage''.
Apart from the scientific bases run by a handful of countries, the only other signs of human presence in Antarctica are the frozen huts of unknown whalers and famous explorers like Shackleton, Amundsen, Scott, Nordenskjld and Larsen who answered the challenge of its emptiness in the late 19th and early 20th centuries.
Yesterday I flew from the U.S. to South America landing in balmy Buenos Aires enroute to Ushuaia, bags filled with merino wool and Gore-Tex layers, ski gloves and other paraphernalia designed to keep me warm and dry in sub-zero temperatures and gale-force winds. I loved my twenty four hours in Buenos Aires with its streets of colonial buildings lined by flowering jacaranda trees, its parks and squares shaded by vast canopies of ancient gum trees and its many museums, not to mention its fabulous cafe culture. But Antarctica was calling so today I flew to Ushuaia, the southernmost city in the southern hemisphere, and the embarkation point for my cruise. It sits at the tip of Tierra del Fuego, on the Beagle Channel (named after Darwin's boat), surrounded by the towering glaciers of southern Argentina and Chile.
The locals repeat that Ushuaia was a ''rapidly growing frontier town'' bustling with adventurous travelers. Ushuaia (i.e., ''bay that penetrates to the west'' in the indigenous Yaghan tongue) clearly benefits from its magnificent, yet remote setting. The rugged spine of the South American Andes ends here, where two oceans meet. Upon arriving to Ushuaia I checked into Hotel Los Cauquenes Resort and Spa and arranged for a day trip on the Patagonia Adventure Explorer. I left the local port with a small group of passengers in the direction of Alice Island to see the colony of sea lions; we continued to the Birds' Island where the King and Imperial Cormorants live. Then, we navigated towards the Sea Lions Island to see them and Fur Seals. Finally, we found Les Eclaireurs Lighthouse for a short trek.