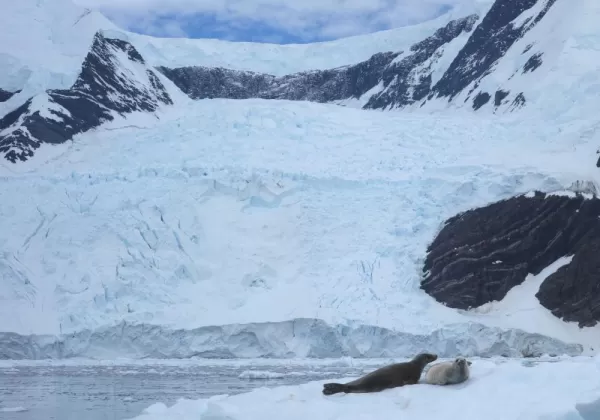 Antarctica Cruise: Whalers Bay at Deception Island and Half Moon Island.
Weather: Wind. 36 degrees F
Overnight we sailed north through the Gerlache Strait to reach our destination for this morning: Deception Island. Deception Island is an active volcano, which erupted last in 1970, destroying the remains of a whaling station and the British Base B. Forming a caldera of more than 6 miles in diameter, Deception is one of the few volcanoes you can enter by ship.
At 8:00 a.m. I woke up to an overcast and slightly windy day and found myself just outside Neptune's Bellows, the narrow entrance to the caldera. Under these conditions it was possible to enter the caldera and turn hard starboard into Whaler's Bay. As we arrived on the beach near the old whaling station we can smell sulphur and see steam rising from the wet sand at low tide. We can also feel the heat of the volcano by just digging with bare hands a few inches into the sand. We have the option to walk to the right along the beach, pass a few stray chinstrap penguins and walk up to Neptune's Window. From here we have a magnificent view of the distant Antarctic Peninsula.
A walk to the left of the landing site brings us to the remains of the old whaling station, the decaying Biscoe House or ''Base B'' and the old aircraft hangar. It was from here that the first flights to the Antarctic Peninsula took off.
Back on board the ship, we were welcomed by Johnny and Katrin with a mug of hot cocoa and a Christmassy ginger biscuit!
Captain offered a little scenic drive into Port Foster and headed out through Neptune's bellows once again. We are now moving northward towards our afternoon destination Half Moon Island. Half Moon is a crescent shaped island north of Livingston Island and home to the Argentinian summer base of Camera. The base is not occupied at the moment and at 4:30 p.m. we go ashore at a small cobble beach. Chinstrap penguins are the main inhabitants of Half Moon. They occupy the snow-free areas of the island and after watching for a while we discover that the first chicks of the season have hatched. A special treat is a lonely Maccaroni penguin who tries to hide amongst the chinstraps, but his yellow hairdo is a dead giveaway.
A longer walk through deep snow takes us to the back of the island, a favorite spot for Weddell seals. Approaching them carefully we are able to watch them and listen to their singing.
After 7 p.m. the soft snow starts to freeze again and we slowly head back to the ship from our final Antarctic landing.