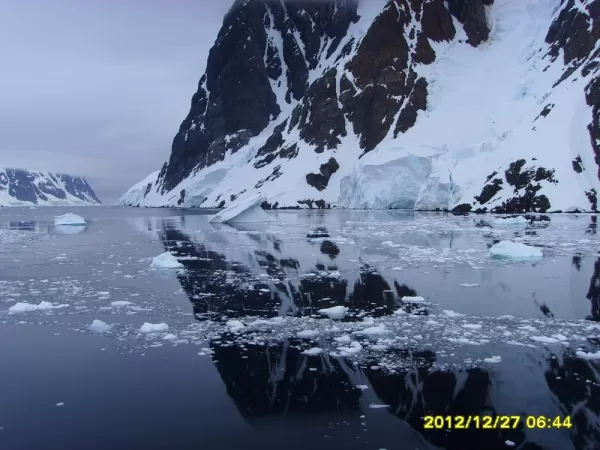 Antarctica Cruise: Lemaire Channel, Petermann Island and Vernadsky Station in the Argentine Islands.
Weather: Cloudy with some rain and light snow in the afternoon. 34 degrees F
In the morning for the lucky early risers some Orcas were sighted, and then at around 7:20 am today we entered the Lemaire Channel. Booth Island had a little cloud cap but both sides of the channel offered a breathtaking view as we were sailing south. The ship anchored in front of Petermann Island and a short zodiac ride took us close to the Argentinean refuge where Gentoos were nesting. It was an amazing sight to see the ecstatic displays of the Penguins as they threw their heads back and yodelled, an activity which apparently encourages the synchronization of egg laying and incubation. I spotted a downy soft grey chick huddled under the sheltering body of a parent (an awesome picture I was fortunate enough to take) - penguins share parenting duties equally it seems. There were loving displays of preening, which looked like make-out sessions.
We could also walk to Christian who was located by the Blue eyed shags and Adelies or walk up to the saddle to the southern end of the island enjoying a magnificent view of many low rising islands and stranded icebergs. From there, we could spot more Blue-eyed shags, Weddells and Crabeaters seals resting on ice floes and two Minke whales. On our way back to the landing site we encountered 3 lost Chinstrap penguins.
After lunch we repositioned the ship for our afternoon landing at Vernadsky Station. While some were visiting the station others were enjoying a zodiac cruise.
The cruise took us to some nearby channels closed off by some fast ice on which many Crabeater seals were resting. Lots of icebergs of different shapes were trapped in the vicinity, a leopard seal was spotted resting on an ice floe and we could have a good look at it. Some Crabeaters were swimming nearby and other cruisers spotted some krill jumping out of the water as if a predator was going for them!
Later in the afternoon passengers paid a visit to Vernadsky station, a Ukrainian research base, masquerading as a frat house. We were given a tour of the buildings, generator, working rooms, laboratories and doctor's room, to finish in the famous Faraday's bar for some vodka. Faraday's bar was festooned with an eclectic assortment of bras of varying sizes, shapes and colors, exchanged by visiting tourists for a shot of the house-made vodka. We could also buy some locally made in Antarctica souvenirs and send some postcards.
Weather records from the station show that the mean annual temperatures along the west coast of the Antarctic Peninsula have risen by 37 degrees F since 1947. Surprisingly, one of the effects of climate change has been an increase in snow, which means it takes longer before the rocks that the penguins need for their nests are exposed in the spring, which leaves less time for successful reproduction.
After returning to the ship we lifted the anchor and sailed the Lemaire channel for the second time and at the end of it a passenger spotted a humpback whale throwing itself in the air from its backside and bashing the water with its tail for quite some time so that everyone could have a good look at it. It was a magnificent end to a great day!