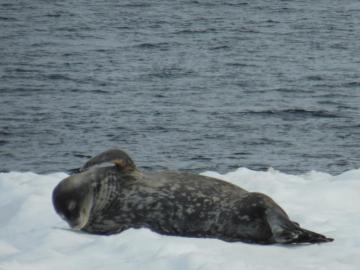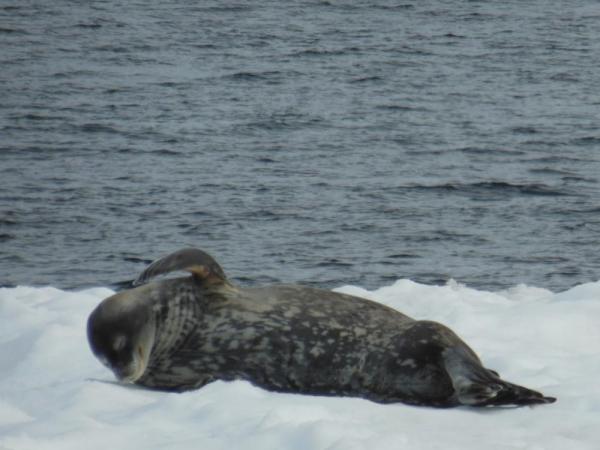 Weather: Sunny. 43 degrees F
Ushuaia is often referred to as ''the end of the world; the beginning of everything''. It certainly felt that way to me as I boarded the MV Ortelius today between 4 and 5pm.
MV Ortelius was named after the Dutch cartographer Abraham Ortelius (1527-1598) who published the first modern world atlas, the Theatrum Orbis Terrarum (Theatre of the World) in 1570. MV Ortelius was built in 1989 in Gdynia, Poland, as a research vessel for the Russian Academy of Science and was named Marina Svetaeva. In 2011 she was purchased by Oceanwide Expeditions. The vessel was re-flagged and renamed Ortelius. Now the ship is sailing as a 100-Passenger vessel. Our captain was Sergey Nesterov and his International Crew of 50 included:
Expedition Leader - Delphine Aurnas (France)
Assistant Expedition Leader - Saskia Travert (France)
Guide/Lecturer - James Cresswell (Great Britain)
Guide/Lecturer - Christian Savigny (Argentina)
Guide/Lecturer - Axel Krack (Germany)
Guide/Lecturer - Franz Gingele (Germany)
Hotel Manager - Johnny van Velzen (The Netherlands)
Ass. Hotel Manager - Katrin Schlegel (Germany)
Head Chef - Christian Gossak (Austria)
Sous Chef - Khabir Moraes (India)
Ship's Physician - Stijn de Vries (The Netherlands)
I smiled from ear-to-ear, unable to believe my latest expedition, as I boarded the ship. I purchased space in a four bed cabin to reduce my costs. My cabin mates were from Australia, America, and Singapore each with enough liquor to stock their own personal bars. Oh, to be younger again. It was not a spacious room but I worried not because I viewed myself as an ''experienced traveler'' able to adapt even to my new cabin mates.
Once on board MV Ortelius I settled into my cabin and then explored the ship - finding my way to the lounge/bar and introducing myself to others was a key moment.
Soon after 5pm our Expedition leader, Delphine, called the passengers together for an introductory briefing; we met Hotel Manager Johnny, who explained a little about ship routine.
Soon after this I went out on deck to watch as MV Ortelius sailed out of Ushuaia and begin its journey down Beagle Channel south towards the Drake Passage and Antarctica. The weather was good and I was in high spirits. Then the MV Ortelius's Safety Officer Oleg told the passengers everything we needed to know about safety on board in a Safety of Life at Sea briefing, focusing especially on response to the emergency alarm and how/where to evacuate if necessary.
Soon the ship's general alarm sounded for a lifeboat drill to put into practice what we had learned earlier, followed just before dinner by a welcome drink in the lounge/bar and introduction to the captain and expedition staff. . . surprised to discover that the average passenger age on the ship is 31!
After a hearty dinner and an after dinner stroll on deck to enjoy the magnificent scenery, I retired for the night, excited to be on our way south.