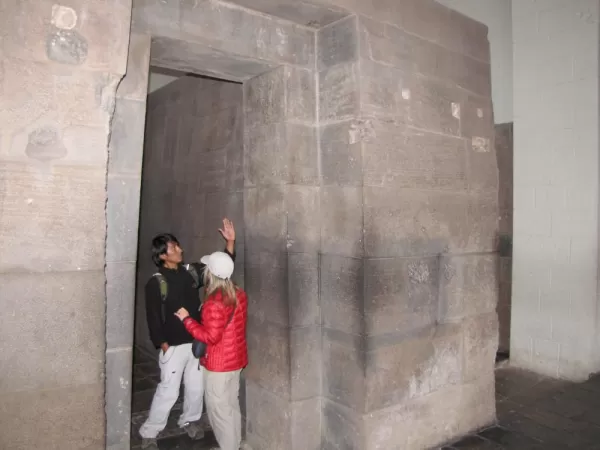 The Salkantay Pass loomed about 2500 vertical feet above us and was the topic of our conversation. There was no turning back as Aurelio had already departed, and our emergency horse was turned back at the top of the pass with his own problems.
Since people don't have horse or llama trailers the handlers must walk to the trailhead coming from as much as two days away just to begin the trek. Or sometimes they live at the start of the trip and then walk back home after the trek is finished. We just don't think of those things here.
With the efforts of Cachiccata behind us, we all fared well going up to the pass. Jill continued to tease Juan, asking for the reading on his altimeter watch. When we got to 15,200 we had a cheer. We knew we were going to make it. There were no other trekkers in sight, and we were alone on the mountain. It was going to happen. The crescendo of the symphony was in our ears as we heard an avalanche thunder down the cloud enshrouded mountain. Suddenly our boots got lighter and our pace increased. We could see a sign and a post ahead in the mist and all doubts disappeared. We had arrived!
The pass was magical. The abrochecas, small rock structures that we call cairns, celebrated others who had passed this point. Melissa stacked one rock on top of the other until I took her photo. I added another for a picture and put the rock in my pocket as a souvenir. We three posed for a number of photos and didn't even notice the rain. It was glorious.
We were aware of the remainder of our day:9 miles and 6000 vertical feet of descent. From the pass we would drop into a jungle of beautiful flowers and probably some other trekkers. We had had our moment alone and another dream bloomed.
We were fascinated as the terrain changed before our eyes. Soon we were filming incredible flowers as we hiked along a stream that was dropping elevation as we were and making music all of the world could hear. Some of the trekkers we had seen the day before passed us with youthful buoyancy wearing gym shoes and blue jeans.
To be honest, this distance and elevation was difficult. However Juan had arranged a wonderful camping spot at Colpapampa. Augusto prepared and served another fabulous dinner. The next morning we said our good byes to Francisco and Jesus.