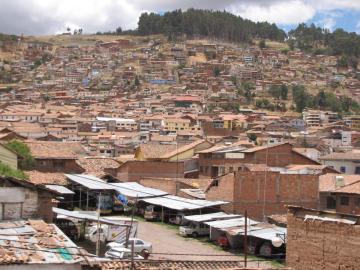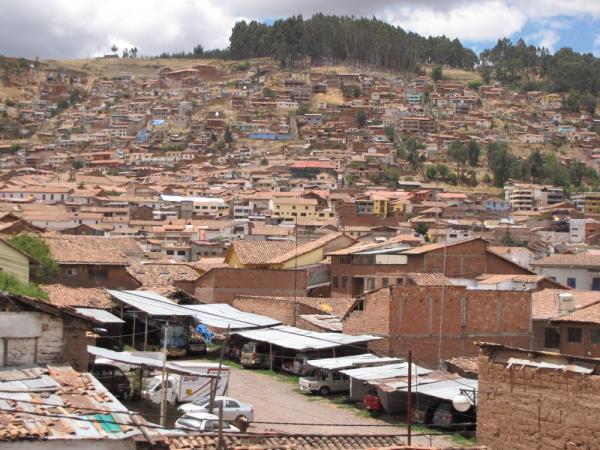 Taypikala Hotel Cusco, Cusco
We awakened early in order to enjoy the incredible breakfast buffet and head toward our 8:00am flight to Cusco. Double checking our hidden passport pouches, securing our money belts, and clutching our backpacks we walked back into the terminal in search of LAN Airways.
I continued to say Cusco,Peru, to myself, of course to be sure I wasn't dreaming. Soon we were among the clouds and awesome Andes mountains. Everyone was pointing to snow capped mountains and the excitement was electric.
In just over an hour we were on the ground again in the Cusco,Peru, airport. I had to say it again!!
Just as Adventure Life (AL) had promised, our driver and guide scooped us up with our luggage and cheerfully escorted us to the hotel Taypikala. By the way the address is 600 Intikawarina; get use to practicing how to say words that are very different!
Our chauffer was to become a trusted friend over the trip, as he carried us over roads at heights that were unbelievable! We checked in quickly to the clean and comfortable room which was to be home for two nights.
No rest for the excited as Vidal, our knowledgeable and, as the girls said ''guapo'' guide arrived within the hour, and we were treated to a text book tour of the historic city of Cusco.
So it began. We quickly became immersed in the culture, history, people, architecture, nature and beauty of Peru.
The Plaza de Armas was only minutes from the hotel. It is a hub of history as the center of Cusco. Coricancha, the cathedrals, the fountain, and people dressed in regional clothing were a myriad display of color and customs. We found the best place to change money, most authentic vendors for alpaca fiber goods and had our first taste of Peruvian beer. Muy bien!!