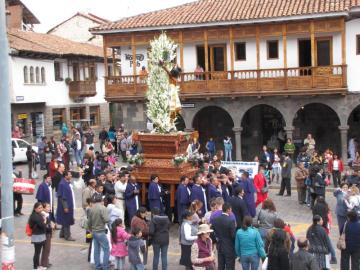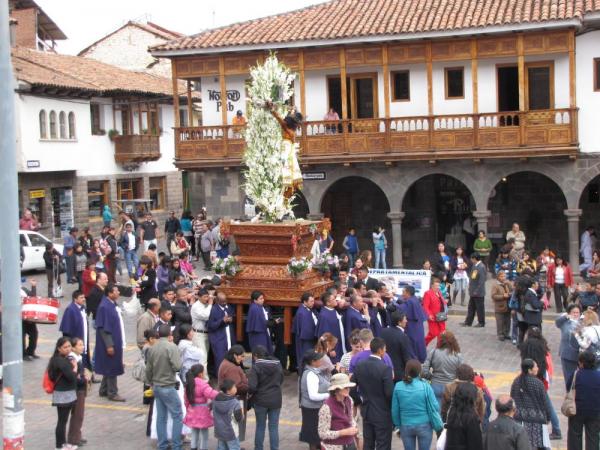 Our wonderful chauffer Aurelio and Juan gathered us up with our hiking gear and backpacks to launch the next portion of our adventure. We traveled along, stopping at a llama and vicuna farm that had incredible weavers and displays of native works of art. We were excited to be traveling in the Sacred Valley. Our first stop was at the ruins of Pisac. We were overwhelmed by the number and magnitude of Inca terraces, some of which are only steps from the vendor filled markets. As Juan explained there were so many mouths to feed, and the need for numerous growing areas was great. As with many ancient earthen structures, repairs were taking place. Men mixed the mud used for mortar on large plastic tarps by walking around in it. Everything is done by hand and foot.
After our visit, we were off to another archeological site named Moray. Inca ingenuity and tremendous stone work created circular terraces in a geological sink to provide experimental food gardens for their people. Vertical stepping stones afforded travel between levels and the symmetrical construction seemed a marvel. It was a short hike to the area and let us feel the energy of the area. We let it soak in knowing the construction and work was done centuries ago with only stone implements.
There are surrounding communities; we might call them towns, and they are made up of several generations sharing the jobs and chores of sustaining themselves. Barter is probably more common than currency in these communities. Everyone is a farmer and the corn and potatoes are planted, weeded, watered, and harvested by hand. Chickens, cows, sheep, llamas, and pigs are very important in every community. By these standards these people are wealthy and happy.
The roads were bumpy and guard rails nonexistent, but we had come to trust Aurelio as we drove toward the incredible salt ponds of Maras. Imagine a gigantic intricate quilt with hundreds of cloth patches spread over two miles and descending down the mountain.
That describes the hundreds of ponds of salt. Maras is a community owned salt quarry that provides much of Peru's salt needs as it has done since the Incas discovered it. The road is 1000 feet above the quary. A small stream that comes out of the mountain is directed by dams and gravity into ponds. Workers hand scrape these shallow ponds and bag the salt. It is amazing.
We were pleasantly exhausted as we arrived at El Sauce in Ollantaytambo. I vaguely remember devouring a pizza and something cold before retiring. Juan again reminded us of our early departure with a 4000 vertical foot gain for our next day. Yes, we would be trekking.