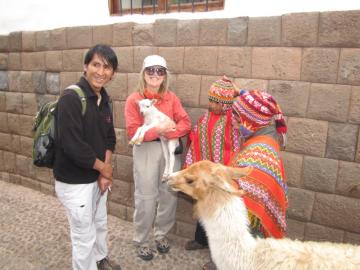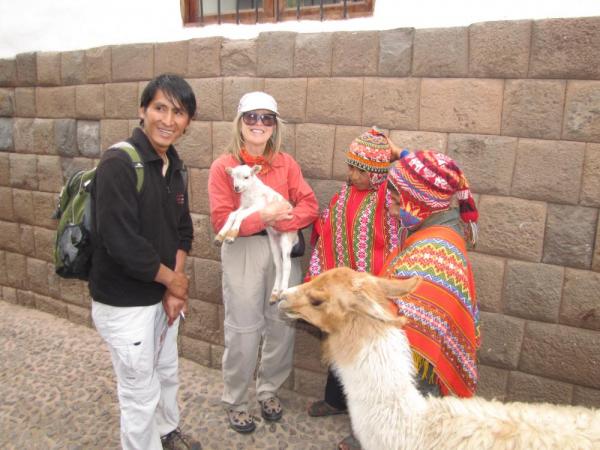 The buffet breakfast of fresh and native fruits and bread as well as other traditional delights was a great preparation for our hiking day with Juan Barrios our guide for the remainder of the trip. We quickly became appreciative of our seasoned, well read, fun and very personable guide. Not only that, he conducted the symphony of our Viaje de Peru. We felt very lucky throughout our travels to have Juan with us.
As we walked through the markets and cathedrals and also the ruins of Sacsayhuaman our goals for the trip began to unfold. Yes, we were hitchhiking in the galaxy, but we were also rubbing shoulders and talking to children and adults as we showed respect when haggling for coffee prices or baby alpaca scarves. Each of us was familiar with Spanish, the native language of many, and felt comfortable speaking. The Quechuan language is very different. While their language is unwritten, it is taught in the schools along with Spanish. There are many private Catholic schools and seeing school children in uniform is common.
Juan wove the threads of history into a tapestry. His knowledge of the Inca civilization became a leitmotif in our travels during the next two weeks culminating in our visit to Machu Picchu.
He had filled this day with knowledge, fun, and great hiking. We were happy to retire and anticipated our next day of adventure.